LOCATION: Electronic city, Bangalore, Karnataka DATE: 19th August 2012
That was never the intention. As always, I carried my camera with me to meet my 'mama' (uncle, who is a newly turned father) and was all set to smother his 2 month old daughter by cuddling relentlessly . After a day and a half of constant babbling and ridiculously silly talks with the baby, I started to pack my bag to get back to my den. As I stepped out and bid goodbye to my family, I saw flashes of colours zipping from almost all sides and perching on a cable wire. Soon, there were more of them and what I witnessed was an overwhelming riot of colours. The Bee eaters had arrived and were chasing its 'obvious' prey; the Bees. I must admit that I was hesitant. Many have asked me about trying my hand at Wildlife and Bird photography, but I was adamant even without trying that I shouldn't step into it just for the heck of it, but to actually understand the animal kingdom at a more detailed and deeper level before photo-shooting them. But then who could resist capturing these cute little bi-tailed creatures swinging on the cables briskly looking for food on all fours? I bullshitted my own theory, went crazy over them with my camera and ended up clicking these!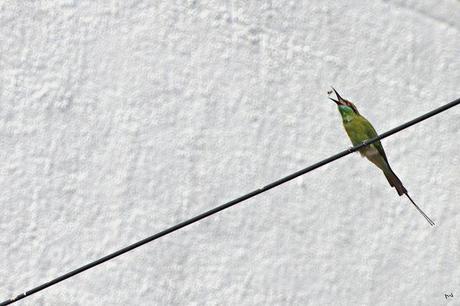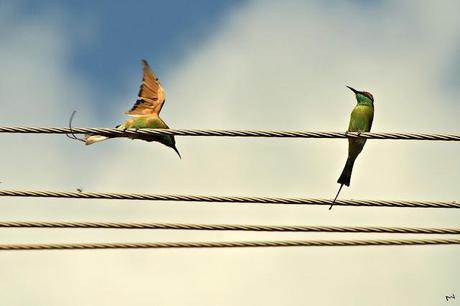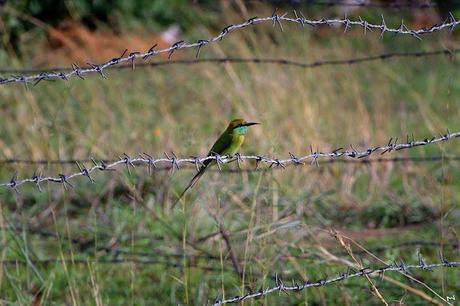 Getting out of your comfort zone and trying something new pays off most of the times. What I experienced while shooting them was something very beautiful and meaningful. Coincidentally, it happened to be 'World photographer's Day'. Seems like I celebrated it unknowingly! Life is full of surprises and coincidences, no?