As a Northern Irish travel blogger I often get asked "where is the best destination you have celebrated Saint Patrick's day". This is a hard question for me given that I have never in my life celebrated it. I actually live in a part of Northern Ireland which is not really Irish at all. Saint Patrick's Day isn't a school holiday where I am from, and the closest parade to where I live is a good many miles. I did stumble onto celebrations once before when Saint Patrick's day was being celebrated on a Saturday. I was a kid at the time and, after seeing the tri-colours, police, drunkenness and impending riots at the front of Belfast Great Victoria Street Train station, we turned back to take the train back home. But in many ways Irish culture is still alien to me, and their festivals are new to me, so with my recent return to Northern Ireland I have promised to embrace and explore the cultures of this island. So I had considered celebrating in Belfast today but, given drunken teens have been bricking police since early hours, I look to alternatives. Instead we decide on celebrating Saint Patricks Day in Downpatrick, the burial place of Saint Patrick, where parades are less contentious, more family friendly and a fair bit more culturally significant.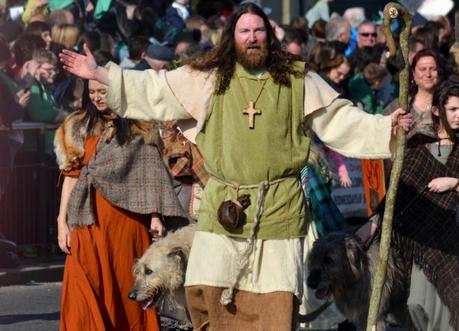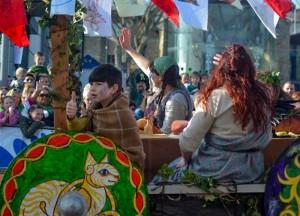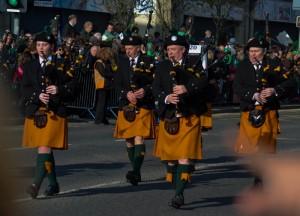 ---
The Burial Place of Saint Patrick
There are no train connections to Downpatrick so it isn't easy to reach (unlike Belfast or Dublin) but a bus does still get you there, with not so much problem. But with Fanfan in Thailand I invite my mom along to drive (as I warm up on beers in the passenger, and she later pays for my pints and chips in town). Downpatrick is roughly 45 minutes from Belfast and we travel around midday worried that we'd not find parking later. Arriving, we easily find parking on the back roads which lead to Saint Patricks grave at Down Cathedral before walking down to the main street via Saint Patrick's Visitor Centre, next to Saint Patrick's Square. They appear to celebrate Saint Patrick year-round in Downpatrick. So much of the crowds are in Saint Patricks Square where there's a stage set up with presenters, Irish dancers and whatnot. Local celebrities maybe, but I wouldn't know. The square has a number of kiosks with face painting stalls and food including burger and hot dog stands, and crepes. They're not overly Irish, but stew has never taken off as a street food snack in these parts.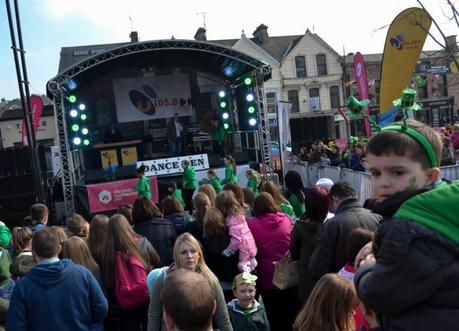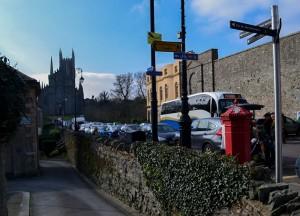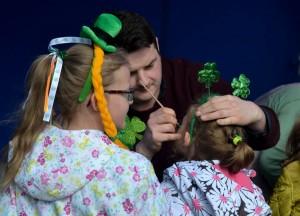 ---
Guinness Time
With time to spare (an hour and a half) we decide to look for some Green Guinness as we head off to "drown the shamrock" in a local bar. We ask the bibbed organizers and attendants who were useless as most say they've never set foot in Downpatrick before. I guess all the local Downpatrickians are either celebrating or drunk. So we circle the town center but fail to find any overly inviting pubs. This leads us back to the beginning again to a pub called Murphy's, a good Irish name, which sits directly opposite Saint Patrick's Square. Despite its name, Murphy's was far from the stereotype, Irish pub with fiddles, drunks and scruffers. It was more, as the say in Donegal, protestant looking. Clean cut and proper. The place is also huge so we have no problem finding seats inside, but opt instead for a beer garden table because inside feels too depressing. I then feel out of place as we are probably the only group drinking Guinness while youngsters surrounding are on the cider and alco-pops. After a jar or two we're back onto the parade street where young scamps race up and down the street in some sort of organised Saint Patrick's race. It's a bit like a warm-up to the parade.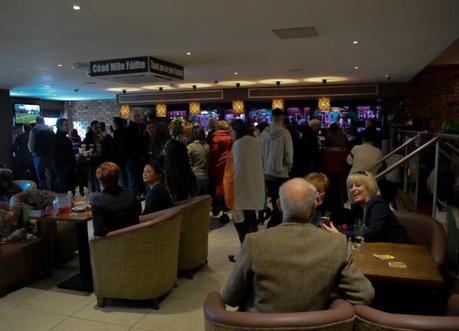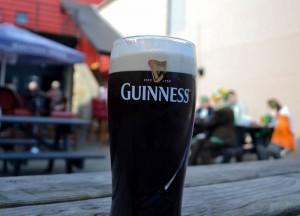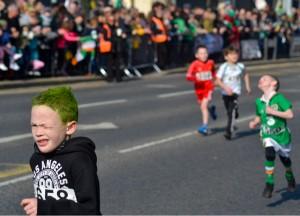 ---
The Saint Patrick's Day Parade
We still find the front row at this time (with 15 minutes to go before the parade). There's no need for pushing or shoving for views. The actual parade then starts at 14:30 leaving from outside center (Ardglass Road) and I do expect a long wait, but it comes quickly. It begins with a procession of motorbikes and vintage cars, which can easily run the circuit in no time, but the rest plod along slowly behind. So it does take a while before the rest arrive and in all the parade lasts for around one hour (14:30 – 15:30). The parade itself had a lot less leprechauns than I had expected, and they were oddly outnumbered by the number of Chinese dragons. It feel like more of a cross community parade with local organisations and youth groups and the shamrocks and tricolours seem to be left behind. By the time it ends I see Facebook posts from friends fleeing Belfast as riots are again kicking off around the parades. But it is the opposite here, a safe and family friendly affair.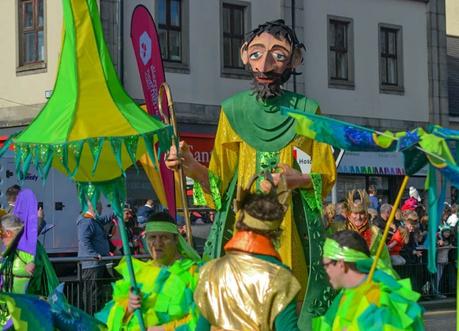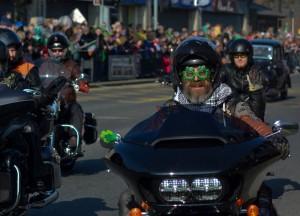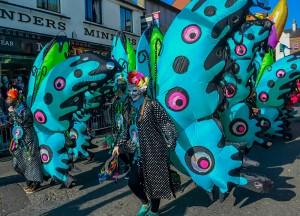 ---
It was Everything I Didn't Expect
To be honest, I did expect the stereotypical seas of green, waving tri-colours, and drunken louts with carry-outs. Instead I find a very civilized and not overly commercial local celebration. Along the roadside we pass only two cliché Irish trinket stalls, run by slightly sketchy looking characters, but it was otherwise very local and community orientated. I didn't see any drinking on the streets whatsoever, and passed no drunks along the way. In fact I was probably one of the drunkest there. I almost feel a little disappointed for this, but I suspect things do kick off later in the day with craic and Irish shenanigans. But during the day it is quite probably the tamest Saint Patrick's Parades I could have expected. Not intimidating at all. As the rest of the world turns green for Saint Patrick's day, Downpatrick appears to have forgotten to. Just look at the crowds in the photos. So celebrating Saint Patrick's Day has been ticked off my 'to-do tick list' and I can't think of a better place to do so than celebrating Saint Patricks Day in Downpatrick.