Ahhhhh! Changing jobs this year has been SUCH an experience and I'm loving every minute of it but I'm so backdated on all the stuff I want to share with you guys!
But never mind right? Better late than never? :/ Haha! Please pardon my tardiness! I have so many fun and exciting things I've discovered recently so stay with me! :)
Anyway, in JANUARY this year (eep! This post is 4 months late haha), I turned 27 and my fiance asked me what I wanted to do. I dislike watching movies, spending bucketloads of money or trawling the malls so I was delighted that Kranji's farmer's market was happening the weekend of my birthday. YAY!!!! I LOVE LOVE LOVE farmer's markets and always make it a point to go to the pop up ones in Singapore or in any country in the world I visit. The atmosphere is always so bustling and fun and the people you meet- wow! Can I please just say they are all unbelievably inspiring?
Pictures! :D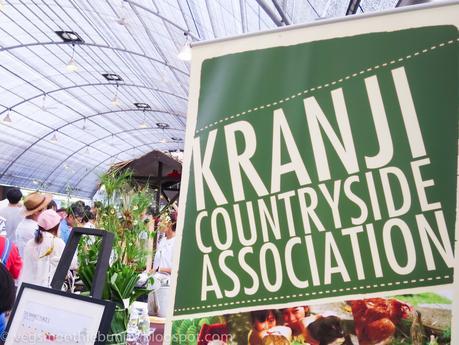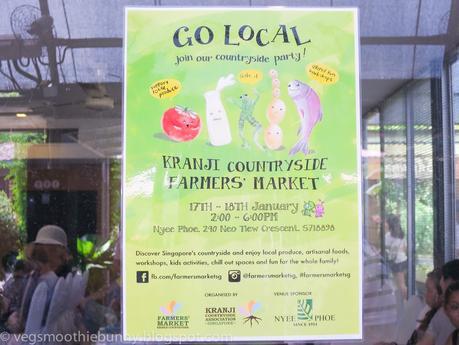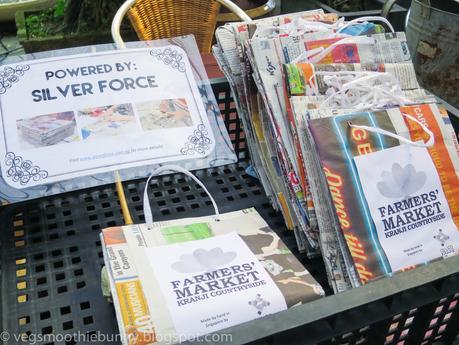 You know you are at a farmer's market when the goodie bags are recycled from old newspapers! I approve! :D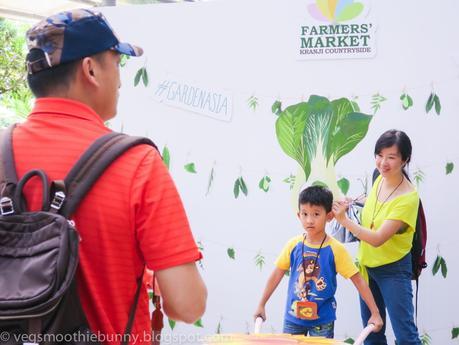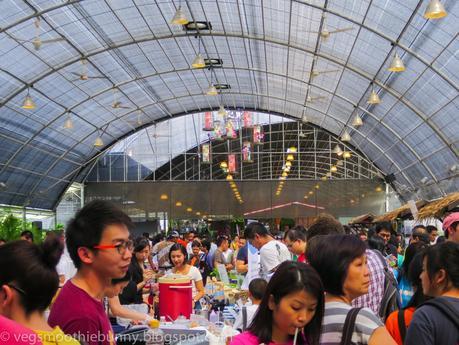 So many people! The atmosphere was fantastic :)
The market was split into 2 and in one section were all the home grown organic veggies from farms like Quan fa Organic and a lot of stalls selling home made spreads and assorted handmade goods!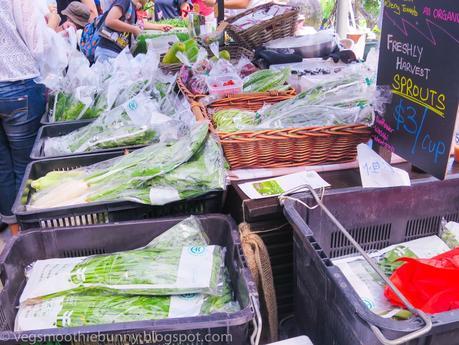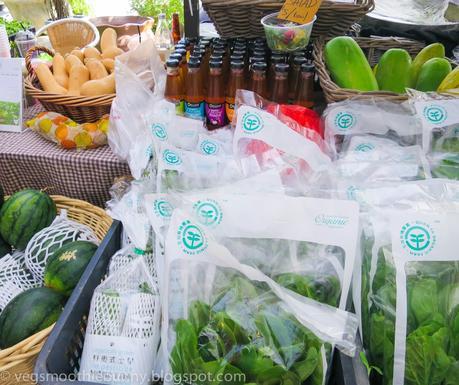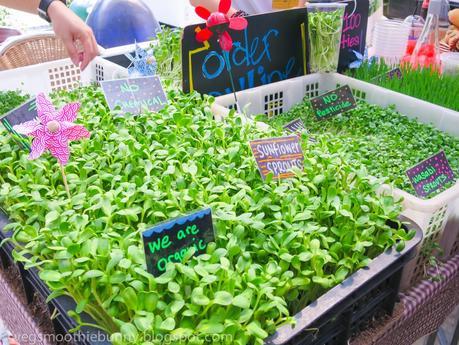 There were also cute plates and bowls from Pottery Jungle! I was particularly in love with the cat ones! There was a mini workshop for kids and adults to try their hand at pottery as well. It always pleases me greatly when I see little kids trying out these kind of things. Like YES! Parents, please ditch the Ipads and homework for the day and bring your kids out to such places! It's hot and sweaty and the kids may grumble but oh! What joy to see children appreciating first hand all the lovely things the world can offer off a digital screen!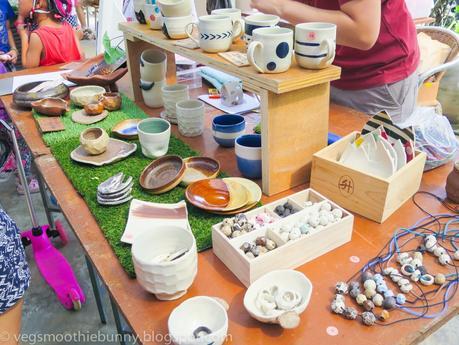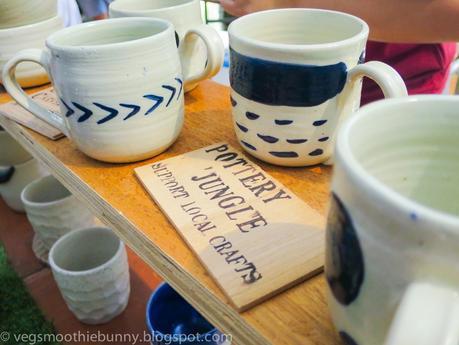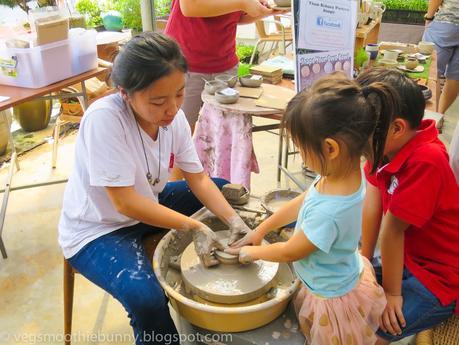 The atmosphere of the place was really like a pasar malam. And of course, at pasar malams, there is always a lingering smell of FRIED FOOD in the air. In this case, it was the aroma of.. fried quail? :/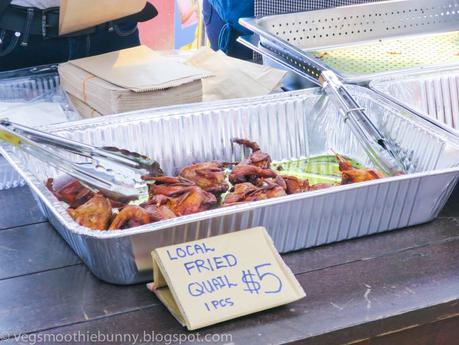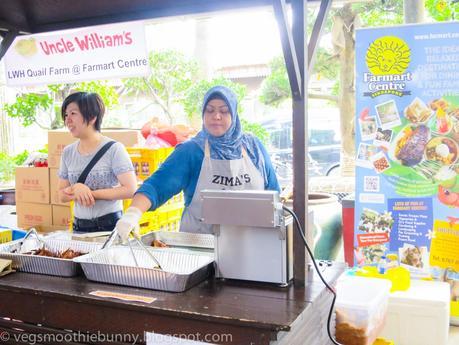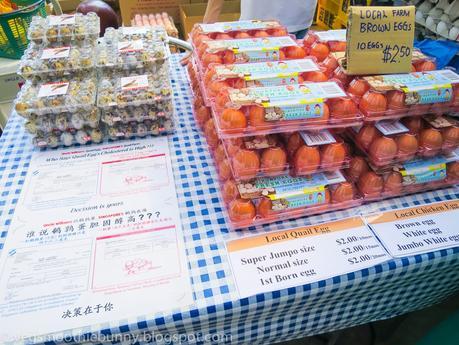 Local chicken eggs! I bought 2 packs!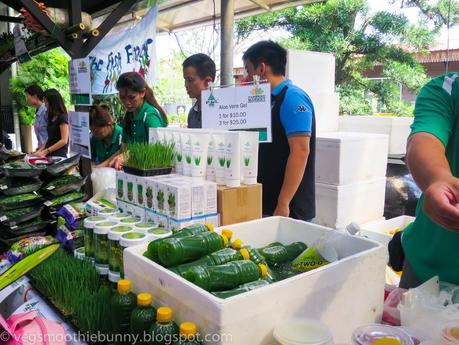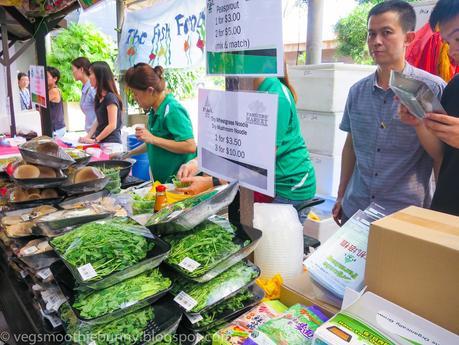 Teehee. Don't be weirded out by his face here. Guy in the pic was very helpful and friendly and kept recommending different drinks to try. Wheatgrass is really strong tasting though!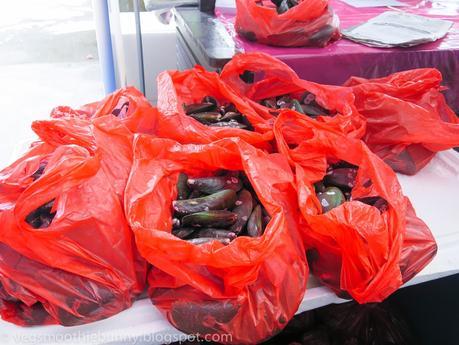 MUSSELS IN WHITE WINE ANYONE??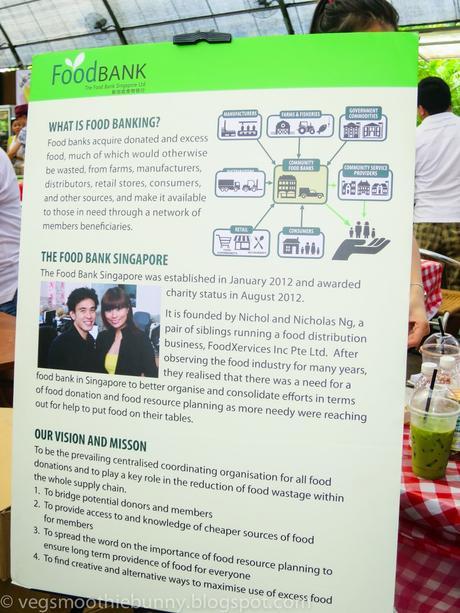 There were lots of creative ideas and campaigns going on at the market too. For one, I got to know about a Food Bank in Singapore. So cute- it was founded by a pair of siblings called Nichol and Nicholas!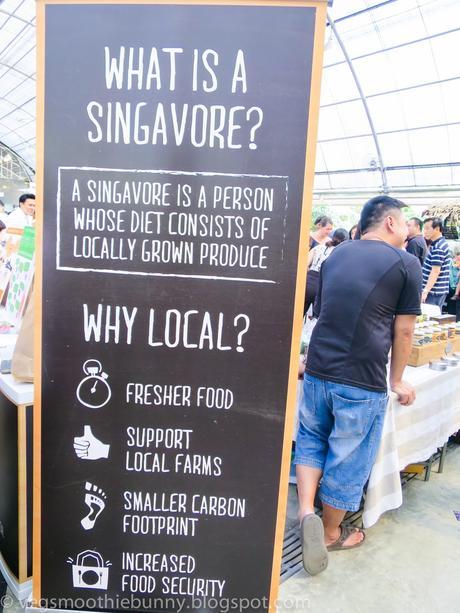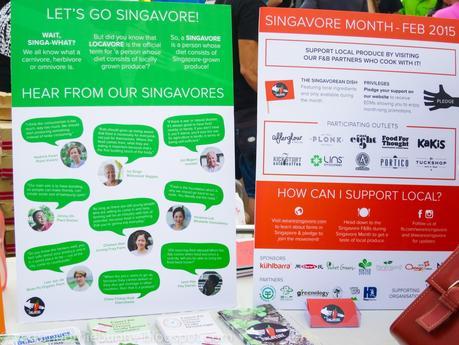 I also came across another initiative called Singavore that encourages people to eat locally grown food to cut down on their carbon footprint.  Really very interesting! I never knew that Singapore actually grew quite a substantial amount of veggies and farmstock, even! Singavore also had a 'Singavore month' in February (which is obviously over) when they tied up with participating cafes and restaurants to serve the patrons dishes made with locally grown produce! One of the participating restaurants is my favorite Portico (which taste in food fortunately makes up for its inaccessibility -.-) Pity I didn't get to go in February though but hopefully they'll have such an event again soon!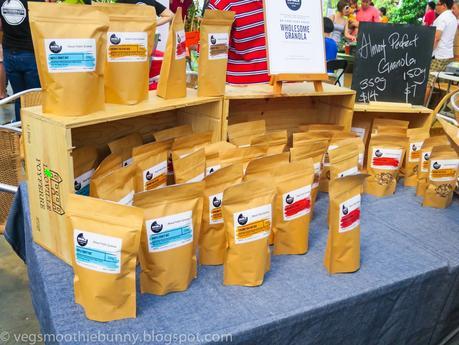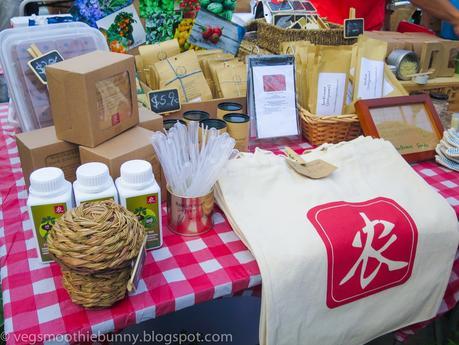 Wide, wide array of handmade goodies and food. We were definitely spoilt for choice!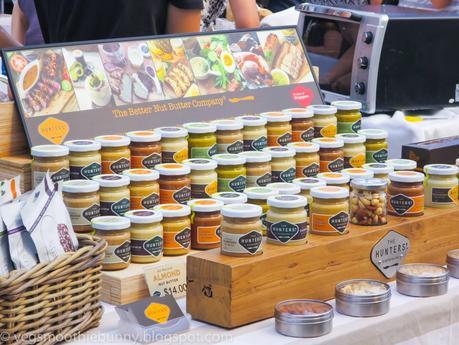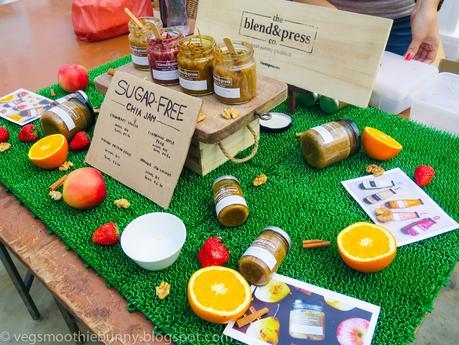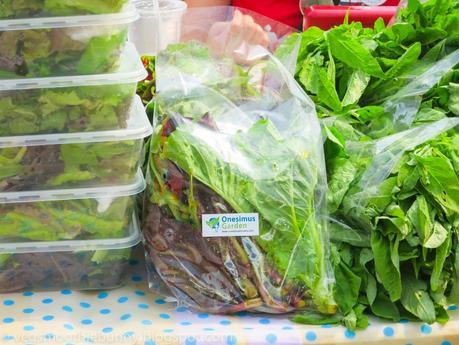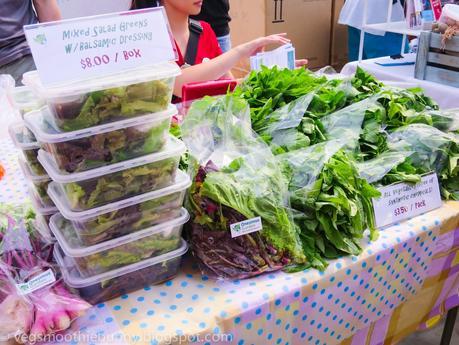 I'd never heard of Onesimus Garden. Just goes to show there's so much more of my country I've yet to explore! All the greens were so vibrantly fresh!!! I was so enthralled. Except they all looked a little wilted in the heat as well. (Kinda like me. Hur. Kudos to the event organizers though. The tentage was well set up and there were lots of industrial fans and coolers to combat Singapore's infamous heat.)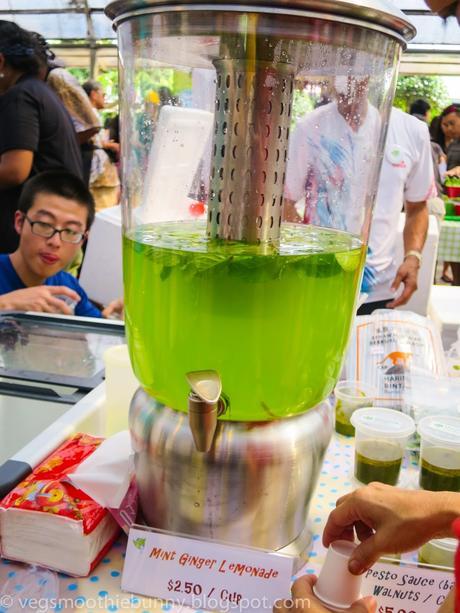 This Mint Ginger Lemonade was pretty good for warding off the heat!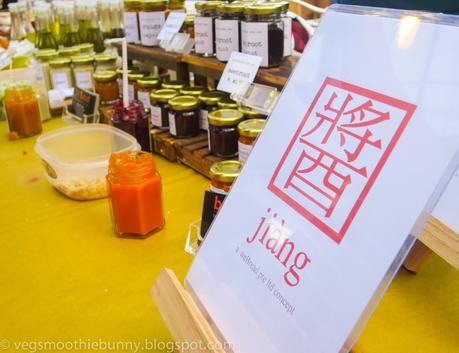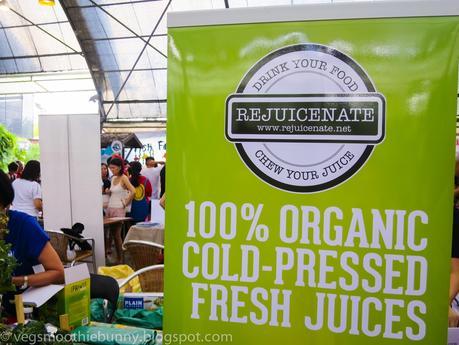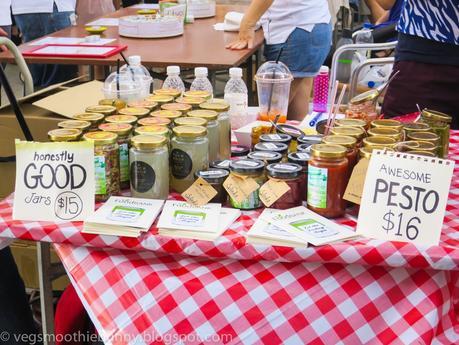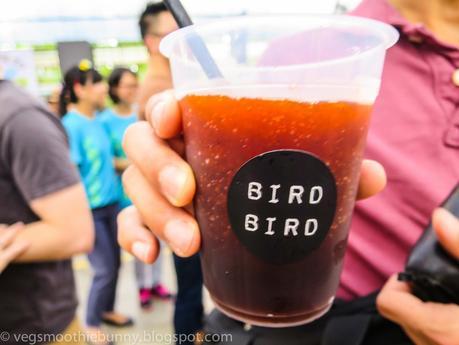 Then off to the other side of the market!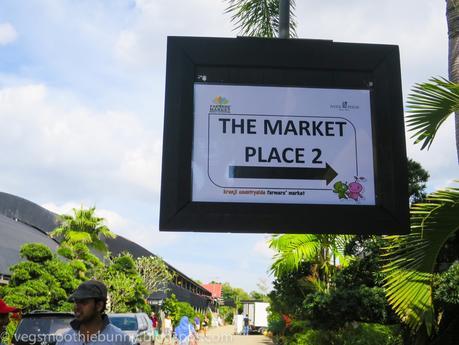 But not before taking some pictures at the photo booth that was finally free!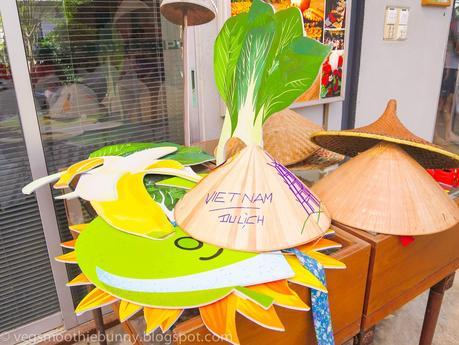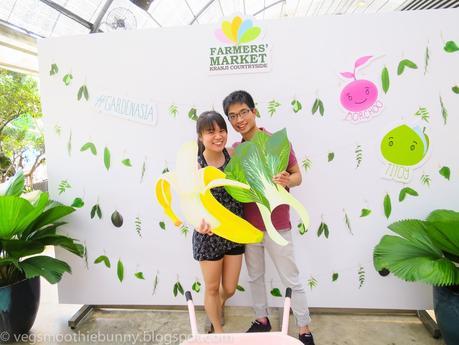 I chose the banana prop of course. Because I LOVE BANANAS :D My students always say the easiest way to bribe me would be by offering bananas. WHAT AUDACITY. I am infallible to corruption and bribes! (Maybe make that TWO bunches of bananas and we can negotiate something, haha)
There is a very zen, lovely air conditioned area in between both markets in case you need to cool off.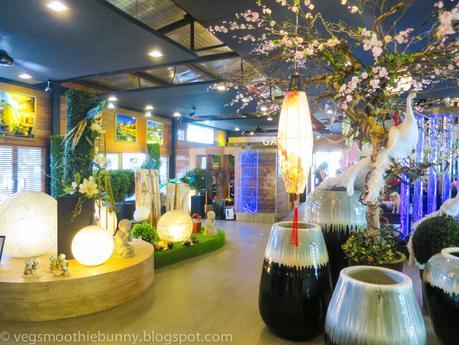 Market 2 had more food and was similar to market 1 with the exception of live fish/ prawns for sale!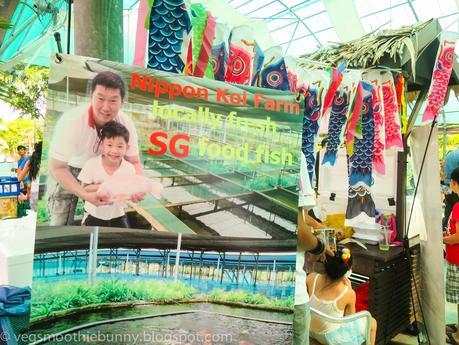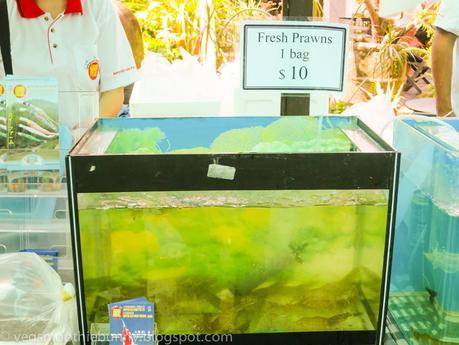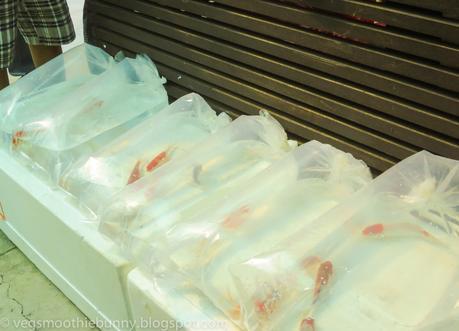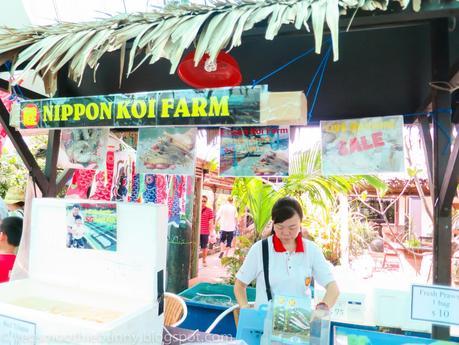 I was thrilled to find a stall offering organic Barramundi, only because it's novel and I'd never seen it before in Singapore.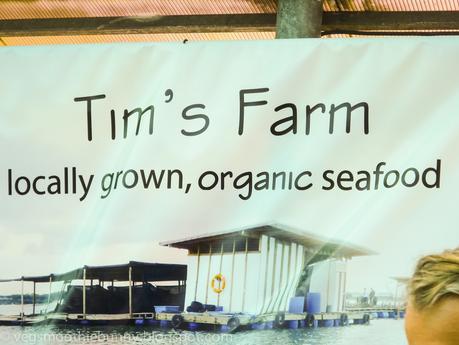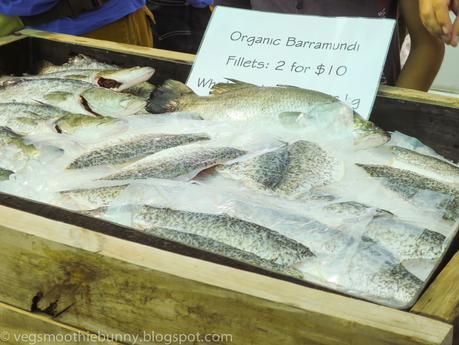 Bollywood Veggies was also there!!!! I LOVE LOVE LOVE the food from Bollywood veggies! If you've never tried their Moringa Tempura, cancel all your plans this Saturday, round up your friends and head down! HOW CAN LEAVES TASTE SO GOOD!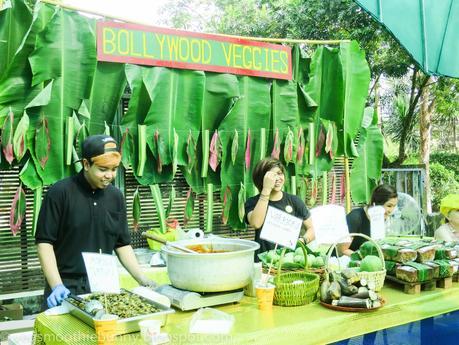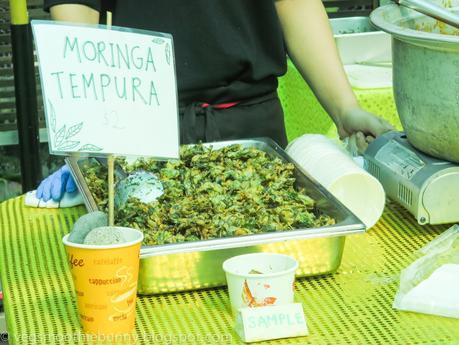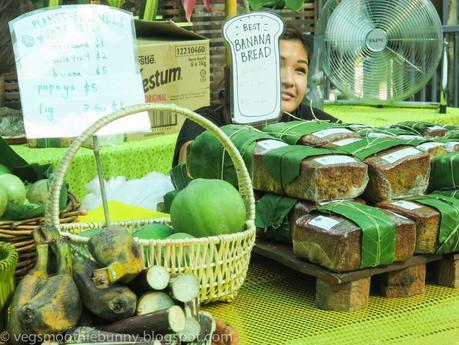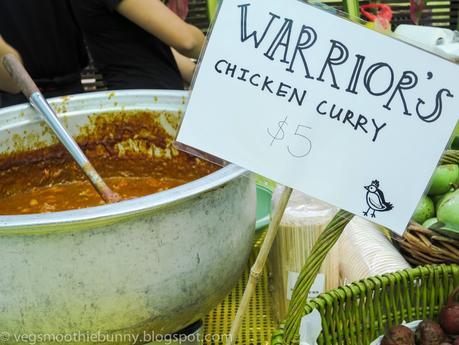 I also adore their banana bread but that day, they were selling a loaf for $30. Are you kidding me. $30 is my whole week's budget for food. They had samples though. I might have taken a few... or a lot. I cannot say. Haha.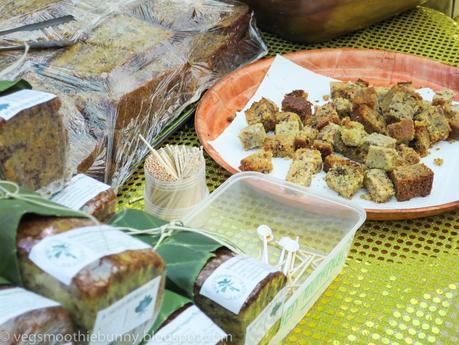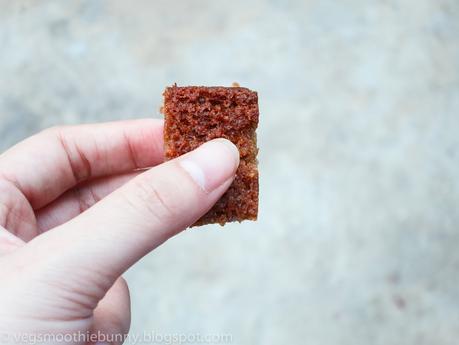 JURONG FROG FARM!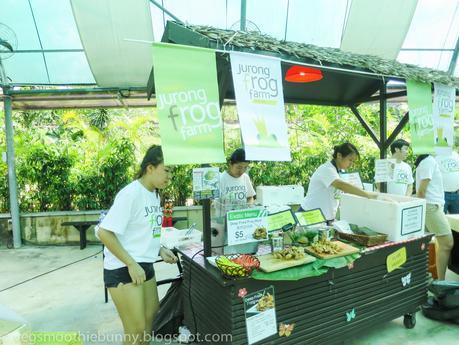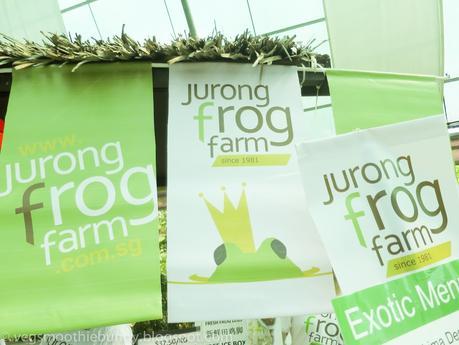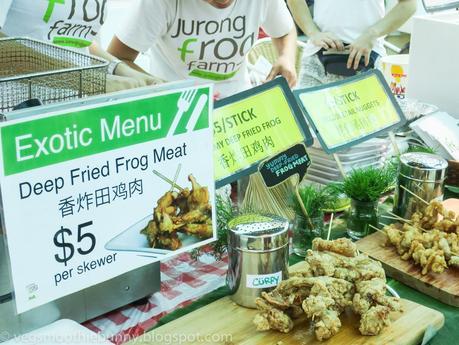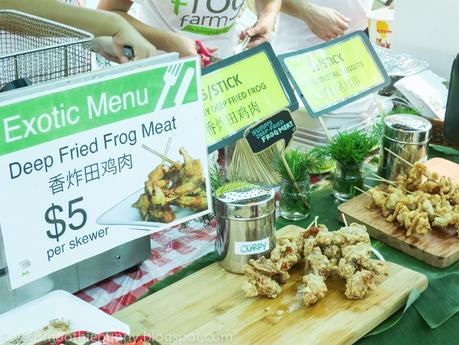 They had crocodile meat for sale too! Did you know Hashima which is prized for its ability to give people clear porcelain skin and build up immunity comes from an area near the frog's fallopian tubes? Well now you know. You can thank me for the image that comes to your mind every time you eat it now.
Teehee.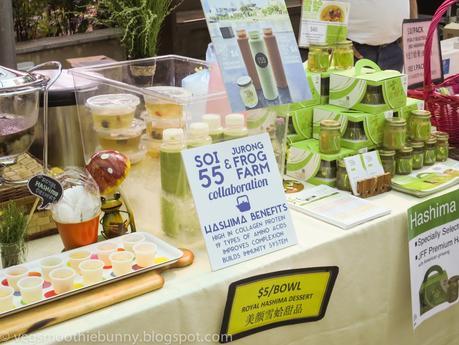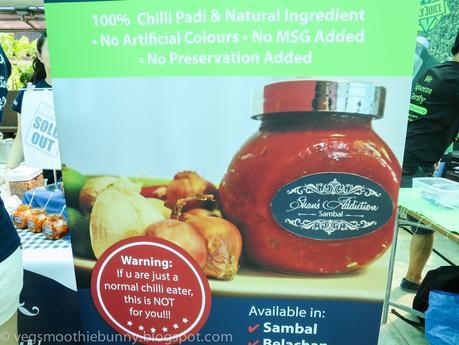 The Goat Farm in Singapore also had a booth there and D was super excited because he'd never tried goat's milk before. I think it's okay- a little gamey but otherwise quite similar.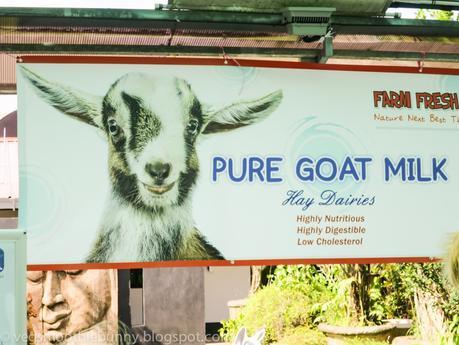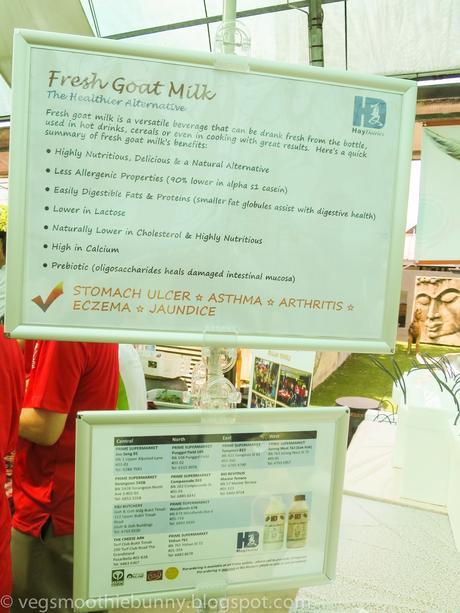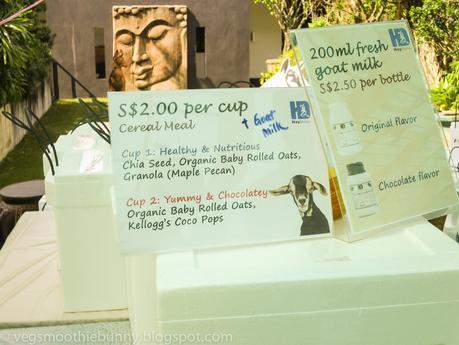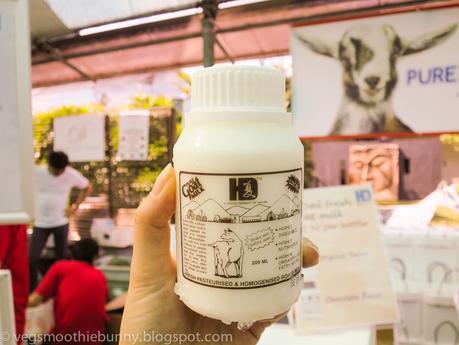 I also spotted the farms giving out free pandan leaves! I wanted to get some till common sense prevailed and I knew that I wasn't going to cook anything with pandan any time soon anyway. But YES! Spend your weekends at the farms! Free pandan leaves! Haha.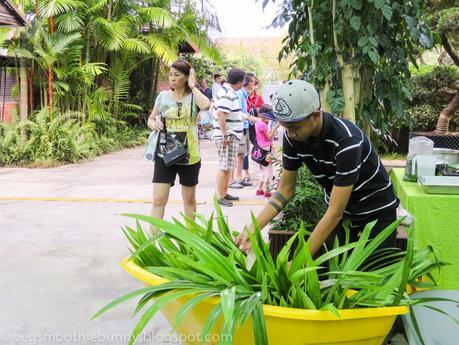 Traalalalala. I love walking around just checking out booths and eating and drinking. Haha.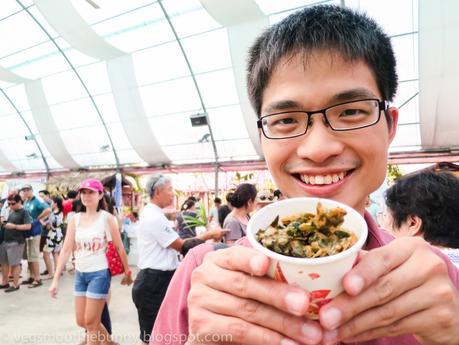 My fiance is a poster child for the tempura. Hur.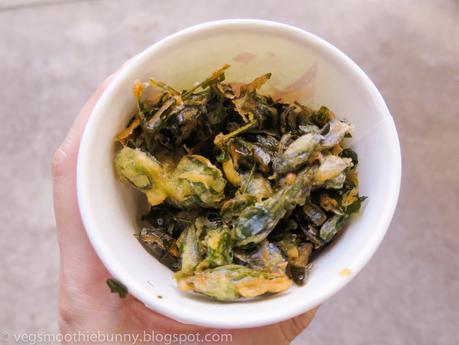 The sun went behind a couple of clouds and the temperature dipped slightly enough to sit out on the short stone walls for a breather.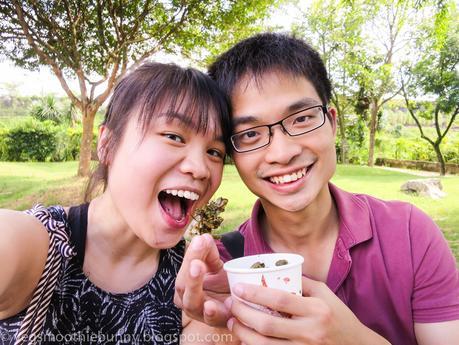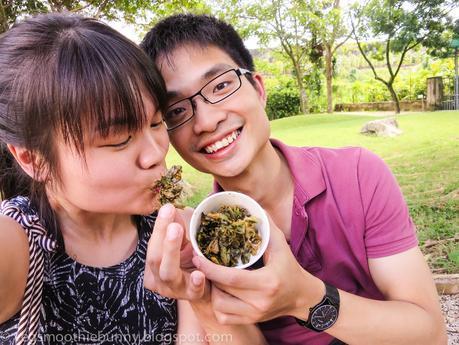 Did I tell you how much I love the tempura yet? (Okay fine, I love anything fried haha)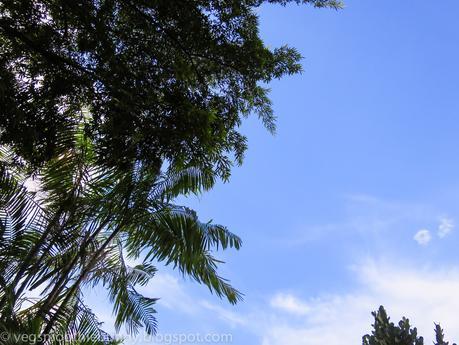 D was saying something and I threw back my head and laughed and caught sight of the gorgeously blue sky and in that moment I just felt so grateful and happy you know? I was sitting on a stone wall, fried food in hand, lover at my side, the sound of our laughter still ringing in the air and I thought wow- life can be so simple, so inexpensive and so filled with joy :)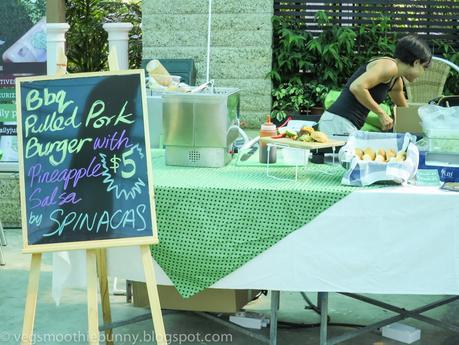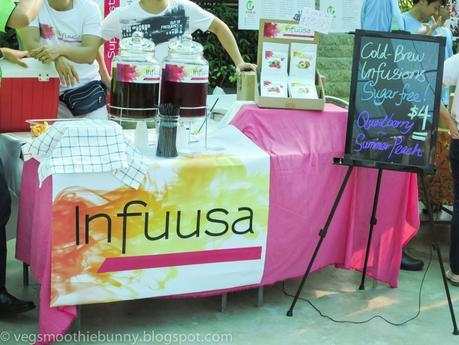 Check out also how gorgeous the flowers bloomed just in time for CNY2015!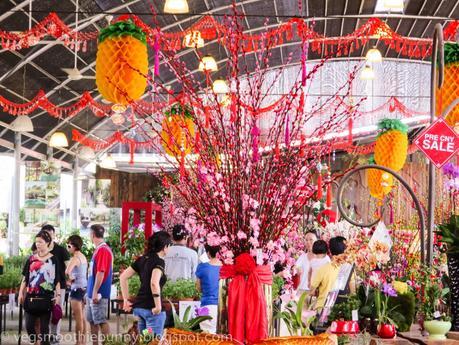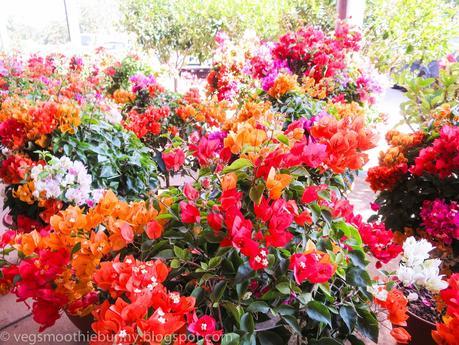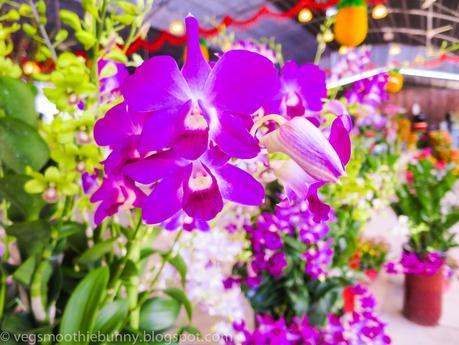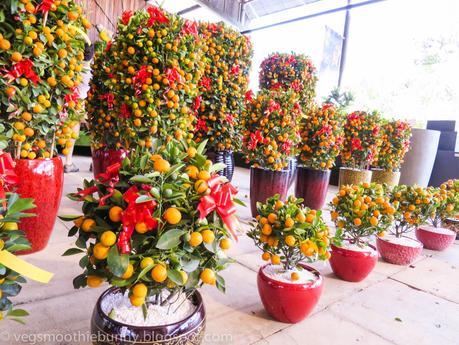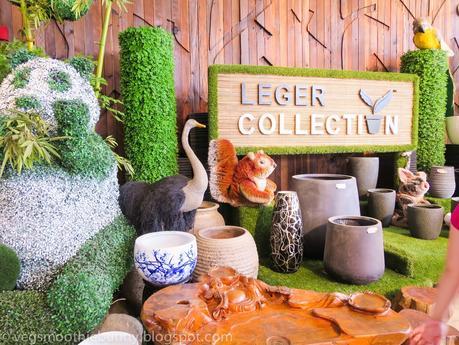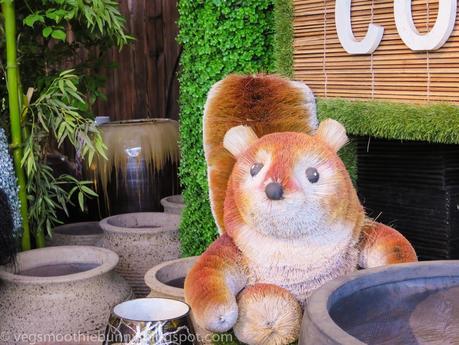 You can grow your own food at home as well! D and I recently participated in Gardener's Day Out which is another interesting weekend activity in Singapore you should definitely check out! We actually brought home a starter kit then too! Maybe I'll share photos of that day... next year. HAHAHA.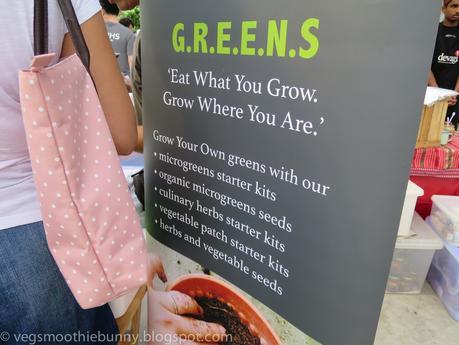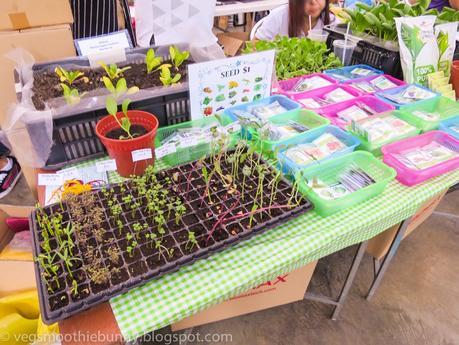 T'was a really fun and enriching day but it wasn't over yet! There was still my birthday dinner to go!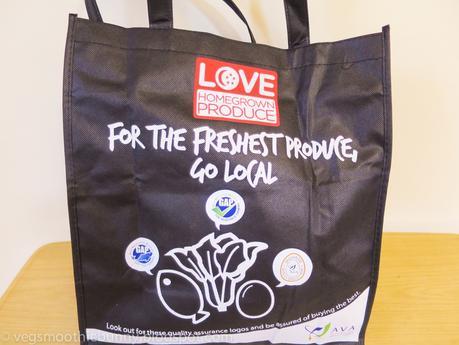 We carted the ingredients home in this super recyclable bag- I felt like such an eco- babe for the day! Haha.
Check out our ingredients!
Locally sourced eggs, veggies, fruit and fish!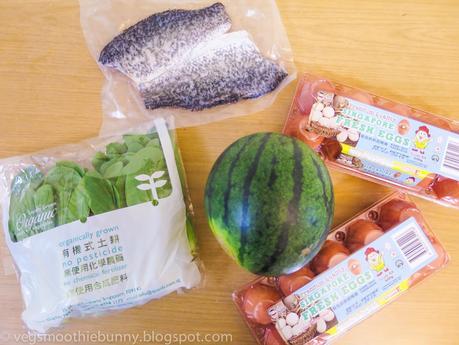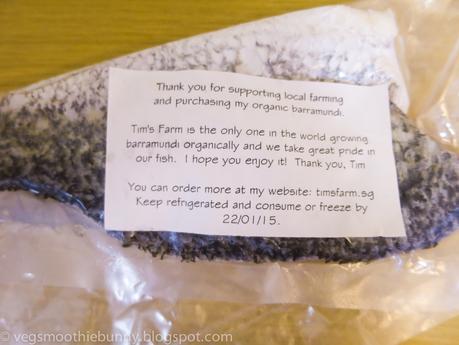 A quick toss in a pan later and...
Ta-dah!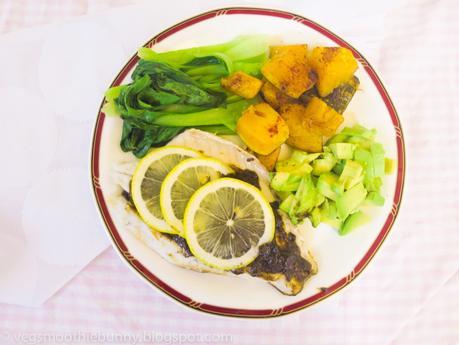 Leftover cinnamon- spiced roasted pumpkin, 1/2 an avocado, black pepper Barramundi with lemon slices and baby bok choy!
Two massive servings for D and I. And we sat around the table in my grungy homewear, with one leg up (I'm so glamourous) and ate and chatted- I really think it was one of my most memorable and fun (and certainly most nutritious!) birthdays ever!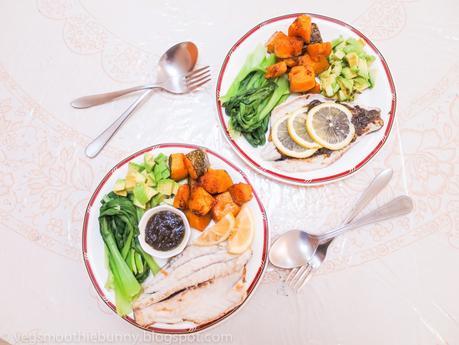 And of course, to end off the night.. we had deliciously sweet organic watermelons :D The best part of the day? No post meal stupor, just a deliciously full feeling of happiness!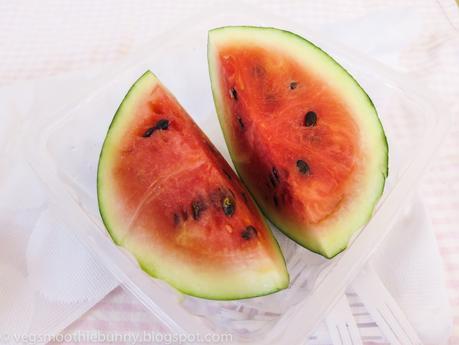 Talk about a great birthday :) It didn't cost a lot but it sure was meaningful and that, I think, made for a great start to my 27th year! :D
If you ever find yourself with nothing to do on a weekend in Singapore, don't stay at home or go to the malls or watch movies! They are all good and fun but try something new some times- go out to the farms! Or markets! Or pop up art exhibitions! There is often plenty to see and do and taste! It's an exciting world out there, guys!
With lots of love,
grace :)
p.s I had birthday part II the following day with pizzas and crabs and a whole salted caramel cake. Uh, I guess this is called... balanced living? Haha!