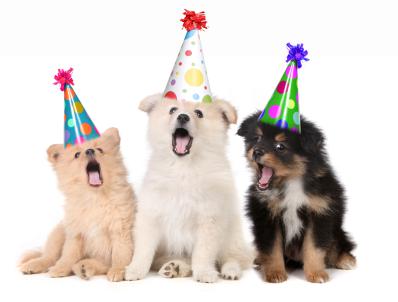 Choosing to adopt a dog from a shelter is a smart and responsible thing to do. There are thousands of fabulous dogs all over the country that will make fabulous companions, and after the rough years they've spent with neglectful owners, they could use a great new start.
What better way to celebrate the addition of a new four legged friend into your life than a party?
Prepare For a Howling Good Time
Once your new dog has settled in, introduce them to your friends and family, and their canine companions, with a post-rescue celebration! Use this puppy party prep list to get the party planning started!
The Invitations. You can purchase cute invitations and add your own details, or get creative and make your own. Include a dress code and let guests know where they'll be (a backyard most likely) so they can choose appropriate footwear.If you want to be super cute about it, you can make a picture invite with your dog all dressed up to entice others to make their dogs silly too.
Here's an idea: Tie a milk bone to the invitation and let invitees know their pooch is welcome too.
For even more fun: Encourage your four legged guests to don pet costumes for the occasion, and have cameras ready to capture the hilarity.
The Food. Every party needs nibbles, and for this one, you'll want treats for both human and dog guests. Simple foods that don't require a plate balancing act are easier when guests are surrounded by jumping, chasing pups. Try to avoid people food that contains ingredients harmful to dogs.
Here's an idea: Pizza is easy for guests to hold and eat, and cups full of "puppy chow" snack mix are fun and simple to prepare.
For even more fun: Cupcakes are great for the people, but dogs need dessert too! Dog-friendly cakes are easy to make using a recipe from online, or you can visit a local dog bakery.
Fun and Games: A party isn't a party without a little fun! You can opt for dog-only and human-only activities, or make things really wild by planning games your guests and their dogs can play together. Some dogs may be fearful of water activities, so keep this in mind when planning. Relay games are fun and easy to prepare.
Here's an idea: Have your guests and their dogs play team Simon Says. The leader will instruct the group of pairs to sit, lie down, beg, or play dead, and both owner and dog must act or they're out!
For even more fun: Send guests home with goodie bags. Fill each dog's with treats and a toy and each human's with dog-themed treats.
Puppy Proof the Party
An essential part of preparing for your puppy party is making sure the location is safe for the canine guests. Store dangerous chemicals properly, especially those used in the backyard. Pick up items small dogs could choke on. Leave water in an easily accessible place for the dogs, and keep an eye on the rowdier dogs to prevent any rough housing.
Even if many of your human guests are sans dog, you can still have a fabulous time; in fact, why not have them dress up as dogs?
Amy Silver is a student of Public Health, clipper of coupons and lover of dogs. You can find her @ twitter.com/amyjsilv​er.