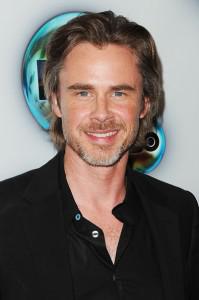 If you're in Las Vegas on Saturday night, June 16,  you might get a chance to spend the evening with True Blood's Sam Trammell.  
Sam will celebrate True Blood's  Season 5 premiere inside the Gallery Nightclub at Planet Hollywood Resort & Casino.
Gallery Nightclub will become Merlotte's Bar, incorporating a sexy bayou theme accompanied by entertainers and lingerie-clad acrobats dressed in seductive Southern attire. Pussycat Dolls Burlesque Saloon will transform into a Fangtasia-inspired venue, and the Pussycat Dolls dancers will evoke a vampire-glam style on the burlesque stage.
Read more about it here: vegasviphottiehosting.com