"Packed with comic misadventures, mystery, intrigue and opera lore, the book rollicks along to a satisfying conclusion….readers need not be opera buffs to enjoy this novel." — Kirkus Reviews
In this humorous backstage novel, a small-town opera guild headquartered in Hankey, Pennsylvania stages Mozart's most famous opera 'Don Giovanni' to stave off financial ruin.
Who doesn't love the story of Don Giovanni? A ghost exacts revenge on a notorious womanizer by dragging him into hell? Love, lust, romance, mystery, friendly ghosts, scary ghosts–my contemporary novel DON JUAN IN HANKEY, PA has it all:
To celebrate its re-release by Northampton House Press in 2016, I'm offering a Goodreads Giveaway. Win one of up to five signed copies if you enter by September 17.
Goodreads Book Giveaway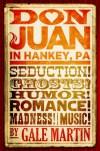 Don Juan in Hankey, PA
by Gale Martin
Giveaway ends September 17, 2016.
See the giveaway details
at Goodreads.
Enter Giveaway