I love body washes because they always make my skin smell so good long after my shower. My favorite body washes are from Softsoap! I have so much fun discovering what new scents they've released and trying them out. Most of all, I love how smooth they go on, how refreshing they feel, and how pampered I feel after using them! This summer, Softsoap has introduced two new body washes that make me feel like I've spent a blissful day in the sunshine! They are…


Summer Breeze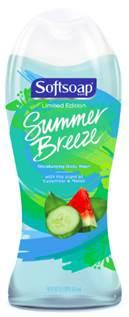 with the refreshing scents of cucumber and melon
Surprisingly, these two scents together make a wonderful combination. I have more pep in my step when I use this fruity wash!


Coconut Splash


with the invigorating scent of coconut milk
I have to admit that I'm a coconut fanatic. Anything that smells like coconut makes me feel like I'm on vacation at a tropical resort, so I love this scent to help get me through a busy day!
Both of these body washes are moisturizing, and my skin feels soft and smooth after using them. I hope you'll give them a try this summer. These special edition body washes from Softsoap can be found at Walmart until September 2016, so hurry to get them before they're gone! Visit Softsoap at www.softsoap.com.

Disclosure: I received complimentary product samples from Colgate-Palmolive to facilitate my review, but all opinions are 100% my own.