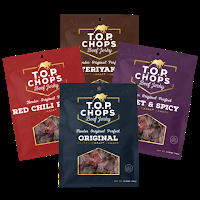 I bet you didn't know that June 12th is National Jerky Day! T.O.P. Chops Jerky, maker of a handcrafted jerky made from American beef with no additives or preservatives, is celebrating with 50% off first-time orders!
What makes T.O.P. Chops Jerky better?
T.O.P. Chops only uses USDA Graded Select or better beef
Most jerky that's made in the U.S. uses ungraded meats from dairy cattle, which are cows that no longer produce milk. Using American beef from steers—as opposed to dairy cattle—makes their jerky incredibly tender and provides an authentic beef flavor. The first thing my family said when they tried T.O.P. Chops Jerky was "This jerky is so tender!"
Thin cuts make moist jerky
The majority of beef jerky is hard and tough. But T.O.P. Chops Jerky is made using a Veri-Thin™ slicing process. This reduces the cooking time, retains the meat's moisture and renders an easy-to-chew jerky.
Marinades infused with antioxidants
While most premium jerkies on the market have similar levels of fat, sugar, and sodium, T.O.P. Chops Jerky is a "better-for-you" beef jerky. The founders partnered with food science and culinary experts to enhance the recipe. This effort culminated in a new ingredient called plum powder, which not only reduces added sugars and sodium, but also creates a product packed with antioxidants.
T.O.P. Chop Jerky comes in four flavors, including Original, Teriyaki, Sweet & Spicy and Red Chili Pepper. My family was able to try all four flavors, and they loved all of them! The Sweet & Spicy was a particular favorite!
Learn more about T.O.P Chops Jerky on their website at https://topchops.com or follow them on Instagram @topchopsnacks.
And don't forget to use code JERKYDAY to get 50% off your first purchase and celebrate National Jerky Day on June 12th!

Disclosure: I received complimentary product samples to facilitate my honest review.