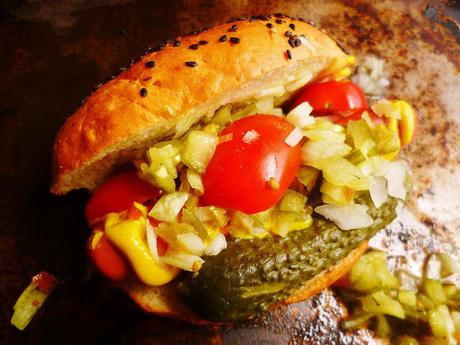 a chicago dog with the works
Much as I love and am curious about history, it seems that as far as family history goes that for the first twenty years of my life I wasn't asking the right questions. I only found out a few months before my Irish grandmother's death that she had actually been brought up in New York, only returning to Ireland at 15 just before the outbreak of World War 1, before running away to England to seek her fortune. "Why didn't you tell me?" I wailed. "I didn't think you'd be interested," she said somewhat bemused. Argh! I am so disappointed that I lost the opportunity to perhaps get a little closer to my grandmother and to learn what living in one of the most exciting cities at the beginning of the 20th century was like.

After Grandmother died, I inherited boxes and boxes of photographs, most of which were of people and places that I didn't recognize. But there amongst piles of black and white photos, was a familiar face in surroundings that confused me. There was my father aged seventeen, smart in his merchant navy dress uniform, in a picture taken by an enterprising street photographer. What confused me was that my father can be seen, half in profile, looking greedily at a New York hot dog stand. It was the late 1940s and he had just experienced years of boarding school food and rationing. The expression on his face says it all; manna from heaven. Greed I understand perfectly. But what the hell was my father doing in New York?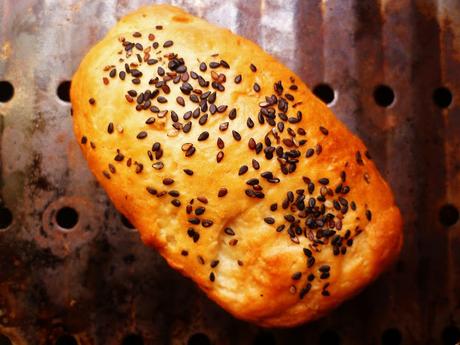 a homemade poppy seed hot dog bun
"Why didn't you tell me?" I asked plaintively. "I can't be expected to remember all the things you might be interested in," said my father with some feeling. But I had learned my lesson. I had to ask the right sort of questions. So over the next twenty years, I learned of my father's first voyage to the US in 1947, traveling around the coast, where the entire country seemed to welcome him and his colleagues with open arms, offering friendship, food and, in my father's case, his beloved classical music. I give thanks for that kindness as well as a whole fund of stories that my father later regaled me with.
Eighty years after my grandmother left New York and fifty years after father was seen ogling delicious street food, I too washed up in the Big Apple, soaking up the sights, sounds and tastes of the city. Up until then my only experience of American food was from literature and films, as well as the fast food chains that I grew up with in Malaysia. Which explains partially why I am obsessed with regional American food; it is the food of immigration, something which utterly fascinates me, perhaps because of my own family history. I am intrigued by what immigrants do to and with the food of their new home. It is an endlessly intriguing subject, as well as one that tastes good too!
But while my father might have been hungry for a New York hot dog, I'm afraid it is the Chicago Dog that has a special place in my heart. Order a Chicago dog with the "works" and you get a beef hot dog in a poppy seed bun, that has been "dragged through the garden" meaning that it comes loaded with pickles and raw vegetables.
What could be more American than a hot dog? But remember, for the authentic Chicago dog, you must dress the dog, not the bun. And never, ever top your dog with tomato ketchup!
Serves 1
Skill level: Easy
ingredients:
1 poppy seed hot dog bun
1 beef hot dog, cooked
American yellow mustard
sweet cucumber relish (the greener, the better)
onions, finely chopped
1 tomato, cut into wedges
1 large gherkin, halved
2 mild green pickled chillies (Chicago-style "sport" peppers for authenticity, although I used jalapenos)
celery salt

directions:
Pre-heat the oven to 200C.

First steam your hot dog bun. Cut it almost all the way through, but leave it uncut down one side. Spritz the outside of the bun with a little water. Wrap tightly in kitchen foil and heat in the oven for about 10 minutes until warmed through.

Place the dog between the bun. Dress the dog with a wriggly line of American mustard all along its lengthy.

Tuck the pickle slices in the bottom half of the bun.

Add a generous spoonful of cucumber relish in the top part of the bun.

Sprinkle over the chopped raw onions, as little or as much as you like.

Cram the tomatoes wedges in the top half of the bun.

Top with the pickled chillies.

Sprinkle with a little celery salt.

Devour with a thankful heart.