Disclosure: I participated in a campaign on behalf of Mom Central Consulting for Reebok. I received a Famous Footwear gift card to purchase a pair of Reebok shoes to facilitate my review and to thank me for participating.

We all love summer, but getting the kids back to school can be a great time for mothers to get some much-needed "me-time." For me, this means taking frequent walks throughout the week with my friend. She and I meet up 3-5 times a week for long, vigorous walks. Not only is it great to have this "girl time" together, but it gives me the exercise I badly need since I sit at a desk for a good part of my day.
Any type of exercise program requires comfortable shoes with good support. Several months ago, I purchased a high-priced pair of athletic shoes, and I just couldn't break them in! Every time I walked in them, I ended up with blisters. Fortunately, I was recently given the opportunity to try out a pair of Reebok shoes from Famous Footwear. Oh, what a difference! Check out the cool Reeboks I picked out from Famous Footwear: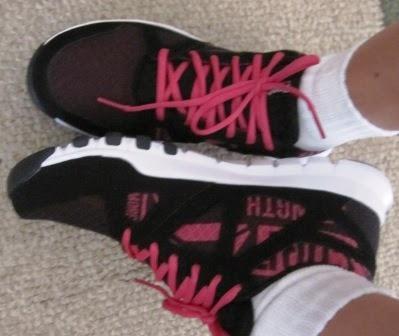 Aren't they cute? But, even better than being fashionable, these shoes are SO comfortable! There was no break-in period whatsoever. From the first time I wore them, they felt great on my feet, and I've had no blisters whatsoever. Needless to say, I love these shoes! Now I have even more reason to look forward to my walks. And I can wear these shoes when I'm running errands or embarking in other activities outdoors.
I love that Reebok shoes are available at both Famous Footwear stores and on their website. If you don't have a store nearby, or just don't have time to get to the store, it's so easy to order Reeboks on their website. There are plenty of great options -- for women, men and kids! They have amazing discounts and promotions. When you sign up for their Rewards program, you'll receive even more deals! For instance, the Reebok Women's Sublite TR training shoes I ordered above are currently 47% off the regular price, making them only $39.99! In addition, there's a coupon online to Buy One, Get One ½ off, plus Rewards members save an additional 20%! (Non-Rewards members still save 15%.) At these prices, I can easily equip my whole family with Reebok shoes from Famous Footwear … or pamper myself with additional pairs!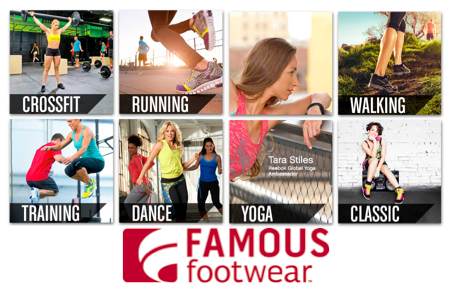 I hope you'll pay a visit to the Famous Footwear website, especially if you want some great athletic shoes like those from Reebok. And if you're lucky enough to have a Famous Footwear store near you, stop in and check out their selection of Reebok shoes, as well as the other great shoes and prices they have available. Shopping for your family's shoes doesn't have to be expensive, especially when you check out the selection and savings at Famous Footwear!



CLICK HERE to see my review of my Reebok shoes on the Famous Footwear site!