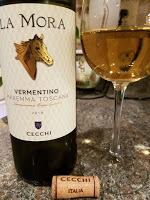 The Maremmano is a horse breed native to the Maremma area of Tuscany and Lazio in Italy that has transitioned from a working horse with livestock to a saddle horse today. The horse is known for its dark chestnut or black color as well as its solid frame and ability to adapt to bad weather and rough terrain. Chianti Classico producer Cecchi Family Estate pays homage to the horse by displaying a depiction of the Maremmano horse on the label and naming their Maremma Toscana brand La Mora - for the black horse.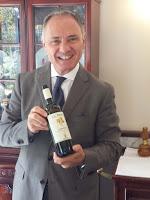 These wines are produced from grapes grown in the Maremma Toscana D.O.C. - a region located in the southwestern part of Tuscany bordering the Tyrrhenian Sea. It recently gained D.O.C. status in 2011; yet in 1996 the Cecchi family purchased 360 acres of Maremma vineyards expanding out of Chianti Classico, the winery's home since the late 19th century.
At a recent tasting Andrea Cecchi spoke proudly about the family's Maremma Toscana wines and I can see why in respect to the 2014 La Mora Vermentino ($20, 13% ABV).  This is not your standard Vermentino wine. Yes it is lively with stone minerality, but a touch of malolactic fermentation provide richness not seen in others.  And the wine provides a deep stone fruit flavor accompanied by a dry and refreshing finish. Nicely done.