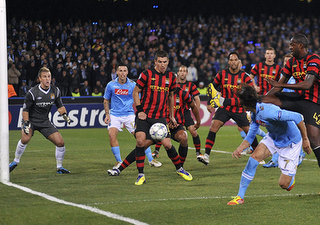 Cavani's precise headed goal from a corner.
Edinson Cavani punished Manchester City in the penultimate round of Champions League group stage games, scoring a double in the Italian side's 2-1 victory. As Bayern Munich sealed the first place of the group mathematically, now Manchester City must hope that Villarreal (last placed in the group with zero points) can hold Napoli at bay while Mancini's men try and defeat Bayern Munich. While Manchester City's Champions League dream could be coming to an end, Napoli's is only beginning.
At the filled San Paolo stadium in Napoli, it was Edinson Cavani who cruelly punished Manchester City's defensive mistakes. The Uruguayan forward gave the Italian side the lead with a delicately flicked header at the near post, which slipped through into City's net. A simple lapse of concentration by Manchester City's defence lead to Napoli getting the lead in the 18th minute, forcing City to chase the game away from home.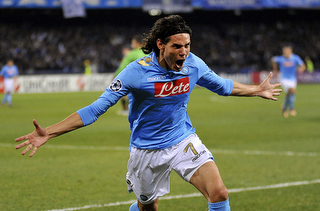 Cavani celebrating after scoring his second and the winner.
While Balotelli managed to tap-in an equalizer after David Silva's parried shot, Manchester City were still under the spell of the 57,000 Napoli fans at the San Paolo. In the second half Cavani enchanted his fans yet again with another bit of magic. The Uruguayan was completely unmarked as he ran into the box to coolly finish Dossena's low cross. For the second time the crowd went wild, as did the overjoyed Cavani who ran around in celebration.
While there were plenty of chances in the remainder of the second half, neither side managed to capitalize. Balotelli and his teammates were constantly being stopped by Napoli's keeper De Sanctis, and Joe Hart made key interventions on the other side of the pitch against Lavezzi and Maggio. The match finished 2-1 for Napoli, and while Manchester City created plenty, their inability to finish and their defensive lapses ultimately punished them.
What are your thoughts on this key Champions League match? Can Manchester City qualify for the next round? Share your comments below!