Last summer, The Blaze wrote an article titled, "Casinos Are Dying In This Iconic Gambling City." The city the article was referring to was Atlantic City, in New Jersey, USA, and the title was more than speculation. In Atlantic City, multiple major casinos have closed in recent years, and while The Blaze's article went on to describe the process as one of natural correction for an area that had been over saturated by casinos, the trend is nevertheless a concern for those who enjoy live casinos.
One factor that could be behind the apparent waning interest in live casinos is the fact that in 2014, for the first time, New Jersey was allowing people to play at online casinos. Naturally, this is a more convenient option, particularly for a culture increasingly used to instant entertainment and hasty gratification. In fact, there were even stories written about tourists visiting New Jersey simply to stay in its hotels and gamble online!
Beyond simple convenience, online casinos also have the benefit of offering various promotions and perks that you don't always find at a live casino. Betfair is one major online gaming company that had made some partnerships with New Jersey casinos, and despite these partnerships, the company's own platforms provide some of these perks, which incentivize players to stay online. The betfair arcade platform alone has numerous promotions for new players, such as £250 prize cash giveaway on some games, Free bet Mondays, and other exciting deals. And other like promotions exist on the company's poker and bingo platforms as well.
And yet even with the incentives of convenience and promotional deals, Atlantic City's problem is actually something of an outlier among cities known for live casinos. The truth is, casino tourism is alive and well in many such cities, including Las Vegas and, more and more, Macau.
No matter how convenient or sophisticated online gambling becomes, there is a vacation aspect to traveling to live casinos that will always remain popular. And that is where Macau has thrived to the point of becoming one of the world's premiere casino destinations. The region will never offer anything in the way of casino games that you can't find in Las Vegas, around Europe, or online; but an actual trip to Macau can be an experience unlike any other, so in this post we want to highlight five Macau attractions you should be sure to see the next time you travel!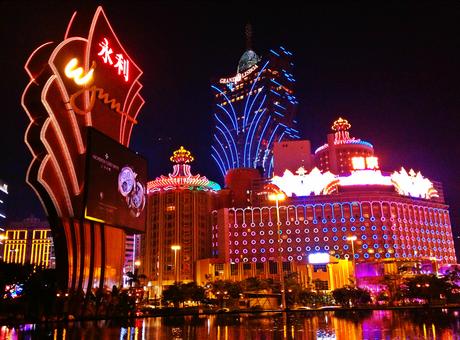 ---
1. Venetian Macao Casino Floor
The Venetian Macau Resort Hotel was modeled to resemble The Venetian in Las Vegas—but it almost appears as if the architects got carried away. The result is one of the biggest and grandest casino resorts on the planet, and according to CNN Travel, it has the world's largest casino floor. Again, you won't necessarily find original games you can't play elsewhere—but there's just nothing like the atmosphere of a casino floor this expansive.
---
2. Club Cubic
If you're more interested in the club side of casino tourism, Club Cubic at the City Of Dreams resort is among the best venues in the world for an energetic night out. Equipped with performance stages right in the middle of the action, dance floors lit by lasers, and VIP suites that are perched above the club, it offers a surreal party scene.
---
3. Grand Lisboa Tower
The tallest building in Macau and one of the most imposing, impressive towers in all of Asia, the Grand Lisboa is a casino unlike any other. Its vast array of games and attractions is appealing, and it has some of the best fine dining you'll find at a Macau venue—but it's the building itself that's such a unique experience.
---
4. The Bubble
Among casinos' grand spectacles there are always a few shows that can take your breath away. And in Macau, The Bubble is the venue to look to for shows like this. Another attraction situated at the City Of Dreams, The Bubble is basically a giant dome that showcases 3D light shows, some of them abstract and others dealing with Chinese legends and history. But it's a hard place to describe in words. Here's a video to give you a better idea.
---
5. Coloane Village
Finally there's Coloane Village, which has nothing to do with Macau's casino culture, and is therefore the perfect example of why traveling to casinos still holds value. Trip Advisor reviews describe this charming village as the "jewel of Macau," and the "closest you will get to old Macau," and they're certainly accurate. Essentially an old fishing village, Coloane provides a beautiful glimpse of genuine culture, which is perfect for a daytime break from the casino tables.
There are numerous reasons why casino resorts remain popular even in the face of expanding online gaming companies. But the ability to enjoy attractions like these is certainly one of the key components driving people toward casino tourism even in 2015.