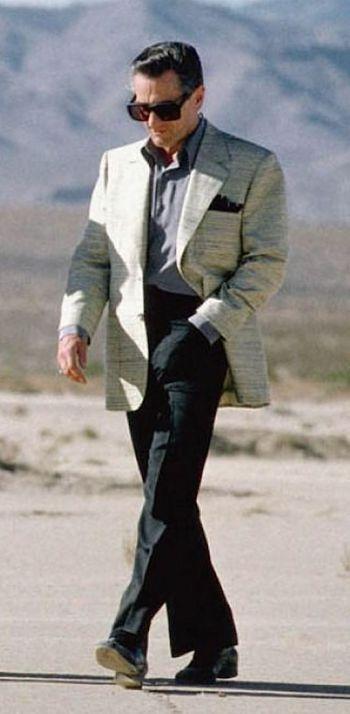 Robert De Niro as Sam "Ace" Rothstein in Casino (1995).
Vitals
Robert De Niro as Sam "Ace" Rothstein, Vegas casino executive and mob associate
Las Vegas, Summer 1980
Film: Casino
Release Date: November 22, 1995
Director: Martin Scorsese
Costume Design: Rita Ryack & John A. Dunn
Background
Last week's Mafia Monday post examined a moody but visionary Jewish mobster in the middle of the desert outside Las Vegas, and you'll be surprised to see that I'm doing the exact same thing today.
That scene from Bugsy showed the trailblazer Benny Siegel making his mark in the so far undeveloped Las Vegas. In Casino, more than three decades later, Vegas is now a hopping nightspot whose best years are already slipping behind it. Many guys who tried to follow Bugsy's example are now buried out in the desert where Sam Rothstein has been summoned to meet his old friend, the volatile Nicky Santoro (Joe Pesci).
Normally, my prospects of coming back alive from a meeting with Nicky were 99 out of 100. But this time, when I heard him say "a couple of hundred yards down the road", I gave myself 50-50.
Things haven't been so great for Sam and Nicky. They were best buds coming up together "back home" but Sam embraced the analytical aspects of their criminal ventures while Nicky was all about the violence. Having heard that Sam was potentially plotting behind his back, Nicky has now called him to meet out where the heads of their predecessors are buried.
What'd He Wear?
Ace wears this distinctive flecked jacket for a brief but pivotal scene in the movie that cements the fatal fissure in he and Nicky's friendship.
The cream-colored sport coat with its oatmeal-colored horizontal fleck reflects the surrounding desert imagery, unconsciously symbolizing to the audience that Ace belongs in this setting far more than the gray silk-suited Nicky Santoro. Underneath, Ace's attire is all urban-evoking blacks and grays but he's becoming better at adapting to his surroundings than he was when he was criticized for firing Don Ward.
Ace's single-breasted jacket appears to be a linen and silk blend, fitting for Ace's brand of flashy functionality. It has the same distinctive "cran necker" fishmouth-style notch lapels as many of his other suit and sport jackets in Casino. The shoulders are well-padded with roped sleeveheads.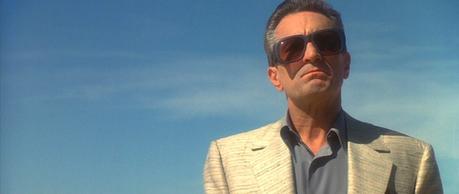 Ace may be the kind of guy you don't want to mess with, but even he knows that you don't want Nicky Santoro on your bad side.
The jacket has a 2-button front with a single matching button on each cuff. The long double vents would be found on most of his jackets whether set in the '70s or the '80s. There is a large patch pocket on each hip, and a patch pocket over the left breast where Ace wears a dark brown silk display kerchief.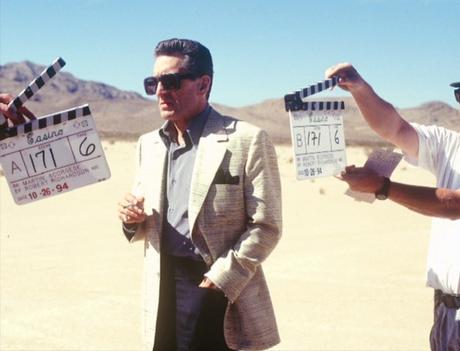 A behind-the-scenes shot of Robert De Niro on location, filming in the desert on October 26, 1994 (according to the clapperboards).
Ace wears a gray soft silk shirt that draws out the gray and oatmeal tones of the jacket fleck. Like most of his other shirts, it has a large point collar, plain front, and breast pocket. The cuffs appear to be the same "Lapidus" single-button tab cuffs as found on many of his other shirts.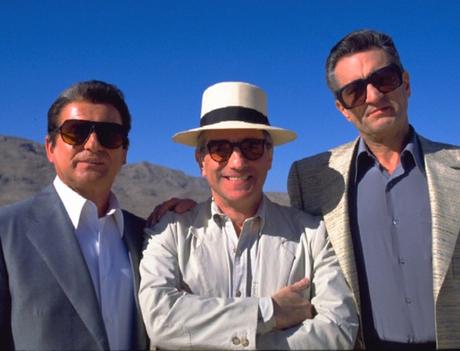 Joe Pesci, Martin Scorsese, and Robert De Niro take a break from filming a tense scene in the desert outside Las Vegas.
Not the most comfortable choice for a meeting under the hot desert sun, Ace wears a pair of black polyester darted flat front trousers with a long rise. The high waist is fitted to be worn without a belt. He often places his hands in the frogmouth-style front pockets, and the plain-hemmed bottoms are slightly flared.
Ace wears a pair of black leather loafers with raised heels. His dark socks are probably also black to avoid any disruption in the leg line.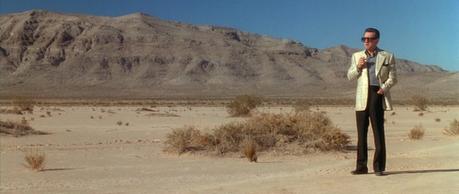 At first, I thought Ace was wearing very dark brown trousers but production photos have proven to me that he is, indeed, wearing black slacks. I likely saw brown because of the cream tones of the jacket and all of the surrounding sand.
According to IMDB, Robert De Niro himself chose the sunglasses that he would be wearing in the scene. They are almost definitely a pair of "Ultra Goliath" matte black frames from the Vintage Frames Company. Although the default style has clear lenses, brown-shaded lenses like Ace wears can be swapped in for up to $75.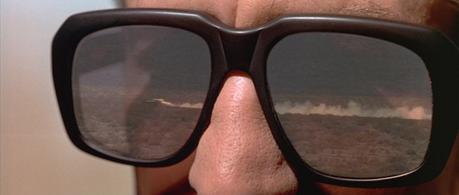 Ace spies Nicky speeding across the desert in his '77 Monte Carlo, one of many cars he helmed that day. (It's also a magic Monte Carlo as Nicky somehow manages to get the tires to dramatically squeal while peeling off of the desert sand.)
Ace wears both his watch and ring on his right hand. Not much is seen of the watch, but the silver-toned glimpse of a bracelet indicates that it's not one of his all-gold models. The gold ring with its square flush diamond is much more clearly seen gleaming from his right pinky.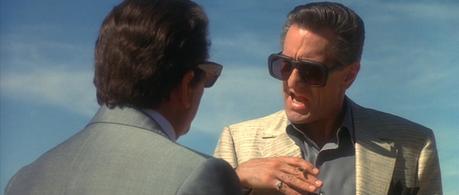 Ace argues with Nicky, who is just one anti-Semitic, profanity-laced tirade away from ending their friendship permanently.
This outfit shows up on the far right end of the fourth row on Ibraheem Youssef's poster that reflects all of Ace's suits from Casino.
How to Get the Look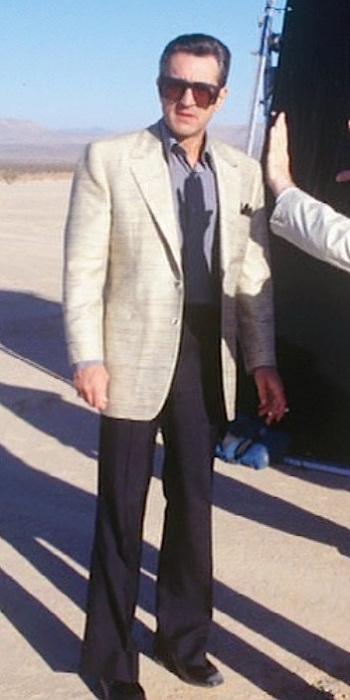 Robert De Niro being directed by Martin Scorsese on the set of Casino.
Although not the most practical outfit for his desert meeting, Ace's clothing shows that he better fits into his surroundings than the interloping mobsters that are trying to shut him up.
Cream horizontal-fleck linen/silk single-breasted 2-button sport coat with "cran necker" fishmouth lapels, patch breast pocket, patch hip pockets, 1-button cuffs, and long double vents
Black polyester darted flat front trousers with extended squared waistband tab, frogmouth front pockets, and flared plain-hemmed bottoms
Gray silk shirt with large point collar, plain front, and "Lapidus" single button-tab cuffs
Black leather loafers with raised heels
Black socks
Stainless steel wristwatch on steel bracelet
Gold pinky ring with flush diamond
Vintage Frames Company "Ultra Goliath" matte black-framed sunglasses
For a final flourish, Ace wears a multi-pointed dark brown silk display kerchief in the breast pocket of his jacket.
Do Yourself a Favor and…
Buy the movie.
The Quote
Yeah I did want to go on TV. That way I have a forum, I can fight back. I'm known. People see me. They know they can't fuck around with me like they could if I was an unknown.