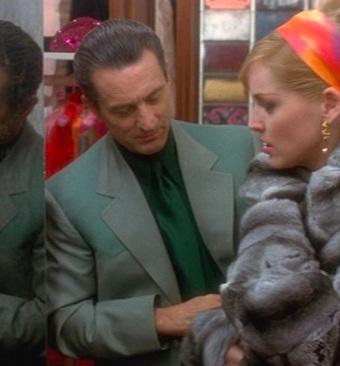 Robert De Niro and Sharon Stone as the new Mr. and Mrs. Sam "Ace" Rothstein in Casino (1995).
Vitals
Robert De Niro as Sam "Ace" Rothstein, Vegas casino executive and mob associate
Las Vegas, Spring 1974
Film: Casino
Release Date: November 22, 1995
Director: Martin Scorsese
Costume Design: John A. Dunn & Rita Ryack
Background
Many Americans are rocking green today for St. Patrick's Day, so BAMF Style is taking a look at an all-green outfit sported by Robert De Niro in Casino, one of his 70 costume changes and part of the movie's staggering $1 million costume budget.
In the context of the film timeline, De Niro's "Ace" Rothstein isn't buying shots of Jameson in a cheaply decorated bar or vomiting in an alleyway while a parade of leprechauns walks by; he's taking his new wife Ginger (Sharon Stone) to their first new home after their marriage.
What'd He Wear?
Rita Ryack, one of Casino's costume designers, stated that the costumes were meant to reflect the chaos in the story, with more chaotic colors appearing as the events on screen unfold. This scene contains one of Ace's most tranquil moments, so his monochromatic color scheme – while loud – indicates his rare inner peace. De Niro has said elsewhere on screen that "geniuses pick green"; while Ace is indeed a gambling genius, green is also an earthy color that symbolizes balance, stability, and rebirth. The workaholic Ace has found a life balance with his new life partner, and his trust in this beautiful young woman leads to a short-lived period of renewed energy and happiness.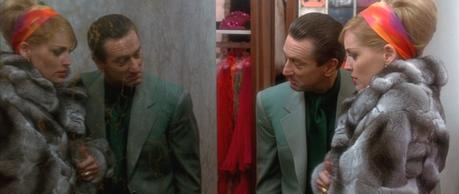 A tale of two Aces: De Niro nails the vanity of a guy like Sam Rothstein who would constantly be checking to see that he looked his best during important moments of his life.
Though constructed from a different suiting, Ace's light green Western-styled suit shares much of its styling and tailoring points with the ivory polyester suit he would later wear when confronting Ginger and Lester in the diner. The material is shiny, indicating the possibility of mohair or a mohair blend.
The single-breasted jacket has pointed Western-style yokes over each shoulder down onto the chest. The presence of the yokes means no breast pocket; the two flapped hip pockets sit straight on the waist. Both the yokes and the pocket flaps shine as a slightly more vivid shade of green under certain light.
The two buttons on the front of the jacket and the two buttons on the end of each cuff are steel. Edge swelling is present on the notch lapels, yokes, and pocket flaps. The shoulders are padded, and the sleeveheads are roped. Although the suit doesn't receive much screen time, it appears to have the same "pinch-back" jacket as the ivory suit with a single pleat, half-belt, and single vent in the back.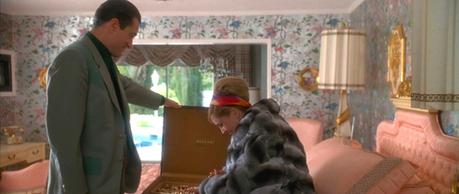 Ace proudly presents Ginger with millions of dollars of jewelry… then tells her she has to keep it locked in a bank vault out of their home.
Ace's matching suit trousers are flat front with an extended waistband tab that closes on the right with a concealed hook. They have straight on-seam side pockets and flared, plain-hemmed bottoms.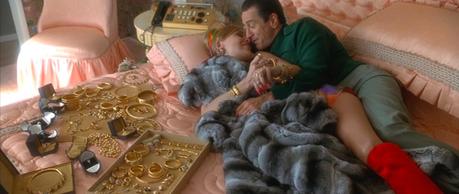 The happy couple.
Ace flips to the other end of the green spectrum with his dark green silk shirt and matching tie. The very distinctive shirt has a large point collar, epaulettes (or "shoulder straps") that button on the outside of the shoulder rather than against the collar, and two chest pockets that button closed through a mitred-edge flap. The left chest pocket flap is monogrammed with "S.R." stitched in dark green on the pocket's left edge.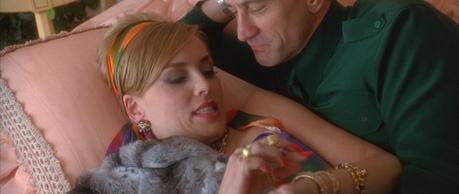 Ginger tries to talk Ace into keeping at least one of her new jewelry pieces at home, but it would disrupt the nature of their business relationship marriage.
Ace's shirt also incorporates the familiar "Lapidus cuff", the unique cuff seen throughout the 1970s that close with a single button on a tab. In addition to many of Robert De Niro's shirts in Casino, the Lapidus cuff made its way onto several of the Frank Foster shirts worn by Roger Moore during his tenure as James Bond.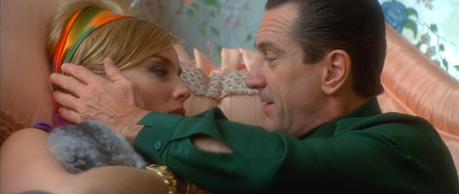 The name's Rothstein. Ace Rothstein.
Barely seen on screen, Ace wears a pair of olive alligator leather tassel loafers. Although the shoes follow Ace's green theme for his outfit, he curiously breaks it up with his socks, a pair of thin brown silk dress socks with dark brown stripes.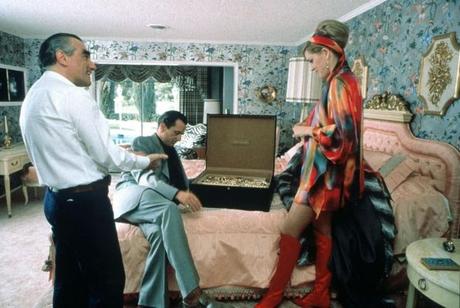 Scorsese directs De Niro and Stone on set.
Ace opts for all silver jewelry and accessories, wearing a flat all-steel watch with a square silver dial on his right wrist and a silver ring on his right pinky. This is the very scene where Ginger is gifted with millions of dollars worth of Bvlgari jewelry from Ace, but there's still no confirmation if they were behind any of Ace's bling.
Worth mentioning in any sartorial post about Casino is artist Ibraheem Youssef's impressive tribute to all of De Niro's various suits in Casino, found here.
Go Big or Go Home
Dinah Washington's "Unforgettable" played during their otherwise forgettable marriage proposal, and now – at the end of their engagement – the title track of Dinah's 1959 album What a Diff'rence a Day Makes! plays as Ace pulls up to their new home in his (anachronistic!) orange 1977 Cadillac Eldorado Biarritz coupe.
Although the song was originally published in 1934 as "What a Diff'rence a Day Made", Dinah's rendition brings the action to the present tense. Her voice is full of hope and, backed by the inspiring orchestra conducted by arranger Belford Hendricks, the song surely reflects Ace at his happiest.
Of course with an abode like that, Ace's palpable excitement is understandable. The house, located off the edge of the Las Vegas National Golf Course, belonged to hip hop mogul Suge Knight at the time of filming. A terrific post by David Latta explores the house – located at 3515 Cochise Lane – and some of its history. The 4,862 square-foot house is also listed on Zillow, citing that it was built in 1964 and boasts four bedrooms and five and a half bathrooms. The real Frank "Lefty" Rosenthal and his wife dwelled in a slightly smaller but equally luxurious house only a few miles away, within the private Las Vegas Country Club.
The real Lefty's home at 972 Vegas Valley Drive is currently for sale*, listed at $750,000 on Zillow. Lefty had the house built new for him and Geri (the real-life Ginger) in 1970, a year after they were married. The 3,266 square-foot home has three bedrooms, two full bathrooms, and swank throughout from the bathroom to the pool. The house was evidently re-listed in January 2015.
* as of March 2016
How to Get the Look
Rarely can you gift someone a chinchilla coat and still be the loudest-dressed person in the room, but Ace Rothstein pulls it off with considerable aplomb. If you want to wear all green for St. Patrick's Day, be wary that this isn't a suit you'll want to try to wash vomit out of.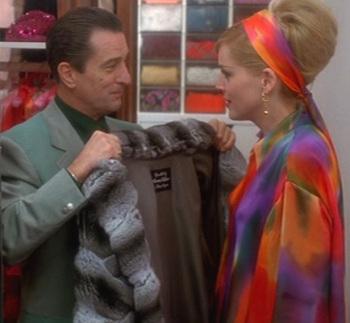 Light green mohair Western-styled suit, consisting of:

Single-breasted pinch-back jacket with edge-stitched notch lapels, 2-button front (steel buttons), flapped hip pockets, 2-button cuffs (steel buttons), and pleated half-belt back with single rear vent
Flat front trousers with extended waistband tab, straight on-seam side pockets, and flared plain-hemmed bottoms

Dark green silk dress shirt with large point collar, button-down epaulettes, and 1-button tab "Lapidus cuffs"
Dark green silk necktie
Olive alligator leather tassel loafers
Brown thin silk dress socks with dark stripes
Steel wristwatch with square silver dial and flat bracelet
Silver pinky ring
Do Yourself a Favor and…
Buy the movie.
The Quote
All this stuff doesn't mean anything… without trust. I have to be able to trust you with my life.