I am always looking out for good deals and playing the cashback game has enabled me to spend smarter plus get the best value out of my money. This is definitely one of the must do if we want to manage our finances well. How about Airmiles for those who are playing the miles game? Does it let you redeem free air tickets easily or enable you to upgrade to business class or even first class for a more luxurious travel?
With increased competition, the deals out there gets even more attractive for consumers like us. I could even order food for free through Grabfood when they had the $18 promo code for first time users. Free Grab rides were even possible when there were lots of promo codes. Besides all these freebies which emerge out recently, the best thing offered is still free CASH! Banks have been actually giving out free cash for the longest time and with so many banks in Singapore, we can always rotate around and continue getting free cash.
Deal of the year 2019 - Team challenge Starts Now!
For the year 2019, the competition heats up with a special challenge by Singsaver among the financial bloggers. Yes, I am part of this challenge and you can be part of this too. As a run up to Chinese new year in February, lots of Ang Bao $ will be given away for this challenge. All who participate in this challenge will be entitled to guaranteed rewards up to $200, bonus angbao of up to $50 and special giveaway of $888 cash.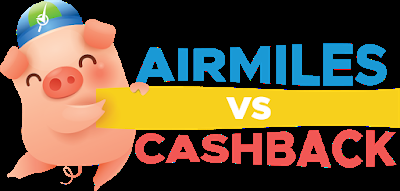 This challenge is called team Airmiles Vs Cashback - Which Team are you in? I choose to be in team cashback as I think its a safer, easier and sure win way to be smarter with our money.With cashback credit cards, getting cashback is easy as often there are no hidden conditions to fulfil, no minimum spend required. You get instant cashback on your spending to offset your next credit card bill automatically. Its that simple.
For now, let me introduce the cashback cards available for this challenge and the perks that comes with each application:
1. Citi Cashback credit card

$200 vouchers for new Citibank customers
$30 vouchers for existing Citibank customer
$150 cash + $100 cashback = $250 for new SCB customers
$50 cash + $20 cashback = $70 for existing SCB customers
Singsaver Exclusive: $150 cash for new and existing AMEX customers
$20 CapitaVouchers from Bank if you apply via MyInfo
3% cashback for first 6 months
$150 cashback for new HSBC customers (T&Cs Apply)
$100 cashback for existing HSBC customers (T&Cs Apply)
Bonus 5% cashback on contactless payments
$50 cash for new and existing UOB customers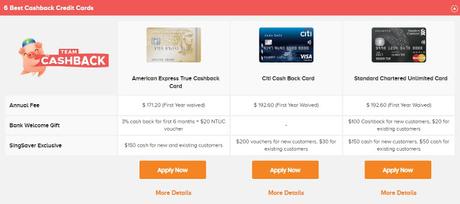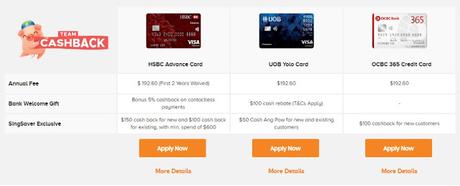 So which cashback credit card is good?
Personally, I've tried 2 of the cashback credit cards above. They are the AMEX True Cashback and Standard Chartered Unlimited credit card. The AMEX true cashback credit card boost a high 3% cashback for any spend for the first 6 months, up to $5000 total spend. This will come in handy for the upcoming Chinese New Year spending or if you're planning to buy some stuff for the start of the new year. For $5000 spent, you will get back $150 cash in your credit card statement. For every application now, you will also get $150 instant cash reward. Sounds like a good deal isn't it?
For the Standard Chartered unlimited credit card, I still own this card and I must say this is the most fuss free cashback card I've ever had. It gives 1.5% unlimited cashback on all eligible spend with no minimum spend required. Basically, I just use this card to pay for everything and I will get cashback for every dollar I spend. For each application now, you will get $250 cash & cashback instantly, which is the most attractive offer among all the cards here. If you don't have this card and are new to standard chartered, then this deal is really good for you.
I'm also considering the HSBC advance card which gives 2.5% cashback if you spend more than $2000 per month or 1.5% cashback for any spend below $2000, no minimum spend required. HSBC has good offers with partners such as Golden Village to offer special rates movie tickets at $9.50 on weekends or $7 on weekdays. We can also get Gold class tickets at $24.50 for weekdays and $34.50 for weekends. This is good for those who love to watch movies at the cinema.
Bonus: Ang Bao & $888 Cash Giveaway for 2019 Team Challenge - Cashback vs Airmiles
The team challenge will run from 7 Jan to 31st Jan 2019. The status of the Ang Bao per application will be updated daily at this link as seen in the image below. As long as either Cashback or Airmiles wins, the minimum Ang Bao payable is $20 and up to $50 per card application. Do remember to check the link daily.
Share this with your friends as the more applications we have, the more Ang Bao each one of us will get!


To stand a chance to win $888 cash, comment and tag 3 Friends on this post on why you think Airmiles or Cashback is better. The top 3 most creative answers from the winning team will each receive $888 cash!
Apply for a cashback credit card and join the team challenge
If you do not have a cashback credit card or looking to get other bank's cashback card, this would be the best time to do it with such good deals on the table. Personally, if you do not have any cashback credit cards at all, the Standard chartered unlimited credit card will be the best for you. Its $250 cash given to you instantly after you apply for the card and additional Ang Bao $ if cashback team wins. I am quite confident that cashback team will win as its a more common credit card among the masses in Singapore as compared to Airmiles cards.
Let's make cashback team a winning team to start off 2019 with good luck and prosperity!
Apply for your cards here today.