Mr. Fred Marion of Goodfellow, Arkansas has $5M less in the bank as of late.  A jury found the Tennessee flea market owner guilty of trademark infringement on March 23, 2012.  Mr. Marion rented booths in his 3rd Street Flea Market complex to vendors he knew were selling counterfeit Coach merchandise.
Channel 3 WREG Memphis news stated, The jury's huge judgment of $5 million against Goodfellow could send messages to other business owners the manufacturers of these luxury items are "for real" when it comes to going after "the fakes".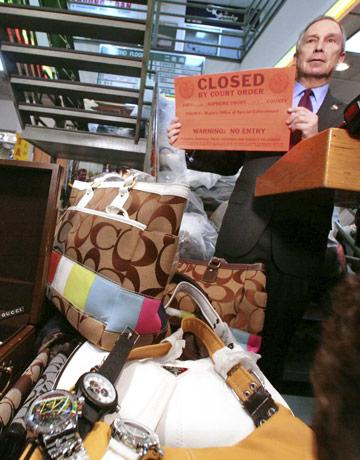 Photo credit: AP Images/Bebeto Matthews
This is definitely not the first, nor the last Coach legal attack on those producing and selling counterfeit goods.  Operation Turnlock, the unofficial name of the offensive legal campaign launched by Coach in 2008, seeks to remind everyone that a brand's value is nothing to be copied lightly.
Please reread the devastating effects of counterfeit good production in this amazing article by Dana Thomas.  If you can't afford a Coach.  Who cares? Don't buy a fake.  Buy something with character and a little creativity.  I am still utterly confused as to how a bunch of repeating gaudy C's on a canvas purse became so popular anyway.
Well, at least Coach can protect its name in court.  That's basically all they have in my opinion.  See my post about the poor quality of Coach shoes here.