Carrots are devine... You get a dozen for a dime, It's maaaa-gic! -
Bugs Bunny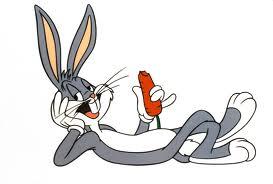 So what's up, Doc? Yes ,I know I am dithering... I have something and more coming up... That seems to be the promise in every post... But then in the words of my fave...Bugs Bunny-"Don't take life too seriously ,You'll never get out alive." Obvious ,isn't it? Only Bugs Bunny could put it so eloquently! Carrots... Any which ways! I prefer Gajar ka Halwa/Gajerela. Carrot Halwa... A mushy ,sweet carrot pudding made with tons of love and milk and milk fats...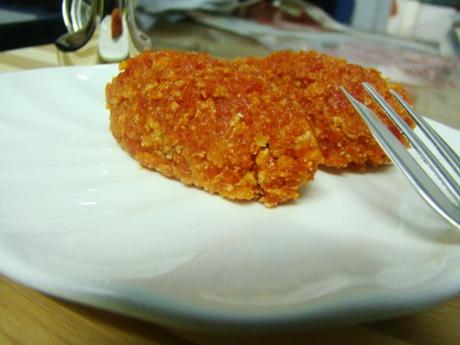 The best thing that you can eat on a cold winter day... Hot or cold, with or without the mandatory tea or coffee... Along with almonds and cashews and raisins or just plain... The sweetness of the carrots drenched in cooked and coagulated milk ... Awesome!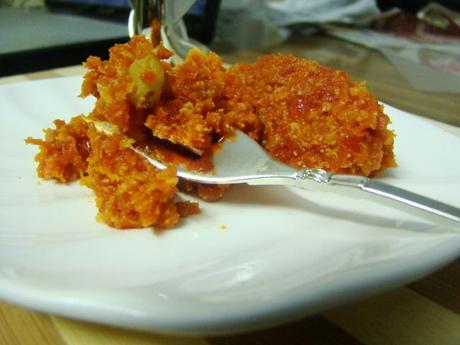 A single spoonful is never enough. The only problem is that this is a labor and time intensive pudding or halwa. Me? I am certainly not a labor intensive person. I love my food processor to bits ,and absolutely adore my maid.Her absence gives me dish pan hands that no amount of moisturiser or Moo Udder Cream seems to restore. So this had to be quick! And it was, what generally takes 5-6 hours of  patient stirring took me less than one...and the result...WOW!
for the 


Carrot Halwa -Gajar Halwa/Gajerela in a Jiffy and a Tried and tested Short Cut...


you need
2 1/2 kg carrots 1 tin -400 mils condensed milk-sweetened 3 tbsp Desi ghee-clarified butter 6 tbsp milk powder handful of raisins, blanched sliced almonds-optional
Peeled,topped and tailed, I passed the carrots through the food processor grater...done in five minutes... Cooker  full of carrots. How is that for quick?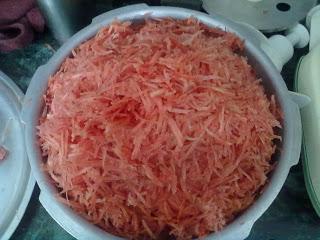 Two whistles on full,steam let out through the vent before the pressure was released later...
I told you this was quick!
A lot of liquid to dry out...cook this on high heat if you are standing there itself.
If you have the time and the patience, you can simmer gently to reduce the carrot juices slowly...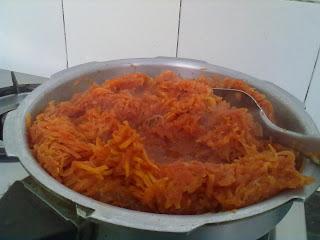 About 15 minutes later, one tin of milkmaid poured lovingly in....
Truth be told...we had had quite a few spoons full of the condensed milk ...yum yum yum!
It was only 3/4 full...actually...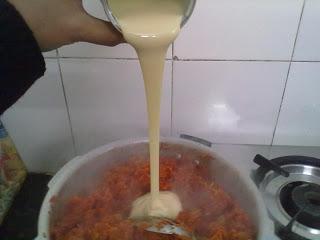 Cooked on a medium flame now...
Cooked till the water is almost dried out...when you tilt the pan , the liquid should not be too ready to leave the safety of  the carrots...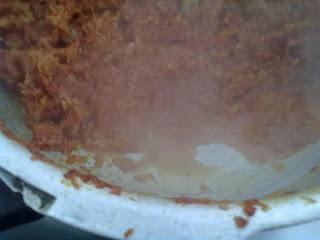 Time for the short cut!
Khoya!
Something only north Indians understand.
Well,what with adulteration and all...
Home made Khoya is needed.
Ghee/Clarified butter or BUERRE NOISETTE(berr no -i-set)!
Yes, that is a fancy,cordon blue name for ghee...
Ghee and milk powder make Khoya-secret sweet mom divulged a long time ago...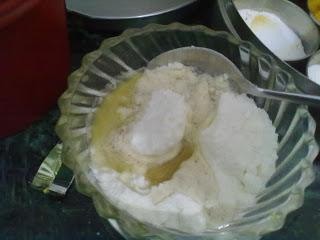 Mix well-like so and add...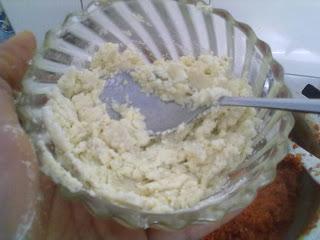 Add in and cook maybe five to ten more minutes on slow...
Done...see no liquid seeping out.
The Halwa is coked.
Ready to taste.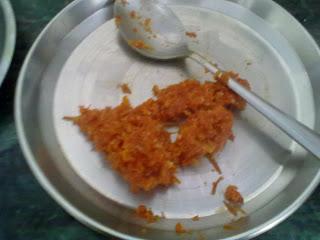 I added raisins when I added the milk maid, you can fry them in ghee and also add fried almonds and fried cashew...your call...
My cavities do not allow for too many nuts so I avoid.
I love the carrots soft and mushy without any nutty interference!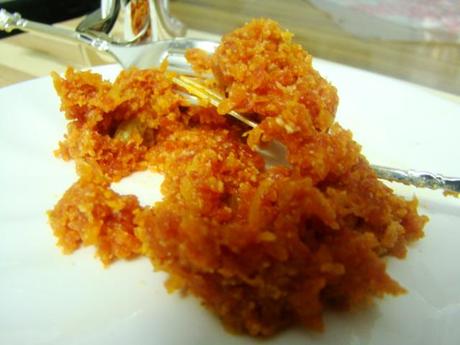 A spoon full of magic...
A spoon full of yumminess!
A spoon full of Desi carrot halwa or gajerela or gajar ka halwa...
Super Fast!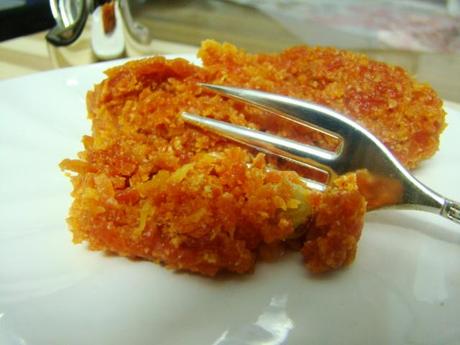 The short cut to khoya works any way you need it to...Cooked or uncooked.
So next time make khoya at home instead of buying it from dubious sources.
Bunny will be proud to see what I did to his magic carrots...
You will so be in carrot heaven after this...


So What are you baking today???