I have been making these carrot fries a lot in the past few weeks.  They are a great alternative to potato fries and healthier without all the starch.  They do taste great with hummus, ketchup or mayonnaise for a dip.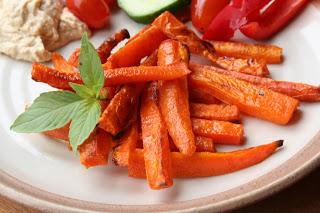 Ingredients
4 carrots cut into strips
1 teaspoon melted coconut oil or olive oil
sea salt to taste
Directions
Preheat oven to 425 F.
Toss carrots with oil and salt.  Place on baking tray.
Roast for 30 minutes watching near the end to make sure they don't burn.