True Blood's Carrie Preston to appear at the OUTAuction on Sunday, November 20, 2011.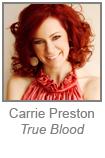 The Gay & Lesbian Alliance Against Defamation (GLAAD) invites you to the 10th Annual OUTAuction
presented by Bud Light and ROKK Vodka! Join us for the 10th anniversary of the largest and most visible art auction event in the lesbian, gay, bisexual, and transgender (LGBT) community celebrating established and emerging artists as well as recognizing GLAAD's Top 100 Artists.
OUTauction helps raise funds to support GLAAD's work with the media to bring culture-changing stories of LGBT people to millions of homes and workplaces every day in an effort to increase understanding and awareness to build support for full equality. This will be an evening capturing the perfect synergy between art, fashion and interior design. Guests will enjoy hosted cocktails, great music, and gourmet hors d'oeuvres while bidding on over 100 unique pieces of art which have included the works of Pablo Picasso, Herb Ritts, Steven Klein, Ryan McGinness, Wassily Kandinsky, Marc Chagall and many more!
The auction will take place between 5:00pm ‐ 9:30pm  at the Metropolitan Pavilion, 125 West 18th Street, New York, NY.
6:40 PM – Program From Stage Begins
7:00 PM – Live Auction
7:45 PM – Gold Section Closes
8:15 PM – Silver Section Closes/ After-Party Begins (w/ After Party emcee Marti Cummings)
8:50 PM – Winners Posted & Check Out Opens
9:30 PM – After-Party Ends
read more about it here: glaad.org