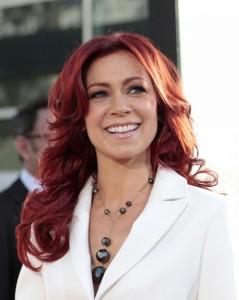 Huffington Post interviewed True Blood's Arlene, Carrie Preston to hear more about the interesting turn things take in Season 5 with Arlene and her troubled hubby Terry Bellefleur (Todd Lowe).  She also talked about the other new man in her life: Terry's old war buddy Patrick, played by Scott Foley. But don't jump to any conclusions that it'll get romantic …
"Yes, she's been married four times, but she's still traditional and a kind of stand-by-your-man Southern woman," Preston assured us.
Preston also dished about the importance of having some normalcy in Bon Temps, what she'd like to see happen with Arlene, if she'd ever consider directing an episode and why she's confident — even with Alan Ball stepping down as showrunner next season — that when "True Blood" ends, the series finale will satisfy fans.
Then there's the Emmy buzz surrounding her "Good Wife" guest starring stint — she explains why her quirky character from that show is giving Arlene a run for her money, and why watching her real-life hubby, "Lost" alum and "Person of Interest" star Michael Emerson, go through the awards process is helping keep it all in perspective.
Just when you think Arlene has seen the worst of her issues … Terry really is a ticking timebomb!
I know, I know … it's very interesting though because we haven't really delved into Terry's past yet. Not really. We've done a little here and there, but this season, we're definitely getting a look at what he went through in Iraq, so I think that's really interesting. Of course, we do that "True Blood"-style. [Laughs.] It's definitely going to cast a bit of a shadow over Terry and Arlene this season.
Fans want Arlene to be happy, but do you think anyone could really live a happy, normal life in Bon Temps?
No. [Laughs.] I don't! I think that in order for anything to work on television, you have to have conflict. Nothing can be too happy or it's boring. People don't want to watch that — they want to watch things that are exciting and dangerous and sexy and have tension. And our show does that very well.
But you seem to find a lot of shows that do that. Obviously, we love you as Arlene, but I love it even more that the "True Blood" schedule has given you time to do other things, like "Person of Interest" and "The Good Wife."
I know — I do feel very fortunate in that way, and I feel very grateful that my colleagues over at HBO have been so generous about that, because they don't have to be. Most of that stuff I shoot when I'm on hiatus, but a few things have had to overlap. But our cast of "True Blood" is, you know, the entire body of the Screen Actors Guild [Laughs.] … so none of us really work very many days.
"The Good Wife" was definitely the biggest surprise and gift that I've had in a long time, and that did come out of some other work that I had done. That whole adage of "work begets work" actually worked in that case — it was at the very end of their first season that my character was first introduced. Robert and Michelle King had seen me in "Duplicity," which is a film that I did with Julia Roberts and Clive Owen, which was such a fun part. They saw something in what I did with that and thought I would bring something interesting to Elsbeth Tascioni. So it was a real treat to really flesh that character out and find it along with them. And to have the call come again in their third season that they wanted to have me back to play the role again … that is something that they do so nicely on that show, reprising their guest stars as much as possible. They have such distinct characters, all the guests; it's not like your typical lawyer or doctor or something. Elsbeth is not like any of them — it was just so fun to figure out how she is in the world and how she navigates things. She thinks differently than the others. I do hope that I get to do more — they're saying they want to bring me back, but I don't know because they do have a lot of storylines to juggle on that show.
They've been very vocal about wanting you back for Season 4, and obviously there's a nice Emmy nomination push for what you did in Season 3, which is well deserved. Does any of that ever go to your head, or do you just take it all in stride?
I'm extremely flattered by it. I've seen Michael go through the Emmy situation five times, and I've been there by his side, and I've been there when he's won. It's all really thrilling, but I definitely learn from him, and he keeps it all in perspective. Neither one of us got into acting to do anything other than practice it, so we feel very fortunate that we get to do that. If I were to get acknowledged in that way, it would be phenomenal, obviously. I'm a character actor and I get lost in these characters, so I think it's only recently that people have begun to connect dots and go, "Oh, that's the same person that did this, this, this, this and this!" which I take as a compliment. One time somebody called me an illusionist, and that was the nicest thing anyone has ever said. So for a character like Elsbeth to pop out, and for people to start talking about awards is such a pleasant and wonderful surprise.
You mentioned Michael, and really for years I feel like I've been begging your husband to go play on "True Blood" … and then you popped up on his show "Person of Interest" instead. Fans got a big kick out of that.
I know — and, of course, the irony is that in both of the cases that I've gone on his shows, on "Lost," I played his mother in a flashback, so of course we had no scenes together, and now on "Person of Interest," I'm playing someone who thinks that he is dead. [Laughs.] I'm appearing on his shows, just not specifically with him. I love that though, that the characters that I'm playing are so connected to his characters. I think that the fans take a delight in that, and then those that don't know we're married wouldn't know otherwise … it's like a little secret for the fans.
Read the rest of this interview with Carrie at huffingtonpost.com