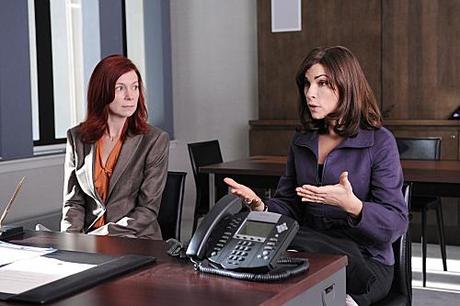 Carrie Preston is a very in demand actress these days. Best loved by True Blood fans for her role as Arlene Fowler on the HBO series, she also made a splash as the very smart and clever Elsbeth Tascioni in season 1 of the Good Wife. At the time Preston served as the lawyer for leading character Alicia Florrick's husband's attorney.
On November 6th, Tascioni returned only to come to Alicia's aide when she needed a lawyer while dealing with a government case. This return went so well apparently that Ms. Preston has booked herself another appearance on the show according to TV Line's Matt Mittovich. The news broke earlier this week but the report does not specify what it is that Carrie's character is returning for.
Whatever it is, I have no doubt that it will be for something juicy. If you haven't been watching the Good Wife Trubies, watch Carrie's episode "Executive Order 13224." Not only will it help ease True Blood withdrawal, but she is also great in it!
Congratulations Carrie!
Source: TV Line.com- "Good Wife Exclusive: Carrie Preston Shall Return, This Time to [Major Spoiler Alert]!"
Image Credit: David M. Russell, CBS