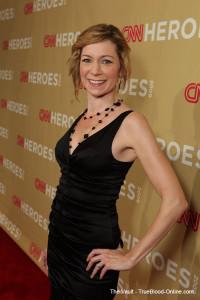 True Blood's Carrie Preston will be in the cast of a reading of Jean-Paul Satre's No Exit on September 19 in New York. This is a one day event.
Red Bull Theater has announced preliminary casting for its 2011-2012 Revelation Readings series, which offers one-night-only performances of both neglected classics and new plays of heightened language and classical themes.
Among the readings will be a benefit staging of Ben Jonson's Volpone (October 10), to be directed by Jesse Berger and starring F. Murray Abraham, Helen Carey, and Jay O. Sanders, to be held at 7:30pm at the Playwrights Horizons Mainstage Theater. The company will present a mainstage production of Volpone in 2012.
All other readings take place at 7:30pm on Mondays at the Theatre at St. Clement's. The series will begin with Jean-Paul Sartre's No Exit (September 19), directed by Wendy McClellan and featuring Adam Green, Kathryn Meisle and Carrie Preston.
Details:
When: 7:30pm September 19
Place: Theater at St. Clement's, 423 West 46th Street, New York, NY 10036
source: theatermania.com