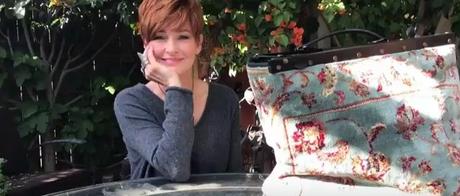 From tennis lessons, strategies and tactics, gear reviews, healthy recipes, health and wellness tips, hair and skincare tips, motivation, and even vacation destination suggestions, we here at Tennis Life Hacks are committed to bringing our awesome readers ALL types of "hacks", if you will, which will not only help improve your game, health, and overall well-being but your life as well.
So when I found out that a fabulous friend of mine started a new vlog on Youtube, dishing on all sorts of products that make her life easier, I just had to check it out... and I'm so excited to be sharing this with you now!
She's the Emmy-nominated actress, top-selling author, and tennis fan Carolyn Hennesy, and her Youtube channel is Carolyn's Carpetbag:
"With every episode, I am going to be bringing things out of my carpet bag... things that I have personally tested; things that I use and endorse; things that make my life a little easier and that I hope will make yours a little easier too." - Carolyn Hennesy
Each Wednesday, she'll be debuting a nifty new product and giving us all the deets, including how much it costs and where we can purchase it.
This is such a fun way to learn about new stuff. I mean seriously... if regular commercials were like her vlogs, I'd actually watch them!
Right now, Carolyn's Carpetbag is just 2 weeks old, but more fun things are on the way. I guarantee it will eventually have a little something for everyone, so make sure you to her channel and share this post with your friends and fam!