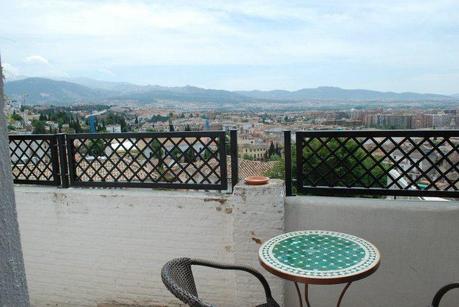 It is no secret that we splurged quite a bit on our honeymoon to Spain.  It was, after all, the only vacation worthy of going all out on in such a short period of time.  Even though we wanted to stay in nice hotels, the price of a room is still a deal breaker to us in many cases as we just simply do not spend time in our room to get our money's worth.  We decided that we were going to not care about price for one city on our itinerary, and Granada happened to be it due to us staying the least number of nights out of our whole itinerary.  A long search later we found our hotel, the top rated Carmen de la Alcubilla del Caracol; a house located quite literally on the edge of the hill overlooking the city within a few minutes walk from the famous Alhambra.  With descriptions like that, how can you not be sold on it in an instant?
What is the Carmen?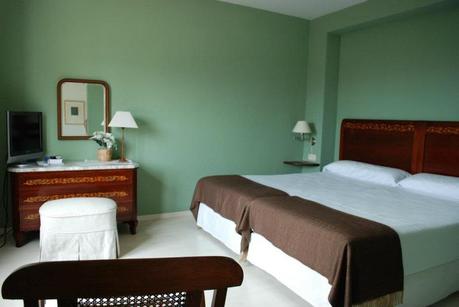 The Carmen is a small family owned house that has since been renovated into an approximately ten bedroom hotel.   With an unassuming website and rave reviews, we took a leap of faith in booking.  The #2 rated hotel in the entire city can't be that bad, right?
The owner Manuel quickly responded to our emails and gave us an exciting feeling about what we were getting ourselves into even though an internet search only came back with a handful of responses.  The most popular room, "La Torre" (the tower), boasts 180 degree panoramic views of the entire city and is the most requested room on the property.  Of course, it was booked up before we even made our inquiry.  As if settling on the #2 room in the #2 hotel in all of Granada with only ~140 degree views of the city was a bad thing, we booked "La Buganvilla" at a rate of 140 Euro/night.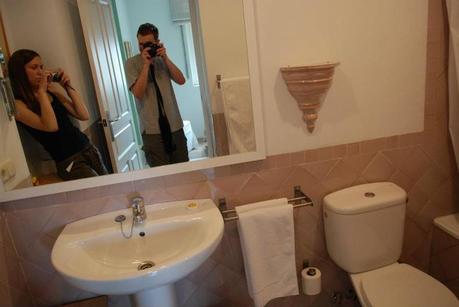 Like "La Torre," our room has a number of amenities not offered in the other rooms on the property.  The most notable is the view of the city and the private patio we got to enjoy it from.  A small table and two chairs plus a view of one of the most beautiful cities in Spain?  You can't go wrong with that.  The room itself is rather basic, but a luxury for hotel standards in Spain.  A massive bed, a separated sitting area, and large bathroom were all in working order and good enough for their purpose.  We peaked into a few of the other rooms when they were being cleaned and can safely say that La Buganvilla is one of the largest rooms on the property by far.
Location, Location, Location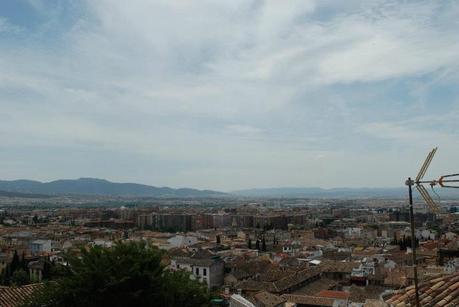 If the comments of a view of the city isn't a giveaway, we'll come out and say it.  The Carmen is not in the city center of Granada.  In fact, the Carmen is located about 10 minutes away from the city center by walking, mostly uphill on steep roads or strategically placed stairs.  While this may be a deterrent for some, keep in mind that Granada's main attraction, the Alhambra, is located on this same hill and is only a 5 minute walk door-to-door.   Walking up to the hotel may be uncomfortable on days when the temperature exceeds 100°F (37°C), but being able to easily walk to and from the Alhambra whenever you please is a perk worth mentioning and one of the major reasons we even considered a hotel outside of the city center.   After our stay, we realized that this location was a perk for other types of travelers, the type that seek seclusion for the sake of privacy.
The clientele of this hotel can range from a couple going on honeymoon like us all the way to movie stars and political leaders looking for an escape from active areas of the city.  In fact, when we were checking out we had the privilege of standing right next to an actor who has been in many popular movies in the last decade.  The owner of the hotel had no clue the guest starred in movies, and I had to bring him up to speed on who he was and what movies he'd been in.  We were then told of all the other well known individuals who have stayed at the hotel over the years, and were blown away.   But judging from Manuel's lack of American movie knowledge, we can only assume that several more movie stars have stayed there without him knowing at all.  Now that is privacy.   
Note - We are not publishing any names of celebrities who have stayed at the Carmen for privacy purposes.  If you would like to know who has stayed there, you'll have to visit yourself.  Take our word for it that it was impressive!
The Only Downside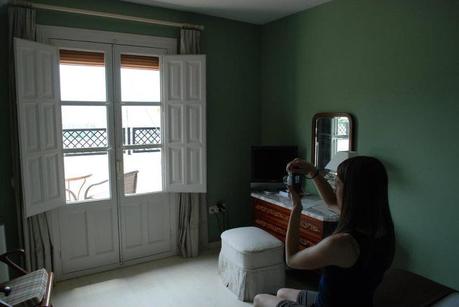 The only downside that can be reported on this hotel is also part of its perk - the intimacy.   Make no mistake about it, staying at the Carmen feels quite like staying in a friend's home.  The owner Manuel is one of the nicest people you'll ever meet and helps out with everything, no matter the time of day.  But this intimacy can also be overbearing at times.  When asking about how to turn the air conditioning on, we were told not to use it because the temperature outside is comfortable, even though we were sweating uncontrollably.  Likewise, every time we went out of the property to go explore, we returned to find our room had been tidied up.  Not just trash taken out and light organizations, but our entire room cleaned and bags moved to the closet.  This typically wouldn't bother us, except for the fact that each time we returned we had a difficult time finding our belongings after they've been moved around.
Neither of these two points are deal breakers, but do make the entire experience feel more like staying at a friend's house rather than an expensive hotel.  Since these are the only two complaints that made its way into the review, it should be noted that it is only because these are the only two issues we had during our whole stay.   In the grand scheme of things, not bad at all.
Overall Rating
We loved our stay at Carmen de la Alcubilla del Caracol in Granada.  Manuel is one of the nicest people you'll ever meet and the small atmosphere of ~10 rooms overlooking the beautiful city is something that you cannot put a price on.  But at 140 Euro a night, we were slightly disappointed by the fact that our room was cleaned several times per day with our belongings significantly reorganized and that we were not allowed to use the air conditioner at all.  Not a major deal breaker, but we have to give the Carmen four stars (****) out of five for this small sticking point.  For anyone looking for a nice escape from the city and are willing to put in a small walk to get there, this hotel is amazing.  Book as early as you can, and request La Torre (#1) or La Buganvilla (#2) if you can.