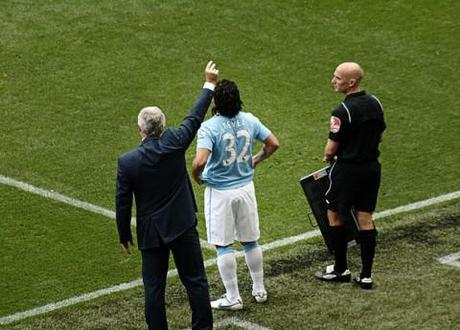 Carlos Tevez waits to make his Manchester City debut. Will he ever play for the club again? Photo credit: Alfonso Jimenez

Manchester City were beaten 2-0 by Bayern Munich last night but it was the extraordinary behavior of their Argentinian striker Carlos Tevez, rather than the disappointing result, which has grabbed the headlines.
Tevez was undoubtedly City's main man last season but the arrival of fellow Argentinian Sergio Aguero has seen him relegated to the substitutes bench for much of this season. And he's not taken in well. When asked to come on as a substitute last night, Tevez reportedly declined the opportunity. The snub enraged manager Roberto Mancini who told reporters he would never play for the club again. And it disgusted fans of the club who had travelled to Munich for the club's biggest European game in a decade.
In a apparent damage limitation exercise, Tevez said he had not refused to come on. "There was some confusion on the bench and I believe my position may have been misunderstood," Tevez said, reported the BBC.
Questions are now being asked about whether Mancini can keep all his high-profile (and high-earning) stars happy at the club. Will dressing-room disquiet derail Manchester City's drive to challenge the likes of Manchester United and Chelsea for the Premiership trophy this season? Or is Tevez a bad apple who should be cast out to protect the bunch?
Get rid asap. James Lawton of The Independent insisted that Mancini is "left with no choice but to discard poisonous Tevez." Lawton argued that City "plainly have to get Carlos Tevez out of their building at the first opportunity. His second-half rebellion and refusal to earn a little of his wages was surely the last statement of an ingrate whose continued stay can only represent poison."
Team building project at risk. David Conn at The Guardian's Sport Blog said the Tevez's "tantrum" puts Mancini's "team building at risk." Conn acknowledged that Tevez  "does push his own abilities to their edges, like a latter-day, South American incarnation of Kevin Keegan" but struggles to be a "selfless club man." Conn said that Mancini's post-match comments were an appeal to the owner that "whatever the financial loss, the striker must go. On what happens next depends not just the extraordinary sporting career of Tevez, but the question of whether a genuine football team can be fashioned at Manchester City, bridging 43 years' absence from the top of the European game with the money of a man in Abu Dhabi."
Blow to the game of football. Phil McNulty of the BBC, said that Tevez's "shameless rejection of his most basic responsibility as a professional footballer" once again shames the so-called beautiful game: "In general terms it was also another damaging incident for football. Large sections of the public have little time for footballers, especially in these austere times when their riches seem out of kilter with the wider, harsher financial climate. Tevez's petulance is hardly designed to win back their favour." Tevez reportedly earns £250,000 a week.