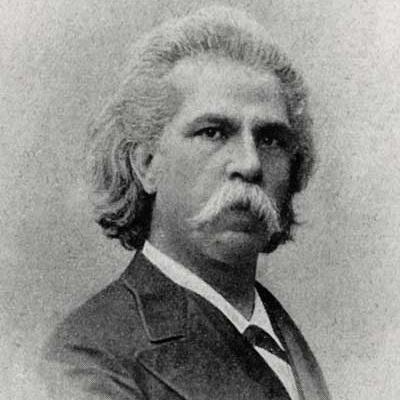 Composer Carlos Gomes
The problem of documenting Brazil's cultural heritage and, more significantly, the benefits to be reaped by rediscovering her glorious musical past, can be seen in the preservation efforts devoted to a long-forgotten opera composer.
After several generations of derision and neglect, Campinas-born Antonio Carlos Gomes has belatedly bounced back from the edge of operatic oblivion and been thrust, once more, onto the center-stage. For the past fifteen years or so, Gomes' image as an abject failure and unredeemable mediocrity has been "rescued," so to speak, by a government entity once adverse to his works.
To what do we owe this renewed popularity and rebirth? Basically, to the groundbreaking efforts of Fundação Nacional de Arte (National Arts Foundation), better known in Brazil as Funarte, a federal non-profit organization entrusted with, among other things, the methodical compiling, researching, cataloguing, and recording of the entire Gomes canon of procurable pieces.
Conductor Luiz Fernando Malheiro, a powerful driving force behind this ambitious endeavor, enthusiastically decreed that, "Gomes is a composer that truly deserves to be revisited. He is very characteristic of the transition in Italian opera that was taking place before the turn of the century."
"Musically, he is wonderfully majestic and he is important for us," asserted Flávio Silva, Funarte's coordinator of music. "He is the first Brazilian composer who really made an international career for himself, and without any special favors."
This was quite a comeback for a native-born artist previously left out of the musical loop before the Modernist movement's winds of change, way back in the halcyon days of the 1930s during Brazil's heady nationalistic period — and by no less a compositional authority than the preeminent Heitor Villa-Lobos, the country's own resident field expert at the time.
As a practical result of this unprecedented reevaluation, Funarte has been the favored recipient of a generous government grant — totaling roughly $450,000 reais or, at the then-current exchange rate, around US$ 220,000 — to recover and bring to light many of the campineiro's previously lost compositions or misplaced manuscripts.
The endowment also released a CD-ROM containing the original scores of seven of Gomes' operas, as well as some of the composer's lesser known piano works.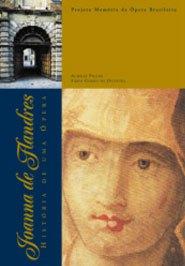 Joana de Flandres — Restored Edition
Most impressively of all, his four-act 1863 opera, Joana de Flandres, originally thought to have been destroyed in a theater fire in Rio de Janeiro a few years after its premiere, was found in the archives of the city's Museu Histórico Nacional, or National Historic Museum. The complete version of the opera was included in the CD-ROM package.
Straightaway, the miraculous Carlos Gomes mini-resurgence has been felt across both cultural and geographical borders with the compact-disc debut, in late November 2005 (on the Dynamic record label), of a live July 2004 performance of the complete Salvator Rosa, comprised exclusively of non-Brazilians, and staged in the Italian city of Martina Franco.
Alone among his completed works for the stage, Gomes' 1874 masterwork, based on the same plot as Daniel Auber's grand opera Masaniello – better known by its French title La Muette de Portici ("The Mute Girl of Portici") – is a big favorite with Italian audiences, especially given the popularity of the concert aria, "Di sposo, di padre," recorded by a variety of lower-voiced specialists, including such well-known adherents as Cesare Siepi, Bonaldo Giaiotti, and our present-day equivalent, the Uruguayan bass-baritone Erwin Schrott.
Starring the renowned Venetian basso, Francesco Ellero d'Artegna — himself a past winner of the Luciano Pavarotti International Voice Competition in Philadelphia — Salvator Rosa featured the combined forces of the Bratislava Chamber Chorus and Orchestra Internazionale d'Italia, under the watchful eye of maestro Maurizio Benini, who's been making quite a splash at the Metropolitan Opera House, conducting the new Bartlett Sher production of Donizetti's L'Elisir d'Amore.
"This whole Gomes phenomenon is great," claimed André Heller-Lopes, an opera stage director in Rio and São Paulo and the recipient of the 2009, 2010 and 2011 Carlos Gomes Prize, Brazil's most prestigious award in the field of Opera and Classical Music, "[especially] if it is just a beginning, a turning point, to start looking at other Brazilian composers, too."
(Note: This post is a compilation of several features, most notably an article by Joshua Dylan Mellars, entitled "One Hundred Years After His Death, Composer Carlos Gomes is Back in Style in His Native Brazil," for the Website www.andante.com, to which I am indebted.)
Copyright © 2013 by Josmar F. Lopes