Caring for Someone with Alzheimer's Disease: Tips for Caretakers by Caretakers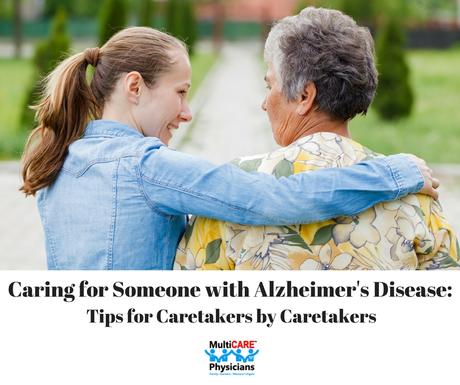 An Alzheimer's Disease or Dementia diagnosis for your loved one can be devastating news. With no known cure, a diagnosis affects not only the patient, but the caretaker and the family.
In 2010, The Alzheimer's Association found that 450,000 people aged 65 or older were diagnosed with Alzheimer's Disease. That number is projected to increase to 510,000 by 2020.
It is normal to feel lost, overwhelmed, and stressed about this new development in your life. The heavy responsibility of becoming a caretaker can have lasting impact on you and your family. The slow, but deteriorating nature of the condition lends itself to seemingly constant change.
What worked yesterday may not work tomorrow. What was easy last week may become impossible in a few months.
If you have found yourself facing the need to become the caretaker for an Alzheimer's or Dementia patient, here are eight things you need to know about your role in the care process.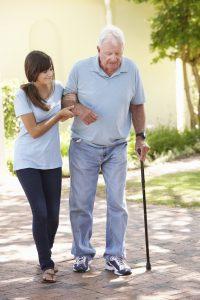 Be clear and honest with your family about the situation, especially kids and teens. Not communicating or failing to educate children about the condition can lead to feelings of fear, guilt, or increased sadness. There are
books
, written for children, about Alzheimer's that can help to make the process as simple as possible.
Encourage family visits for as long as you can, and get children involved in the caretaking process. Things as simple as bringing a glass of water can add a glimpse of positivity to the situation.
2. Keep Your Loved One Engaged
Caretaking can be an excellent opportunity to spend quality time with your loved one. Remember what they enjoyed doing before their diagnosis. If they are physically capable of performing the activity, do it with them as much as possible.
Play their favorite music. Cook their favorite meal. Look through old photos in their photo albums. Encourage the activities they can still do independently. In more advanced cases, think creatively. If you cannot take them to do their favorite activity, such as going to a movie theater, recreate the same atmosphere on your own. Put on a new film and watch it with them.
"... My father always used to love walking, so I would routinely walk with him inside and outside of his care facility. This provided Dad good exercise and a sense of routine and comfort for him, by participating in a familiar activity." - Rick Lauber, Author of The Successful Caregiver's Guide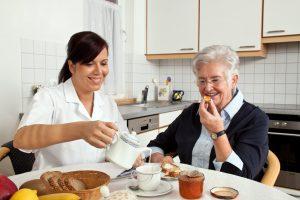 An Alzheimer's diagnosis fosters feelings of anxiety about the future, perhaps even guilt about the past. Staying in the moment and putting that energy into meal plans, daily activities, and compassion, love, and dignity will reduce the negative feelings.
4. Be Patient
Those suffering with Alzheimer's or Dementia require gentle care. There might be times your loved one does not remember who you are. Re-introduce yourself as much as necessary. Remember: It is not personal. It is the disease. In moments like these, Alzheimer's patients may become anxious and resistant to care. Be calm, kind, and patient.
5. Manage Your Own Stress and Health
As much as you desire to give your all, you simply cannot be an effective caretaker without taking care of yourself. Plan your days ahead, writing down things that need to be achieved that day. Take a cue from the diet of your loved one, and eat well. Also, keep a sense of humor in the face of this humorless disease. Look for opportunities to laugh with your loved one. This will help prevent burn-out, depression, illness, and other ailments caused by high-stress situations.
6. Approach With Understanding
Learn everything you possibly can about Alzheimer's. The more you understand the disease, the better you will meet your loved one's needs. Use appropriate, caring language when speaking to your loved one, which creates a sense of comfort and understanding between you both. Aim for clear, kind communication. Do not get too caught up in constantly correcting, either. You do not always need to be correct, but you do always need to be compassionate.
"The biggest issues surround the understanding component of the language of Dementia. (The patient's) understanding then allows for joy to enter the experience and stress to exit." - Michelle Matro, Senior/ Elder Care Provider and Trainer.
7. Improve the Quality of Sleep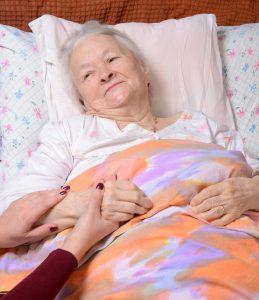 Do not underestimate the power of a good night's sleep, especially for those suffering from Alzheimer's and Dementia. A good night's sleep improves mood and health in most people. Try "controlled lighting" to insure your loved one receives a good night's rest every night.
8.Focus on Meals
Alzheimer's patients are often more active during meal times. Serve them healthy meals, in small, bite-sized pieces. Also, try to eat with them, which opens to door for good quality time. . Encourage visits from friends and other family members around meal times as well. The more social interactions they have, the merrier they will be!
In the U.S. right now, there are over 43.5 million caregivers providing unpaid care to a family member. In other words, you are not alone!
Watching your loved ones get older is difficult, physically, emotionally and mentally. At Multicare Physicians, we serve patients all the time who are fortunate enough to have family members support them through this difficult time. That's why we wrote this article for you: the caretaker.
With a long standing history of serving geriatric patients with a variety of needs and health conditions, Multicare Physicians is prepared to help you and your family with your health and caretaking needs. We treat your family, like our family.