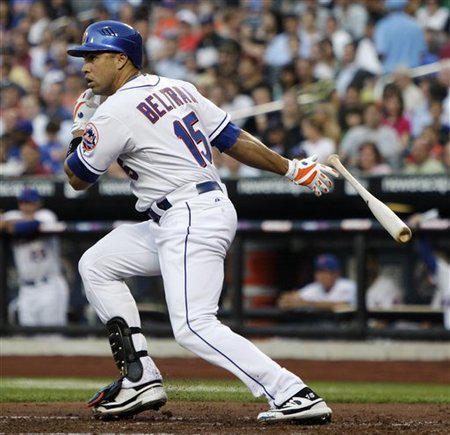 Photo: vivaelbirdos.com
- Adam Parker
The World Series champion St. Louis Cardinals have agreed to a two-year deal with veteran outfielder Carlos Beltran.
The deal is reportedly worth $26 million over the life of the contract and includes a full no-trade clause.
With this signing, it appears that the Cardinals have finally come to terms with the loss of former franchise centerpiece Albert Pujols, and are moving on.
This deal couldn't have come at a better time for both parties.
St. Louis needed to bring in a quality bat to replace Pujol's production in the middle of the lineup alongside Matt Holliday and Lance "The Big Puma" Berkman, and Beltran will get a chance to join a team that will give him the best opportunity to pursue a championship.
Beltran, 34, is coming off one of his best statistical seasons in recent memory after finishing with a .300 batting average, 22 home runs, 84 RBIs, and a .385 on-base percentage while playing pre-dominantly in two pitcher-friendly parks as a member of the Mets and Giants last season.
The six-time All Star is a great fit in St. Louis' lineup, especially since he - along with Lance Berkman - can be switch-hitters, thereby giving new Cardinals' skipper Mike Matheny that much more lineup flexibility.
Beltran, who over the years has been referenced as a 'Cardinal killer', faced the Cardinals in a pair of National League Championship series, in 2004 with the Houston Astros and 2006 with the Mets. St. Louis ended up winning both series despite several big hits by Beltran.
"Beltran is a proven outfielder who obviously has been a tough opponent against the Cardinals for many years," St. Louis general manager John Mozeliak said in a statement. "It is going to be nice to have his bat and competitive nature working for us instead of on the other side of the field for the next couple of years."
Is Beltran to answer to the Cardinals' fans prayers? That's still up for debate, but one thing's for sure; he's a good place to start.
Be sure to follow Beard And Stache on Twitter 
@BeardAndStache
, 
and also Adam 
@Adam_Parker43
, Like our Facebook page 
HERE
!