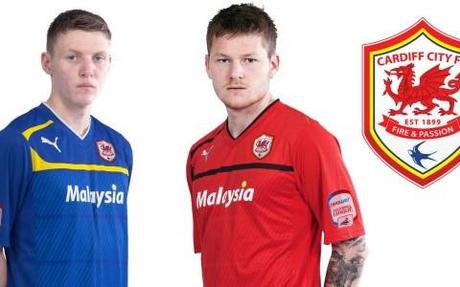 Cardiff City's new red home kit
The background
Championship side Cardiff City have officially confirmed that the club will break from over 100 years tradition and adopt a red kit as their home shirt for the 2012/13 season. The switch – which also includes a new club crest and which comes into effect immediately – comes after the Welsh club's hierarchy approved the decision at a board meeting. Cardiff City, nicknamed the bluebirds, have run out in a blue home kit since 1899.
Malaysian club chairman Dato Chan Tien Ghee said the moves were "not meant to destroy any part of the club's history or culture," while chief executive Alan Whiteley called for fans to be "realistic and progressive" about the changes. According to WalesOnline.com, the club believe playing in red, which is seen as a vibrant and lucky color in the far east, will enable them to "exploit and … maximise its brand and commercial revenues in international markets."
But fans of the bluebirds are almost all up in arms at the decision to go red. They feel the foreign owners have failed to appreciate the club's proud heritage. That sentiment is mostly shared but the key commentators in the sports commentariat.
Twitter reaction
Foreign owners change Cardiff's color from blue to red. Another piece of football dies.

— Jonathan Stevenson (@Stevo_football) June 6, 2012
Cardiff chief exec Alan Whiteley calling for fans to be "realistic & progressive". I didn't realize red was any more real than blue. Knob. — Noz (@BeardedGenius) June 6, 2012
I think Cardiff City's owners have just shot straight to the top of the, "How to Shite on Our Fans from a Great Height" league. — Macca (@The_Paris_Angel) June 6, 2012
They're taking the piss out of us. That's the problem with unconditional love. They can take the piss & we'll still be there. It's bollocks.

— Noz (@BeardedGenius) June 6, 2012
People don't (or IMO shoudln't) support a club to count trophies. They do so to belong, to identify. Cardiff have ruined that for their fans

— Dafydd Pritchard (@DafPritchard) June 6, 2012
Sympathy for Cardiff City fans: robbed of history by foreign fast buck men. Football without history & legitimacy is nothing but a circus.

— Dan Levene (@BluesChronicle) June 6, 2012
The Cardiff City rebranding just proves that football doesn't belong to the fans anymore.

— Neil James Mace (@The_Doveston) June 6, 2012