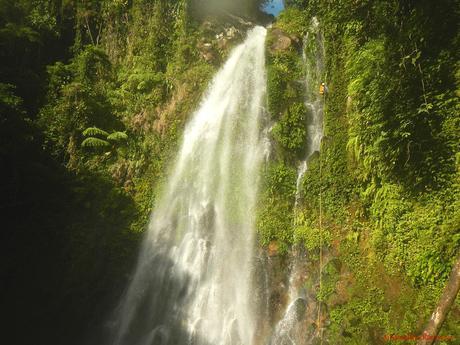 Canyoning, or canyoneering, in the Philippines is a relatively young outdoor activity. But with all our country's beautiful rivers and ravines, canyoning is definitely a great potential come-on for adrenaline-seekers all over the country and the world. Adventurers get to see incredible vistas as described exactly in fairy tales. They experience adventures that will make their hearts quake in excitement. More than that, they get to meet friendly people, experience the legendary Filipino hospitality, and visit amazing destinations as side trips. The stunning ravines of Sampao River in verdant Biliran are among the geological features that are deemed perfect for true world-class canyoning in the Philippines.
Read Part 1 for our Canyoning in Biliran adventure. Now don't you want to try this out as your ultimate summer activity this year? Oh, and don't forget to check out our YouTube videos in this post, especially the last one.
After a sumptuous lunch with our expert guides and porters, it was time to head back to the river and continue our adventure. We were all negotiating the boulder-strewn river as the meat-and-veggie lunch sat heavily in our tummies. All we wanted to do at this point was simply lie down on our flat "table" boulder and sleep the afternoon away.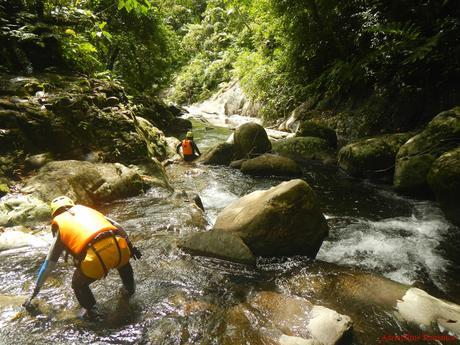 By and by, the heavy feeling wore down, and we felt lighter and swifter, just like this river. Check out this small rapids.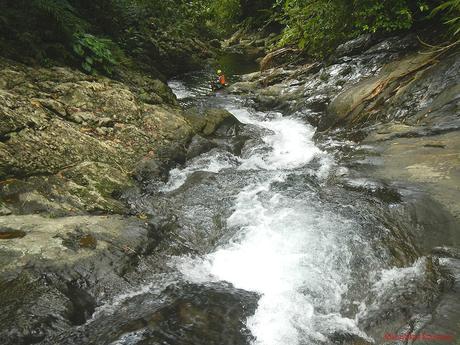 We came across more short water slides like these. It looks menacing, but the water is just knee deep! And look at that lovely curtain of flowing water.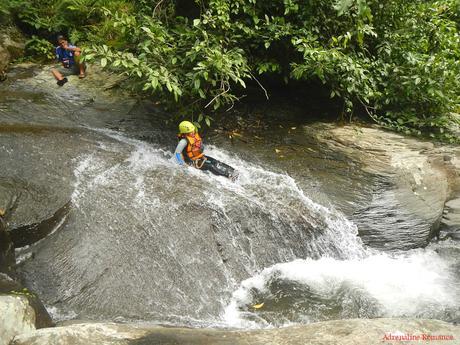 And there are also medium-scale water slides such as these. Nature truly satisfies the child in us.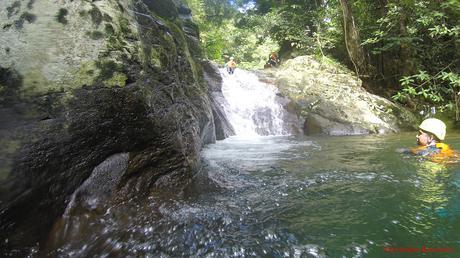 This one is our favorite water slide. It's quite a long stretch, and the end of the slide is a slightly inclined "ramp." That means, at the end of the slide, you launch off into the air before you hit the water! How cool is that!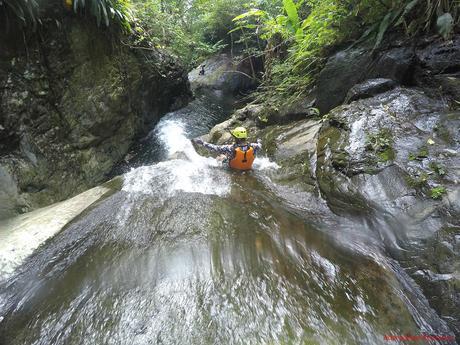 Another view of our favorite slide. Can you see the bowl-shaped depression just before the water flows down to reconnect to the river? That's the ramp. As you launch, you have to point your feet in front of you or you'll hit the adjacent rock wall.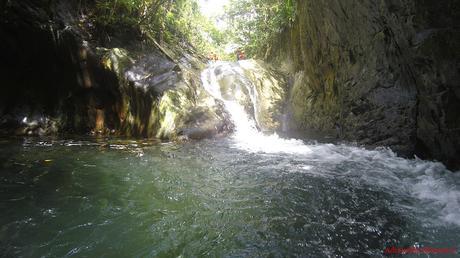 More water slides! Don't you just love it in here? We could play here all day!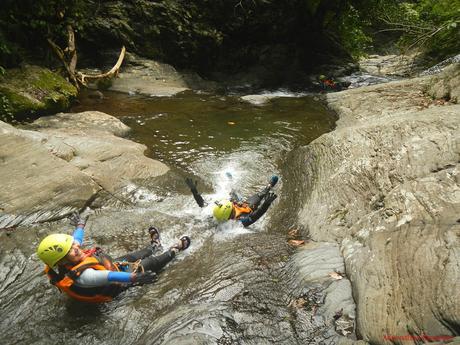 Soon, we came to another very steep and slippery cliff; check out the steep incline. Going down involves a rappel, and staying safe means hooking up to a safety line.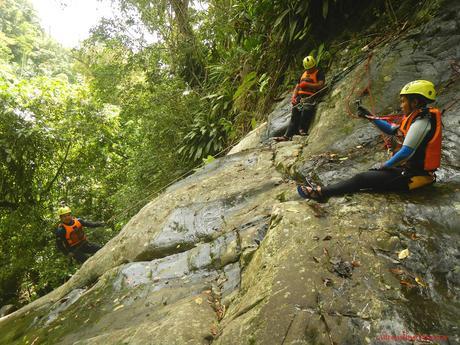 It's definitely a long way down! We had to rappel because the pool below us is a too shallow to dive safely. Also, check out the scenery below. That's the mark of a pristine, untouched river.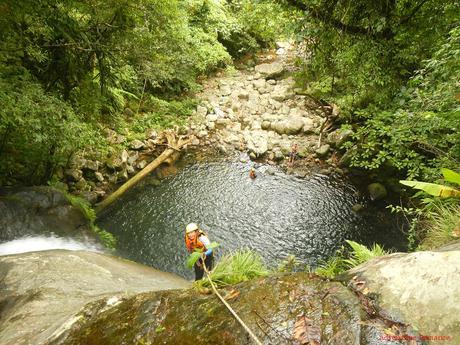 Here's another view of the steep cliff from the pool. Look at how tiny the jumper is. That powerful waterfall must be around 50 feet in height.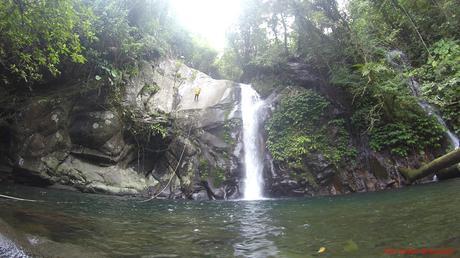 Locals call this Nabuthan Falls because the booming sound of the water produces when it comes to contact with the surface seems to reverberate around the cauldron-shaped surroundings. Nabuthan, in the vernacular, is a derivative of the root word "buto" which means "explode."
Nabuthan Falls also has a less powerful sister beside it where you can simply relax and take a refreshing shower.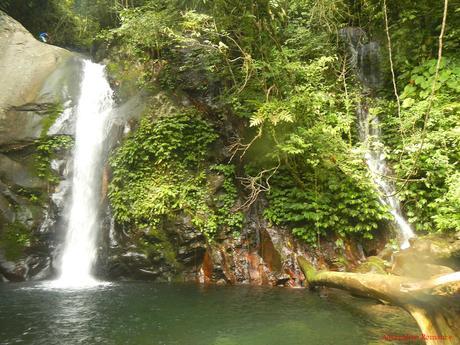 After safely abseiling down Nabuthan Falls, we continued walking down the river, scrambling up huge boulders along the way. Does that pool look tempting to jump in? Then go ahead and jump in!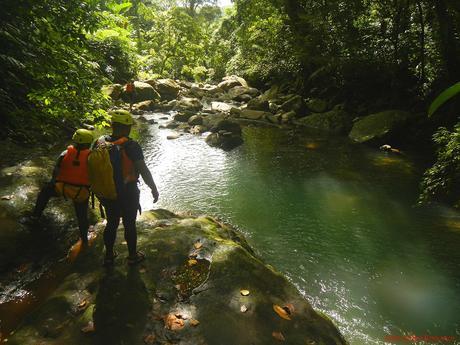 Several moss-covered large trees like these fall across the river, spanning the banks like a bridge. Entire root systems are still connected to the trunk, so it is apparent that strong winds, not a chainsaw or an axe, toppled down these guardians of the forest. Naturally fallen trees are clear evidences of Mother Nature's unstoppable and awesome power.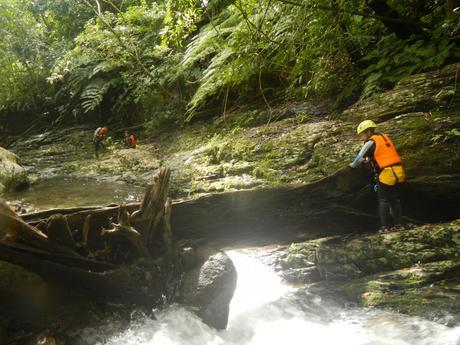 Time to set up another rappel in another enchanting canyon. By this time, our hands were aching from so many rappels. We simply sat down and watched the guides as they set up an anchor.
Note the layered rock formations.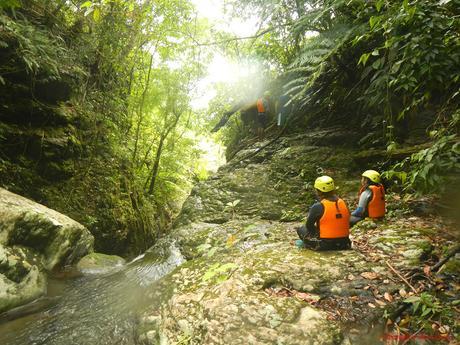 Go, Sweetie, go! She was having the time of her life although she admitted later that rappelling in slippery cliffs scares the living soul out of her. Hahahaha! Check out the fast-flowing stream right below her.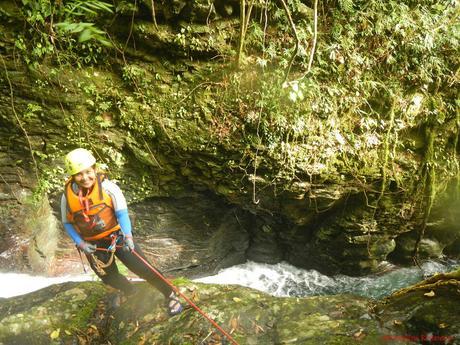 Then it's my turn. Do you think it is just a short cliff? Well, that's because the shot below is just a quarter of it! The rest of the cliff can't be seen at this angle because the upper portion is a slab, or slanting upwards.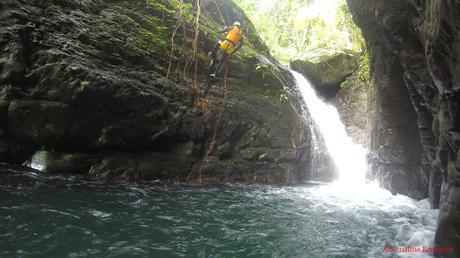 Check out the trailing vines and roots. That's the view of the rushing river from the moss-covered canyon wall; I locked my rappel, hanging precariously on the slick cliff, so I can take this photo.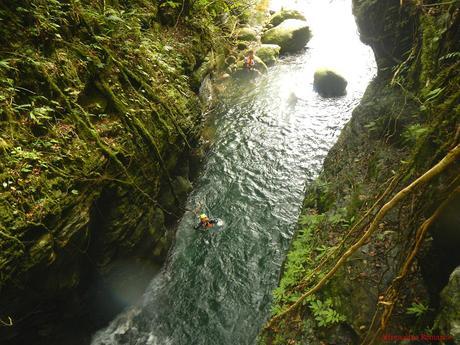 True canyoning isn't complete without jumping off high cliffs. A little farther down the canyon, we found this nice 30-foot-high platform where we could leap and scream in joy! Except Sweetie. Hehehe!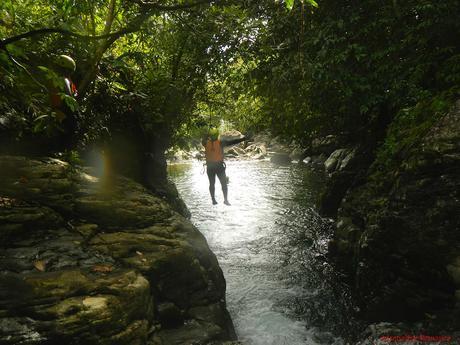 At around 2:30 PM, we broke through the thick jungle and found ourselves in a large clearing. The sun warmed us up to the point of being uncomfortably baked inside our wetsuits. Walking along knee-deep water helped us cool down.
Check out the layered rock formations; they are reminiscent of the riverbed in Mulao River in Compostela.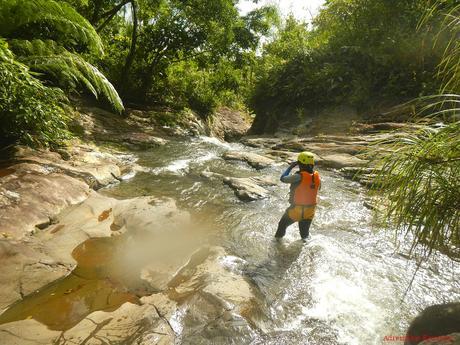 The trail we're following led us above this smooth canyon of reddish-brown rocks, far different from the green moss-covered walls we left far behind. Look at that lovely cascade.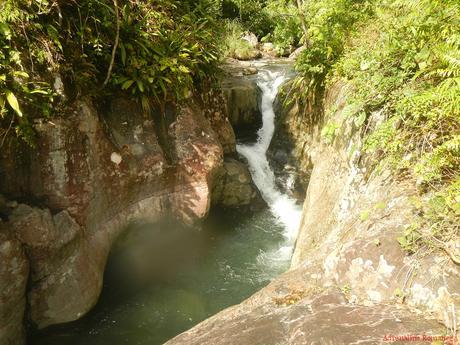 Arrggh! The intense afternoon summer heat was truly unbearable. Time for a cool swim.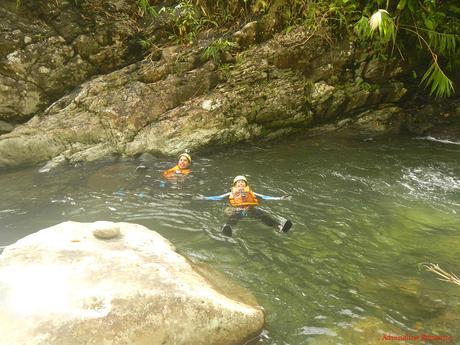 We didn't know that we enjoyed the cool touch of the river's water for far too long, almost 30 minutes! Hehehe! Well, the guides told us we should keep going because we're almost done with this fantastic challenge.
All we could think of was to devour some hot pan de sal and dunk a couple of bottles of cold Sparkle or Coke. But for now, we were extremely happy to have witnessed the beauty of Sampao River.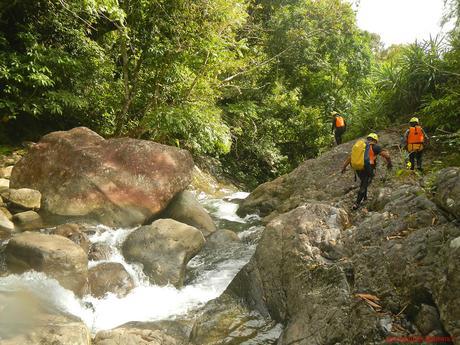 It's a long way down, but we didn't need to rappel. We did have to watch our step because the soil is loose, and the rocks are somewhat smooth and slick. Just below us, right there at that thin tree trunk, is a natural diving platform where you can launch yourself with delight into the dark green pool.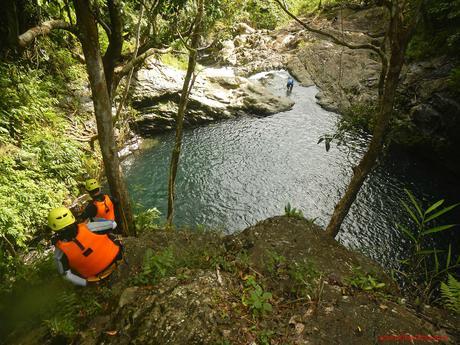 That's the 50-foot Recoletos Falls, its namesake derived from the large statue of San Jose Recoletos sheltered in a yawning cavern beside it. We had to carefully scramble down from up there—yes, from the lip of that cliff.
Hold on, Recolletos Falls looks like a water slide…..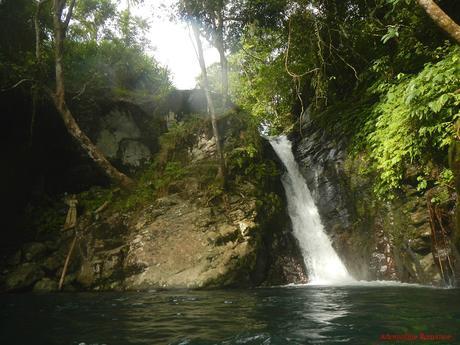 After Recolletos Falls, there is still one more waterfall that we have to rappel down from, and it's the mother of all waterfalls that run along Sampao River. But before that, we took a last look at the amazing Sampao River where we had this adrenaline-pumping canyoning activity a few hours ago. This will be our last look—for now. Because we know that we will surely be back here again…and again…and again!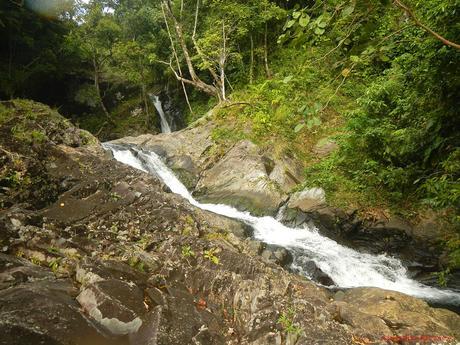 This small metal bridge marks the gateway for our last challenge. It also means that this was constructed for the benefit of the locals. No wonder there was a statue and minute amounts of human trash in Recolletos Falls; this means that Recolletos Falls is a watering hole from locals to cool off during the hot summer months.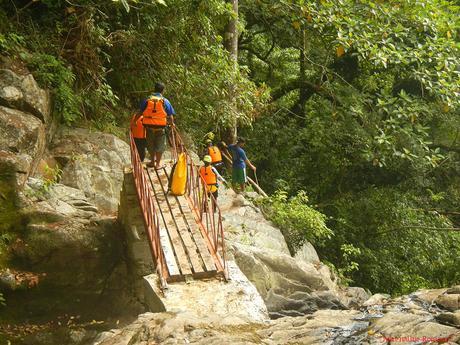 Guides Vitale and Joven set up the last rappel station, and they took extra care in setting up this one. It involves throwing down an entire coil of rope down the cliff. So now, you have a slight idea of just how long this rappel would be.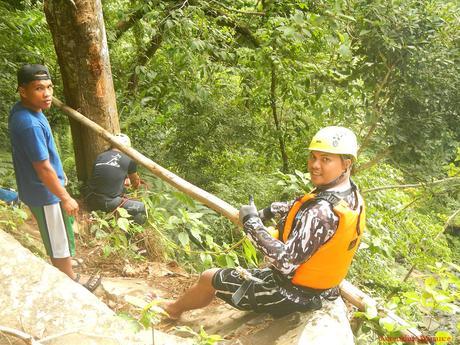 Okay, here's a little bit of a teaser about the immense height of this last waterfall. Sweetie sits close to the edge of the waterfall so I can have a clear shot of the river below. See those dark gray rocks way below us? That's the finish line for this canyoning activity.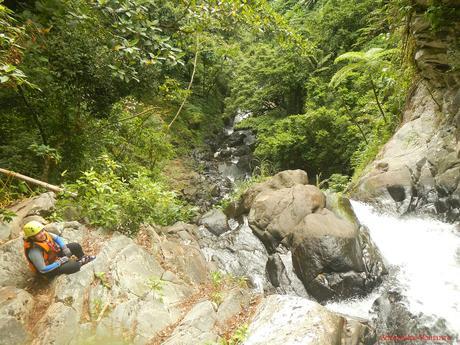 Let's do this! I volunteered to go first so that I can take photos of the team while they go down this monster.
Going down this cliff safely involves a little bit of SRT skill, which the guides will teach you, and a lot of presence of mind. First you have to rappel around 15 feet down from a first line—the red rope. Once you reach the second anchor point, you must secure yourself using your cow's tail so you can disengage safely from the first line. Then, you must reconnect your descender to a second much-longer main line.
The critical point here is in the disengaging and reconnecting of lines (called a re-belay), and there is no margin of error.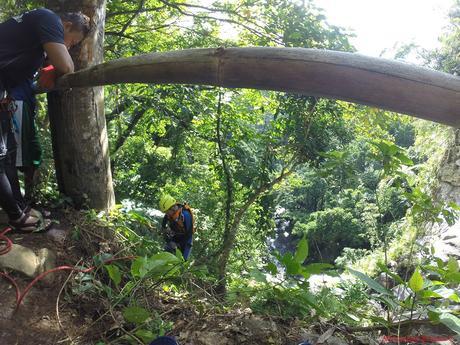 Welcome to the picturesque and totally impressive Ulan-ulan Falls, our last rappel challenge. It towers at at a maddening height of around 150 feet! So you know when we're serious when we say that you really need to be careful if you wish to abseil down this beautiful waterfall.
The spray from the powerful flow creates a constant rainbow at the bottom of the waterfall.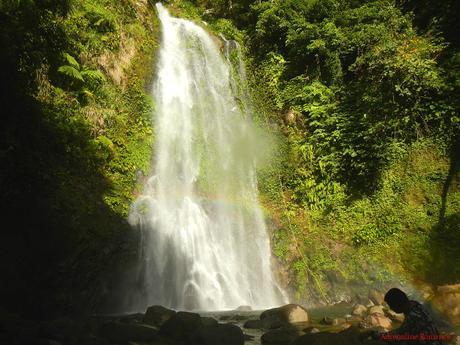 To give you an idea of just how tall this majestic waterfall is, check out the photo below. Compare the scale of the jumper with the massive height of the waterfall. Take note that when I shot this photo, I couldn't frame the entire waterfall in a portrait layout. So the entire lower quarter of Ulan-ulan Falls is not seen in this photo.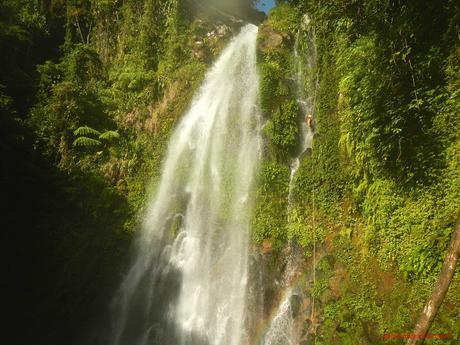 Due to the waterfall's power, it would definitely be painful to rappel directly under Ulan-ulan's main waterfall. Thus, we opted to abseil down the muddy, rocky, and leafy side of the waterfall.
The name Ulan-ulan comes from the waterfall's spray. It's so strong that the spray and mist saturates the surrounding areas, making it seem as if it's contantly raining in the area. "Ulan" means "rain" in English.
It's no wonder then that during weekends, a lot of locals flock to Ulan-ulan Falls. Thankfully, they know the immense value of the waterfall, and they show their gratefulness by not leaving any trash behind.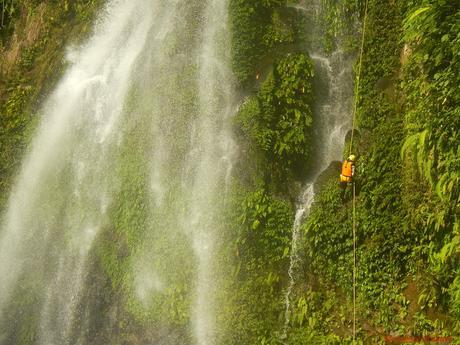 Sweetie seems to be having the time of her life! And check out the power of the main waterfall right beside her.
Ironically, while it is dizzily tall, Ulan-ulan Falls is the easiest one to rappel due to the fact that the rock face is not as slippery as the other waterfalls in Sambao River. There are also plenty of natural footholds where we can comfortably and securely place our feet. It's much like walking backwards on a muddy trail only we're walking vertically.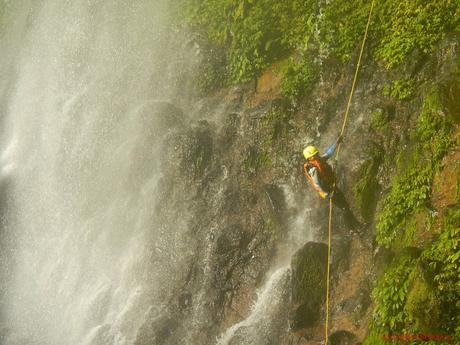 Our own variation of Life's motto:
To see the world together, to destinations and adventures unknown,
To feel Mother Nature, to hold each other,
To laugh, to love, and to live with fiery passion,
That is our key to happiness.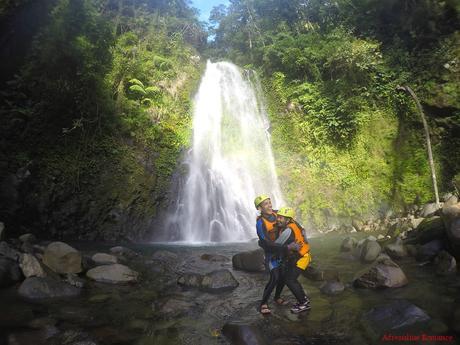 There were actually two more nearby waterfalls that we need to rappel off so we can officially complete the canyoning adventure. But it was getting late; 4 PM is the last safe time to exit the canyon. What caused the delay? Photo sessions and selfies, of course!
Besides, the guides said that the last two waterfalls were rather "ordinary," and it would be sort of anti-climactic if we go on. We followed their advice and exited the trail.
As we climbed up the exit trail, we took another look at the end of a spectacular paradise, another playground of Mother's Nature where we spent more than six hours of fun, excitement, tranquility, and wonder. If we want to enjoy amazing paradises like these, it is imperative that we control ourselves from our greed and our seemingly unending love for wanton destruction in the pretense of development.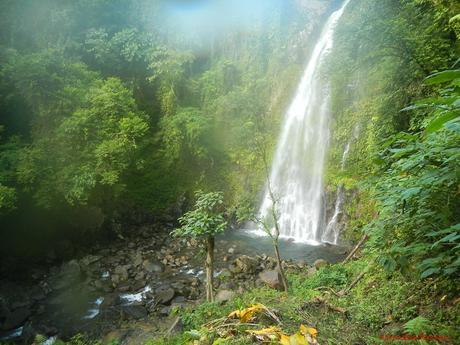 After a short trek, pleasantly exhausted but totally satisfied, our supply of adrenaline absolutely drained, we were back at the jump-off point.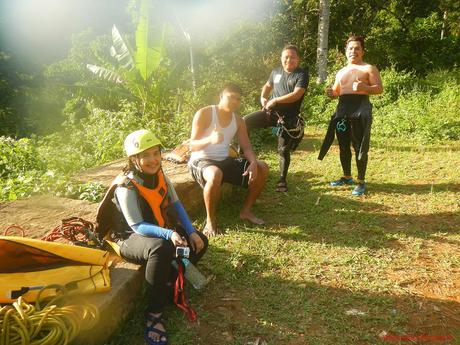 Check out our short video below of how much fun we had in this adventure
Since we were able to finish our canyoning in Biliran on time, we still had time to witness a stunning sunset at our in Talahid Beach and took a cool-off dip at the warm waters of Talahid Bay.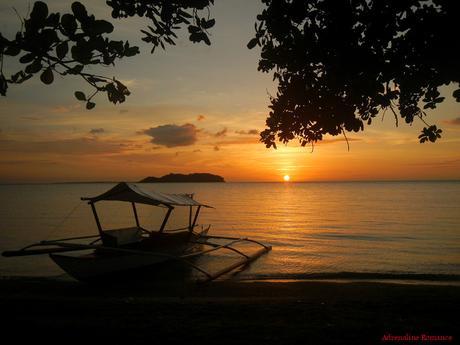 Oh, one more thing. Our canyoning adventure is not all tall and mighty. It's also about slips, awkward techniques, and total embarrassment. Here's one for your tickle bones!
Special Thanks
We would like to thank our guides Vitale Corzon (guy with blue and yellow rucksack) and Joven Esteller (guy with camouflage rashguard) for making this adventure fun, exciting, and safe. These guides are extensively trained and constantly re-trained in guideship, SRT, ropemanship, canyoneering technicalities, swift-water rescue, first aid, and more. They receive instruction from French- and Italian-trained cave master Joni Bonifacio. You are assured that you are in good hands.
Thank you too to our friend and fellow adventurer Halourd for coming with us on this trip.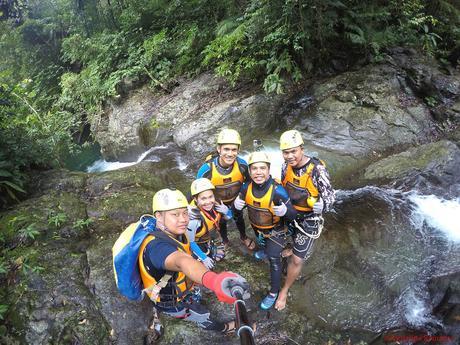 Thank you too to our driver and porter Nelmie Macabulos (guy in green tank) for giving us a pleasant ride, preparing our meals, and ensuring we are under his constant watch.
Last but not the least, thank you very much, Joni Bonifacio of Trexplore the Adventures, for allowing us to undertake this amazing adventure. Sir Joni's service delivery is beyond exemplary, and it is not an overstatement to say that it should be the standard of all outfitters. Although he was not present when we went canyoning, he always maintained contact with us and the guides to ensure we have a great time. If you want the best adventures in Samar, Leyte, and Biliran, then get in touch with Joni.
The guide with the red helmet is Cave Master Joni. He is with his mentor French speleologist and canyoneer Gilles Jovent (the tall guy). At the far left are adventurer couple Marcel and Catherine Paul.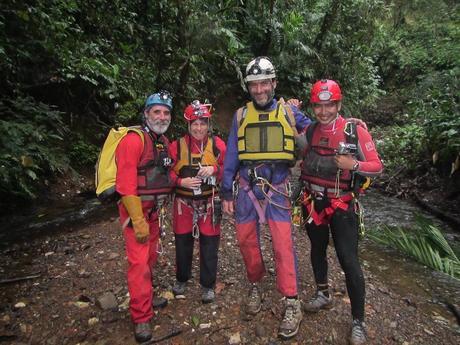 Mother Nature provides outdoorspeople with the best and most challenging playgrounds, and the scenic Sampao River in Biliran is among her best ones. Indeed, our experience in jumping, sliding, swimming, trekking, scrambling, and rappelling in the secret canyons in this river merits a place in our hearts and minds. It's REAL canyoning! It is one of the craziest, most outrageous, and the best outdoor activities we ever experienced.
We strongly encourage you to try out canyoning in Biliran to quench your thirst of extreme adventure and to witness some of Mother Nature's most beautiful geological sculptures.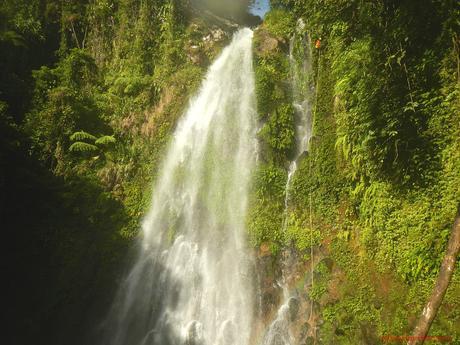 Itinerary
Day 0
7:30 PM – meet up at Cebu Pier, board ship bound for Naval, Biliran
8:30 PM – depart Cebu Pier (departed at 10:30 PM due to a delay)
Day 1
10:30 AM – arrived at Naval, Biliran (we had to stay 2 hours in deep water to wait for high tide so that the ship can dock at the port of Naval)
11:00 AM – meet with habal-habal drivers, shop for food ingredients and supplies, ride to Talahid
11:30 AM – arrival at Agta Beach Resort, lunch
1:00 PM – swimming at the beach, free time
5:00 PM – prepare stuff for canyoning, cook dinner
6:00 PM – dinner
7:00 PM – signing of wavers, registration, briefing for canyoning activity
8:00 PM – lights out
Day 2
5:30 AM – wake up, prepare breakfast, take a shower
6:30 AM – breakfast, last-minute preparation
7:00 AM – depart for Barangay Sampao (departed at 8:00 AM due to a delay)
8:45 AM – arrival at Barangay Sampao, start 1-hour trek to Sampao River
9:45 AM – arrival at Sampao River jump-off, briefing, outfitting of gears
10:00 AM – start of canyoning adventure
12:15 PM – lunch
1:00 PM – resume canyoning
4:30 PM – finish canyoning adventure, trek back to Barangay Sampao
5:30 PM – habal-habal ride to Agta Beach, watch sunset, swimming
6:30 PM – dinner
7:00 PM – debriefing, feedback
9:00 PM – lights out
Day 3
6:00 AM – wake up, pack up
6:15 AM – depart for Kawayan port
6:30 AM – arrival at Kawayan port, board boat for Sambawan Island
7:30 AM – arrival at Sambawan island, cook breakfast
8:00 AM – breakfast
8:30 AM – swimming, explore Sambawan Island
11:30 AM – depart Sambawan Island
12:30 PM – arrival at Kawayan port, shower
1:00 PM – habal-habal ride to Naval, ride V-hire for Ormoc
3:00 PM – arrival at Ormoc, late lunch, buy fastcraft ticket for Cebu
5:30 PM – board fastcraft for Cebu
Budget*
P 485 per person – boat fare Cebu to Naval, Biliran
P 25 per person – terminal fee at Cebu Pier
P 140 per motorcycle – habal-habal fare from Biliran to Agta Beach Resort
P 400 per person per day – air-conditioned room rate in Agta Beach Resort
P 3,000 per person – canyoning fee (please see details in

Part 1

)
P 60 per motorcycle – habal-habal fare from Agta Beach Resort to Kawayan Port
P 2,000 per boat – pumpboat fare from Kawayan to Sambawan Island
P 100 per person – entrance fee at Sambawan Island
P 200 per motorcycle – habal-habal fare Kawayan to Naval
P 130 per person – V-hire rate from Naval to Ormoc
P 625 per person – fastcraft fare from Ormoc to Cebu
* We did not include our expenses for snacks, tips, and other fees in this rate sheet as you may have different needs, preferences, itineraries, and sharing scheme from us. Note that all figures are subject to change without prior notice.
Tips
1. For a wonderful canyoning experience in Biliran, get in touch with Joni Bonifacio. Contact details and rates are in Part 1 of this series. Joni and his team are the only people qualified to operate this canyoning activity. Thus, you are assured of the absence of fly-by-night, unqualified guides.
Sir Joni can also help book your accommodation, transportation, side trips, and other adventures around Biliran and Samar.
2. Always check the weather a few days before your canyoning activity. Never attempt to push on with your canyoneering adventure if the weather is bad! Rains can generate flash floods and extremely strong water currents that are life-threatening.
3. For safety, limit the number of participants in your team. Ideally, there should no more than 10 participants in your group. Check out Part 1 for details.
4. Although first-timers and beginners are welcome and there's the availability of guides to assist you, it is strongly recommended that you first learn how to rappel properly to ensure safety, time-efficiency, and enjoyment.
5. Always wear the provided PFD (personal flotation device). Many parts of the river are deep. Thus, there is always a constant danger of drowning. Never underestimate the river even if you're a strong swimmer and always be on the side of safety. Also, the water in the river is quite cold, which can make you more susceptible to leg cramps. That's another reason why you should wear a life jacket.
6. Do not remove your helmet. You'll be climbing boulders, swimming under rock outcroppings, and jumping from heights. You need something to protect your head.
7. Don't make high dives no matter how tempting the water is without asking your guide's permission.
8. It is strongly recommended that you know how to swim, even simple dog paddle or freestyle. If you don't know how to swim, it is imperative that you wear a PFD.
9. Do not stray away from the group. Keep them and yourself in visual range.
10. Take time and effort to check your footing and your handholds. Many of the natural features that you're going to use are very slippery and unstable. A wrong move can lead to injuries. Clip in to safety lines when available.
11. Do not hesitate to inform your guide of any injury, ailment, doubt, etc. so he can help you.
12. Do not disturb, handle, capture, or kill wildlife. Doing so violates Republic Act 9147 (Wildlife Protection and Protection Act.
13. Remember to practice the Leave No Trace principles. Do not throw your garbage anywhere to protect and preserve the pristine beauty of the canyon.
14. Pack light but do bring the following:
Water (at least a liter)
Trekking sandals or aqua shoes with an aggressive tread
Rashguard
Cycling shorts, board shorts
Snacks (store in waterproof container)
Extra dry clothes (you can leave them with you porter)
Extra money for emergencies (stored in a waterproof container)
Your guide will provide the technical requirements such as ropes, harness, descenders, carabiners, and more.
15. Obviously, you need to waterproof everything. But since you'll be jumping, swimming, and getting splashed around by strong curtains of water, you need much more than just the usual Ziplock sandwich bag or plastic bag. We recommend putting your valuables, batteries, and money in two Ziplock bags.