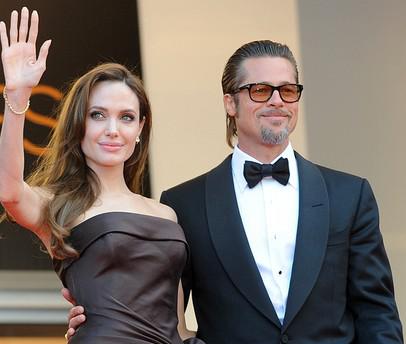 Brad Pitt and wife Angelina Jolie arrive for the screening of Tree of Life at 64th Cannes Film Festival, in Cannes, France, on May 16, 2011. Photo credit: amma and rabbo http://flic.kr/p/9KUh7V
The background
With the annual Cannes Film Festival kicking off tomorrow, 16 May, the Hollywood glitterati will descend on the French seaside town to rub shoulders with arthouse directors and silver screen legends alike.
This year's festival sees American film dominating European, and young directors battling Cannes stalwarts such as Ken Loach and Alain Resnais. Notably, there has been much controversy over the lack of female directors in this year's competition.
So which film will be walking away with this year's Palme d'Or? The Guardian calls the films in the running this year "a mouthwatering selection." The Periscope Post has scoured the press to pick the top films to look out for this year.
Michael Haneke's  Amour
The Guardian says of the festival legend that "the idea of a Haneke film getting put into Un Certain Regard (section), or even rejected outright, is pretty much unthinkable." Amour follows a woman's relationship with her elderly parents after her mother's stroke. "Certainly its audience will be waiting for some single, devastatingly shocking moment," wrote Peter Bradshaw, in reference to Haneke's signature style. The Independent said that Haneke enjoys "godlike status" at the festival.
Ken Loach's The Angel's Share
This film marks Loach's eleventh nomination for the Palme d'Or, the festival's highest prize, in 31 years. The Telegraph called the film an "upbeat story with a social agenda" about an unemployed man who finds hope after a fascinating and inspiring trip to a whiskey distillery. Time Out said that "we should expect a film of a similar tone" to 2009's Looking for Eric.
David Cronenberg's Cosmopolis
The Independent informed that Cronenberg's latest, which stars Robert Pattinson and Juliette Binoche, is "widely agreed to be this year's hot ticket." An adaptation of Don DeLillo's novel, "this could be his most confrontational film since his J G Ballard adaptation Crash." Time Out said it "promises to be a slick and steely look at American culture and commerce in the early 21st century."
Walter Salles' On the Road
One of the most highly anticipated films at the festival this year, the adaptation of the infamous Jack Kerouac novel stars Viggo Mortensen, Sam Riley and Kristen Stewart. Leading Hollywood trade paper Variety called the story of the film a "sprawling search for adventure and enlightenment" and praised the fact that it '"will be shown in a much more permissive climate than the Eisenhower era from which it sprang." Brazilian director Salles also relied on Kerouac's correspondence with his fellow Beats in creating the movie.
Jacques Audiard's De Rouille et d'Os (Rust and Bone)
Marion Cotillard stars in this shocking film about the relationship between a homeless man and a woman who loses her legs in a killer whale attack. The Guardian flagged up the "fiercely challenging nature of the movie," whilst Time Out warned audiences "don't go expecting an easy romantic drama."