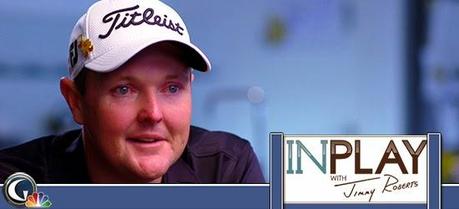 Jimmy Roberts and Team of Correspondents Also Reveal How Golf is Helping Autism Research, Remember Caddyshack's Harold Ramis and Visits with LPGA Major Winner – and Current WWE Executive – Jane Geddes
ORLANDO, Fla. – Tears flowed on both sides of the ropes in November when 32-year-old Jarrod Lyle returned to tournament competition in his native Australia. After a 20-month layoff that followed a second, harrowing diagnosis of myeloid leukemia – his first was at age 17 – it was one hole, one emotional round at a time with his wife and baby daughter in attendance, and an entire golfing community of support.
On the next installment of In Play with Jimmy Roberts, Monday at 10 p.m. ET, Lyle's compelling story will be told. Jimmy Roberts travels to Lyle's home in Australia to talk about his battle with cancer and the decisions he's making that are affecting his future, including his decision to have a child despite doctors' advice that chemotherapy treatments from his first bout with cancer would leave him sterile. Lyle's second bout with the disease began just prior to the birth of his daughter, Lusi. A regular fixture on the U.S. PGA TOUR in 2012, Lyle has a medical exemption to return whenever he feels he's ready, which could be this year.
Host and managing editor Roberts, a 13-time Emmy Award-winner, has drawn critical praise for telling some of sports' greatest stories during his distinguished career at NBC Sports, ESPN, ABC News and ABC Sports, which includes covering 14 Olympics. Described as "an enterprising new original series" by Sports Illustrated and a "gorgeously shot magazine show" by CableFAX Daily, In Play with Jimmy Roberts is a monthly series that chronicles stories ranging from celebrities to everyday people who are all unified by golf.
Other stories scheduled for Monday's episode are:
Autism and Golf: Major Champion Ernie Els, whose son is afflicted with autism, has done much to raise awareness about how the disease affects individuals and families. But autism has many facets, and there has been recent evidence uncovered that golf seems to hold medical benefits for those afflicted. In Play correspondent NAME takes a look at autism and how golf is making a difference.
The Mind Behind Caddyshack: Nothing has done more to raise awareness and break down golfing stereotypes than the iconic 1980 comedic masterpiece, Caddyshack. With the passing of the movie's director and screenwriter Harold Ramis, In Play pays homage to the man and the movie that brought golf into popular culture.
Jane Geddes: From LPGA to WWE: In Play sits down with LPGA major champion Jane Geddes, who left the LPGA Tour as senior vice president of tournament operations and player services in 2011 to pursue a new career path: World Wrestling Entertainment, where she current serves as senior vice president of operations for the company.
In Play's slightly defective "Golf Detective" Matty Blake will blow the lid off golf stories that nobody else realizes were stories in the first place. This week, he finds out where the term "Nassau" comes from.
ABOUT GOLF CHANNEL
Golf Channel is a multimedia, golf entertainment and services company based in Orlando, Fla. Golf Channel, co-founded by Arnold Palmer in 1995 and now part of the NBC Sports Group, is available in more than 120 million homes and 83 countries worldwide. Exclusive partnerships with the world's top tours allow Golf Channel to feature more live golf coverage than all other networks combined, as well as a programming schedule distinguished by golf's highest-quality news, instruction and original programming. Golf Channel's digital platforms, led by GolfChannel.com, are the leading golf destinations on the Internet, delivering unmatched coverage of the world of golf, as well as services that connect the world to golf. Fans are able to enjoy 24/7 live streaming of Golf Channel content through GolfChannel.com and Golf Channel's mobile application, Golf Live Extra. Golf Channel programming also is available via SiriusXM's PGA TOUR Radio.