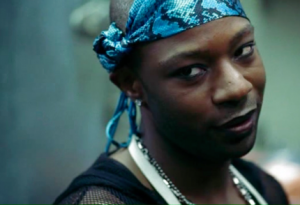 Nelsan Ellis has battled a lot of troublesome topics in his role as Lafayette Reynolds on True Blood, but in real-life, Ellis has sadly seen more than his share of tragedy. He lost his sister to domestic violence when he was younger, and just this past year, he lost his mother to cancer. Ellis continues to struggle with the reality that there was very little the medical profession did to help his mother before she succumbed to the disease seven days after being diagnosed. In his quest to find answers – and help – for cancer patients and their loved ones who want more from the medical profession than just morphine, Ellis stumbled upon the CureConstanceCampaign, an LA based organization that plans to offer support to those in the advanced stages of cancer. The Hollywood Reporter recently got a chance to speak one-on-one with Ellis about his mother's death and his mission to bring hope to those gravely affected by the disease:
"My mom passed away from cancer last year. It was painful to watch and to have no assistance from the medical profession, other than morphine. There was nothing they could do. That was probably the most god-awful thing…My mother was diagnosed on a Tuesday and she died 7 days later. This was like a drive-by shooting. And the only thing the doctors could tell us was they were sorry. She was solely on morphine…I'm just going to do whatever I can do – raise money, bring awareness. At this point, I abhor cancer. I hate cancer. I want to do whatever I can to give people hope and a sense that there's a chance."
The CureConstanceCampaign will kickoff with its Love A Life fundraiser at the Soho House on March 4, 2012 at 2PM. In addition to Ellis, The Office's Craig Robinson and other comics are set to perform. For more information about the organization, and for details about how to donate, visit their website at www.cureconstancecampaign.com/. Click here to read more of Ellis' interview with The Hollywood Reporter.
Source: The Hollywood Reporter – 'True Blood' Star Nelson Ellis on How LA Cancer Fundraiser Hits Close to Home (Q&A)
Photo Credit: HBO