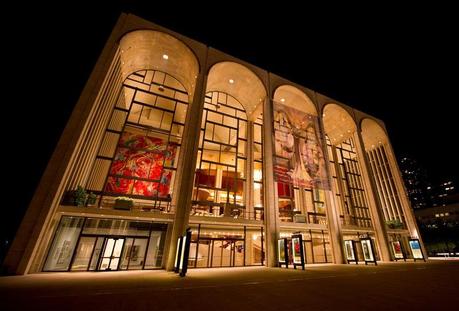 The Metropolitan Opera House at Lincoln Center
Casualties at the Front
Stop what you're doing and take a moment to listen. Did you hear that? It's the silence.
During wartime, strict radio silence was maintained. But now, our radios are tuned to pre-recorded broadcasts. We also have a new war on our front: the war against COVID-19, the dreaded coronavirus.
There are many casualties along this particular front. Most of them involve the disastrous human toll this war has taken. For lovers of fine music, it's the performing arts: Broadway, pop and rock concerts, and, of course, classical music and the opera. Closings and cancellations have abounded, along with financial calamities.
One first noticed that something peculiar was going on back in mid-March when New York's Metropolitan Opera announced it was postponing the remainder of its 2019-2020 season. Shortly afterwards, the company was either laying off or furloughing anywhere from 20 to 50 percent of its workforce. However, its streaming service was called into action as an emergency backup for those interested in pre-recorded performances.
In general, the operatic arts has suffered, along with every other related artistic endeavor. From famous museums and tourist attractions to concert venues and movie theaters; from film studios to the Great White Way, all have experienced an unprecedented number of cancellations and/or outright closings. How long these valued institutions can sustain this present predicament is anybody's guess. Certainly the deadly toll the virus has taken on artists, performers, actors, singers, and musicians is truly astounding. It has caused great harm to them all.
Not to dwell on the matter, we fans of the performing arts can take heart that, as indicated above, assorted streaming services and pre-recorded performances of many of your favorite works and artists can be viewed and appreciated, in the comfort of one's home, either free of charge or at a reduced fee. It's good to know that something - anything! - worth salvaging in this troubled, mixed up world can still be enjoyed, despite the dire situation at hand.
For me, listening to music or watching a good movie or TV series is tantamount to therapy. And goodness knows we need it now, more than ever! Taking one's mind off our troubles is reason enough to tune in.
The Show Must Go On!
Before things started to spin out of control, however, radio listeners (both of the satellite and regular kind) were rewarded with a vocally impressive, nay, superior concert performance of Hector Berlioz's "dramatic legend" La Damnation de Faust, broadcast live on February 8, 2020. (For the background to the Faust legend, see the following link: https://josmarlopes.wordpress.com/2013/10/12/mefistofele-ecco-il-mondo-behold-the-world-the-devils-in-the-details-of-boitos-opera/).
Originally slated as a revival of the lavish, digitally-conceived production by Canadian-born Robert Lepage, this challenging work was given a low number of concert readings due to technical deficiencies or insufficient rehearsal time (or quite possibly both). One missed the technological bells and whistles this amazing presentation called for. Fortunately, the Met Opera rose to the occasion with excellent soloists, a rousing orchestral depiction, and a truly spectacular contribution by the outstanding Met Opera Chorus and Children's Chorus, courtesy of chorus master Donald Palumbo.
The young British conductor Edward Garner lorded it over the Met Opera Orchestra, and to majestic purpose. His reading was swift and potent, most notably in the inspired horn and brass sections. The strings were notable for their "singing" tone and full-bodied sonority.
Relegated to the pit, the sound that emanated from this world-class ensemble (via the radio transmission, at least) was thrilling in its power and sumptuousness. If nothing else, the orchestra proved, once and for all, that Berlioz was a master of storytelling through musical means. Some reviewers noted that it would have been better to place the orchestra front and center on the Met's stage platform, as long stretches of music were played with little to no action taking place. Point well taken!
Vocally, though, there was a notable debut of sorts, that of Missouri-born tenor Michael Spyres as Faust. Known internationally as somewhat of a Berlioz specialist (mainly in France), Spyres' belated Met Opera "appearance" was a welcome one indeed. Most tenors, whether they are of a lyrical bent or the gutsier variety, tend to shy away from Berlioz due to that composer's (ahem) highly individualized treatment of the voice category.
To say that singing Berlioz's music is a perilous ordeal is no exaggeration. Yet Spyres overcame all doubt with an exquisitely phrased interpretation. His French was ideal in "Nature, immense, impénétrable," and his brightly colored tone smacked unmistakably of old school lyricism, laced with that spinto quality one rarely hears, even in Italianate throats. He did experience some strain in Faust's love duet with Marguérite (all the way up to C sharp in alt), but otherwise overcame the challenge better than his Met predecessors.
On the lower-voiced end of the scale, Russian bass Ildar Abdrazakov made for a marvelous Méphistophélès. Dressed in white tie and tails, his was an appropriately devilish portrayal, with a marked improvement in his diction and a delightfully wry and witty repartee. Like his counterpart Faust, Méphistophélès' music takes the voice upward into high baritone territory ("Voici des roses"), as well as back down to the basso profundo realm. While Abdrazakov may not have conquered all of Berlioz's hurdles, he certainly had a grand time of it- his repeated shouts of "Hop! Hop! Hop!" near the end were delivered with a fiendish snarl in his voice.
Taking the vocal honors, Latvian mezzo-soprano Elīna Garanča proved the most all-around satisfying of the performers. Her artistry in this repertoire has improved by leaps and bounds, so gorgeously plummy was her tone, yet capable of molding Marguérite's airs with delicacy, passion, and the right emotional weight. The ballad of "Le Roi de Thulé" and especially her moving Act IV Romance, "D'amour l'ardente flamme" (so similar to Delilah's "Printemps qui commence" from Saint-Saëns' Samson et Dalila), were models of their kind. To have accomplished this without the aid of costumes or props is a coup de théâtre by any definition of the term. Brava, Elīna!
In the brief character bit by Brander, bass-baritone Patrick Carfizzi stood out with his firmed-toned delivery of "The Song of the Rat." Concluding the work, the Children's Chorus stepped up to deliver the sonorous closing hymn of angels with heartfelt compassion, as Marguérite's soul rises to heaven. A salvo of bravos greeted their efforts.
I missed the next series of radio broadcasts (i.e., of Massenet's Manon, Mozart's Le Nozze di Figaro and Così fan tutte, as well as Handel's Agrippina) due to prior commitments.
We Resume Our Irregularly Scheduled Program
When the middle of March approached, radio listeners were informed that the March 14 broadcast of the new François Girard production of Wagner's Der Fliegende Holländer ("The Flying Dutchman") would be a taped transmission of the performance from March 10. Hmm, now why was that?
I had been looking forward to bass-baritone Bryn Terfel's return to the Met roster after a prolonged absence. Regrettably, Sir Bryn, as he was now called, had suffered an ankle injury and would be unable to appear. To the rescue came the potent voiced Evgeny Nikitin, who had previously sung the part of the evil magician Klingsor in Girard's ingenious re-imagination of Wagner's Parsifal (for my review of that production, please see the following link: https://josmarlopes.wordpress.com/2013/03/19/parsifal-and-don-carlo-a-celebratory-feast-of-wagner-and-verdi-for-the-ravenous-opera-fan-conclusion/).
Expecting a torrent of sound and fury and little in the way of nuance, I braced myself for an entertaining afternoon of Wagnerian music drama. This visually stunning production (unseen on the radio, of course), blew many critics' away. However, the idea of the story of the doomed Dutchman taking place in the protagonist Senta's head was already dated long before this production was unveiled.
Coming so soon on the heels of the 2017 revival of August Everding's old-fashioned take, which I wrote about in September 2017 (see the following link: https://josmarlopes.wordpress.com/2017/09/17/met-opera-round-up-the-seasons-last-gasp-tristan-the-flying-dutchman-and-the-love-of-a-good-woman-conclusion/), this ill-conceived re-modification "stole," for lack of a better word, a concept first employed by the late pathbreaking German director Harry Kupfer.
In Kupfer's version, Senta is obsessed with the Dutchman's portrait from the start. In Girard's modern interpretation, that portrait is blown up to gargantuan proportions; in fact, audiences get to glimpse the doomed Dutchman through a closeup one of his eyes! How creepy is that? Abstract impressionism abounds, with little in the way of actual physical structures to (you'll pardon the expression) "anchor" the setting, the sole exception being Daland's ship.
The Dutchman himself (or itself, if you will - noting that some musicologists felt that the ghostly Herr Vanderdencken was dubbed the "Dutchman" after his own vessel) is a pitiable lost soul. The so-called Spinning Chorus is nothing more than a group of women playing around with huge strands of ropes that hang suspended from the stage's flies - with the Dutchman's ever-present eyeball keeping watch over the proceedings.
Would that the singing have brought some luster to this misbegotten concept! For that, one had to turn to a solid supporting cast. Stepping in literally at the last minute, Russian basso Nikitin conveyed the Dutchman's plight in fits and starts. His basic tone is part Bayreuth bark, part mellow-voiced growl. More of a character player than a headliner, Nikitin excelled in such personifications as Klingsor, Telramund in Lohengrin, Alberich in the Ring cycle, and as Kurwenal, Tristan's loyal retainer.
How did he fare as the lonely Dutchman? Reasonably effective, under these circumstances, but not by much. The voice lacked warmth, and his dramatic encounter with Senta (debutante Anja Kampe) went by the boards. Then again, Nikitin was only able to express the Dutchman's tortured spirit through verbal inflections, for example, in the first act monologue "Dir Frist ist um." Nevertheless, he cut an impressive figure (as the photographs demonstrate). This is no Byronic hero; and in that Nikitin was less successful as a romantic embodiment, which is how the director envisioned it. There were times when one wished for a softer, less forceful sound. I like to think that he was miscast and leave it at that.
Senta, the woman obsessed with this fellow's massive portrait, was firmly sung by the German-born Kampe. Incredibly, the nearly middle-aged dramatic soprano was making her Met debut, another belated first. A dancer (Alison Clancy) embodying the young Senta was seen pre-curtain at the start of the Overture. Clad in a red dress, this was the only splash of color in a basically drab gray-black and white atmosphere.
Kampe was this production's saving grace. Apart from a few squally high notes, she, of all the singers, was the one who most closely identified with her character. Her soft singing was a joy to listen to; she clearly made up in warmth and beauty of tone what her counterpart Nikitin had lacked. As Erik, Senta's supposed betrothed, Russian tenor Sergey Skorokhodov was a real find. What a gorgeously pliant sound he emitted! Even and firm all the way through, he excited the listener with anticipation. His third act Cavatina was as eloquently sung as any I've heard recently.
In the secondary tenor part of the sleepy Steersman, tenor David Portillo, a native Texan and a fine Tamino in the English-language Magic Flute heard earlier in the season, did exceptionally well. My only beef was that he performed one-too-many yawns prior to his little Act I ditty. This smacked of another of Girard's whims of injecting "character" into a situation where none was called for. As Senta's dad Daland, bass Franz-Josef Selig was satisfactory, but no more. And as Mary, one of those Wagnerian non-entities, debuting mezzo Mihoko Fujimura was sturdy of voice and figure.
Russian maestro Valery Gergiev was, for this forceful artist, startlingly lowkey and reserved. Could thoughts of his homeland and family have robbed him of his concentration? It's hard to say. Although many critics found his conducting lacking in excitement, I noticed moments when the quieter passages in Wagner's mighty drama were wonderfully inspired. Generally, his whirlwind style of orchestral leadership has brought much passion to the fore, but not on this occasion.
On a personal note, I would never mistake Gergiev's way with Wagner with anybody else's. Certainly not the leisurely approach that James Levine, Herbert von Karajan or Otto Klemperer brought to this piece. I much prefer Antal Dorati's electric way with the score (with George London and Leonie Rysanek in the leads), even Sir Georg Solti's version (with Norman Bailey, whom I saw live at the New York City Opera as Hans Sachs). Those old timers knew a thing or two about raising the temperature in the theater.
Room for improvement is what's needed. Maybe with another cast, another conductor, the situation might perk up. Given the circumstances we find ourselves in today, who knows when that might be!
(End of Part One)
To be continued....
Copyright © 2020 by Josmar F. Lopes