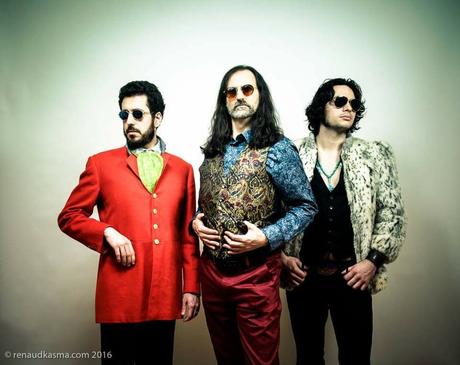 L-R - Dominique Salameh - Drums, Vocals,David Lines - Keys, Guitar, Vocals, Thomas Chollet (R) Bass, Guitar, Vocals Photo Credit: Renaud Kasma
Music Video - 'Skylight'- https://www.youtube.com/watch?v=r9lX4H7hMc0
Canadian psychedelic rockers A DEVIL'S DIN will be touring the UK this September in support of their latest album 'Skylight' released this past June via Island Dive Records to follow their 2011 debut album 'One Day All This Will Be Yours'. The tour will kick off in London on September 10th and end with a special family reunion as A Devil's Din's David Lines (originally from the UK) will share the stage with his brother's band The Electric Zoltz on September 23rd in London.
Full Album Stream of 'Skylight' can be heard at the following link:

https://www.youtube.com/watch?v=IaLTUpQjGzQ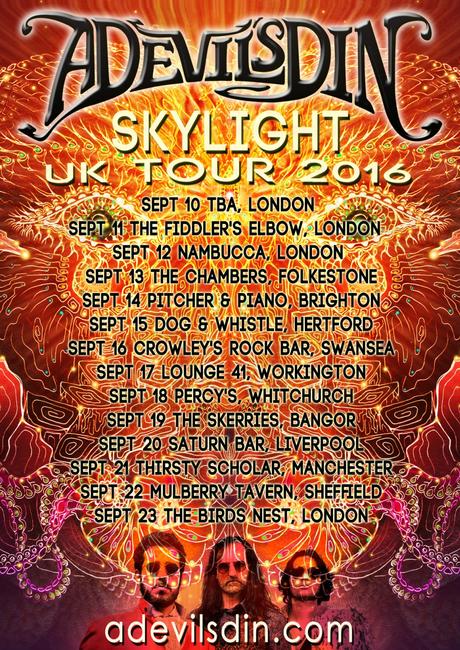 Sept 10 - TBA - London, UK Sept 11 - The Fiddler Elbow - London, UK Sept 12 - Nambucca - London, UK Sept 13 - The Chambers - Folkestone, UK Sept 14 - Pitcher & Piano - Brighton, UK Sept 15 - Dog & Whistle - Hertford, UK Sept 16 - Crowley's Rock Bar - Swansea, UK Sept 17 - Lounge 41 - Workington, UK Sept 18 - Percy's - Whitchurch, UK Sept 19 - The Skerries - Bangor, UK Sept 20 - Saturn Bar - Liverpool, UK Sept 21 - Thirsty Scholar - Manchester, UK Sept 22 - Mullberry Tavern - Sheffield, UK Sept 23 - London, UK - The Birds Nest w/ support from The Electric Zoltz
A DEVIL'S DIN is made up of 3 musicians born in the Old World who traveled across the ocean to find each other in Montreal, QC where they were drawn together by a mutual love of melodic, innovative, inventive and daring rock / metal tinged music. Fusing the colourful sounds of Syd Barrett's Pink Floyd & the psychedelic-era Beatles with intensity of classic power bands like Sabbath, The Who, and Led Zeppelin, as well as the boundary-pushing adventure of Yes, Gentle Giant and King Crimson, A DEVIL'S DIN is an uncommon and uncompromising voice in modern music.
Vocalist / guitarist David Lines comments on their album 'Skylight':
"Essentially this album is really a tribute to the psychedelic experience. I drew on my own personal involvement with certain consciousness-expanding substances to create a set of songs that would take the listener on a journey, both lyrically and musically. Within these 9 songs there exists a certain contrast between the hallucinatory and the heavy. Obviously we also owe a lot of this album's influence to another era, not just by sound and texture, but by the spirit of adventure, daring and experimentation that was prevalent then and bring all of that to the world today, right now."
Bassist Tom G. Stout also adds "Even though we are inspired by LSD trips, we still like to hit hard, and enjoy getting a little aggressive. You have to balance out the light with the darkness, because otherwise you're not being real."
Album order available at

www.ADevilsDin.com

and Bandcamp.