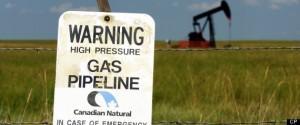 Photo: the Huffington Post
Canadian Natural Resources Ltd has been ordered to drain a lake on the site of its northern Alberta oil sands project so that contamination on the lake's bottom, from a leak that has been spilling tar-like bitumen for months, can be cleaned up.
The province of Alberta's environment department issued an environmental protection order on Tuesday that compels the company to drain a two-thirds of the 53-hectare (131-acre) lake on its Primrose East thermal oil sands site before the onset of winter to prevent further contamination.
Canadian Natural, Canada's largest independent oil producer, reported in late June that bitumen was coming to the surface on the bottom of the lake.
The environment department said water quality in the lake has not been affected but it did not say why. Bitumen is heavier than water, however.
The leak, one of four on the sprawling project site, sprung up from an oil sands reserve produced by a process that melts bitumen with high-pressure steam so that it can be moved and processed. The leak has yet to be stopped, and has become the latest focus for environmentalists concerned about the impact oil sands production.
"The Alberta government should, at a minimum, put a hold on approving new underground tar sands operations until we understand how these leaks are happening and if other sites could run into similar problems," Mike Hudema, a climate and energy campaigner at Greenpeace Canada, said in a statement.
The order says the company must pump the water from the area of the lake that is in the vicinity of leak into the third of the lake where it can be contained by a road that cuts across the water body. Then the cleanup of the spill site can be completed.
"Doing the work during the winter minimizes the environmental impact," said Trevor Gemmell, a spokesman for the Alberta environment department.
Canadian Natural said in a statement it is working with regulators to clean up the leak and that the order will allow it to access the fissure below the lake.
"Canadian Natural will continue to make available any necessary resources for investigation, clean-up and towards putting safeguards in place to ensure events such as these do not happen again," the company said.