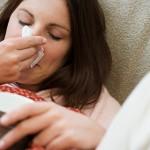 Girl on the River fans know that I have a hate-hate relationship with the erg and won't be surprised to learn that my heart gives a little lift on the rare occasions that our twice-weekly sessions are cancelled. So yesterday – Ergday – when the tell-tale signs of a cold started multiplying I was hugely tempted to give it a miss.
Familiar with the traditional advice that when it comes to colds, head-cold = go and chest-cold = stop, I girded my loins and forced myself out of the door, with an extra layer on to make me at least feel cosy. To my distress, I was faced with one of the hardest erg sessions of my rowing career – a badass HIIT session with the Nasty Lady of bootcamp fame, but I can't deny I came home pumped full of endorphins and pretty pleased I'd persevered.
A restless, snuffly night later and I was starting to regret my decision. Waking groggy and full of self-pity I backed out of the bootcamp session I'd planned, despite the Queen of Bootcamp's promise of a rocking playlist featuring Bieber, Minaj and Rihanna to get me grooving (did I just admit that in public?)
But then the doubt crept in as I nursed my tea, huddling next to the radiator at home. Was I just wimping out or was I right to rest my germ-ridden body?
Well, in a sense, both. Surprisingly little research exists on the subject, but the studies that have been done – conducted by Dr Leonard Kaminsky at Ball State University and reported here in the New York Times in 2008 – suggest that a cold makes no difference to your performance and – interestingly – that exercise doesn't make your cold any worse.
So much for the wimp's charter I was hoping for. But before I succumb to guilt, I'm also convinced that it's important to listen to your body. If you're hideously congested or you're feeling exhausted (and there's nothing like a cold to mess with your sleep) then it's probably a good idea to give it a rest for a day or two. Swap the hardcore workout for a vigorous walk (or even a spell under the duvet) and give your body a chance to recover a little. The erg will still be waiting patiently for you when you're better… more's the pity.