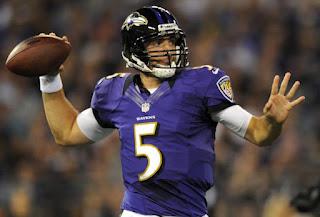 Photo: Patrick Smith - Getty Images
- Troy Ballard
I don't like Joe Flacco.
Never have. I didn't think he was all that impressive in college, and outside of a few bright (and brief) moments in his NFL career, I don't believe he is all that fantastic with the Baltimore Ravens. He was one of those select quarterbacks in the NFL that is right on the cusp of being elite, but have continued to hover right in the category of... 
down right average
.
However, following a demolishing performance of the Cincinnati Bengals' defense, one in which Flacco looked all in compassing -- the question of his arrival as an elite quarterback has been brought up once again.
And despite my general dislike for Flacco, it's hard for me not to bite the bullet. Claim that I was wrong. Say that I had miss-judged what is a truly elite talent, and that I wrote-off Flacco just a moment too early. That in reality, #5 is going to be the quarterback to take Baltimore back to the Super Bowl, and it won't only be a one-sided defensive team.
But I'm not sold. And I still don't believe that Flacco has arrived, nor do I think that he ever will.
Sure, 299 yards and three touchdowns against an underrated Bengals' secondary was impressive. Flacco's touch on a few passes had me wondering if he and Peyton Manning had switched bodies before the game. Even after the Ravens were up big (real big), Flacco kept attacking and scoring, something that I thought was an issue in the past. He looked fantastic in the national spotlight, and is now getting more attention than that kid who drives a brand new Porsche in high school.
Hence why every NFL analyst on ESPN jumped to the indefinite conclusion that, yes,
Joe Flacco has arrived and he isn't going anywhere
. Ashley Fox wrote an entire 1,000+ word piece fawning over 'how Baltimore's offense has finally met the caliber of its defense.'
That's BS. Plain and simple.
I don't care if Aaron Rodgers was the quarterback for the Ravens -- that defense is still the focal point of the team. Whenever a unit has two sure-fire (possibly three) Hall of Famers starting, it doesn't matter who your quarterback is. With that being said, Ashley, stop it.
And I'm also here to derail the
whacko-for-Flacco
hype train. One amazing performance does secure that he is going to dominate every other defense in the NFL for the rest of eternity. Let's take it one week at a time. There's still an entire regular season of games to be played, plus the playoffs.
Flacco has had plenty of games like this in the past, and if history has a way of repeating itself, he won't keep it up.
Be Sure to follow Beard and Stache on Twitter @BeardAndStache, and also Troy @TroyBallards, like our Facebook page HERE!