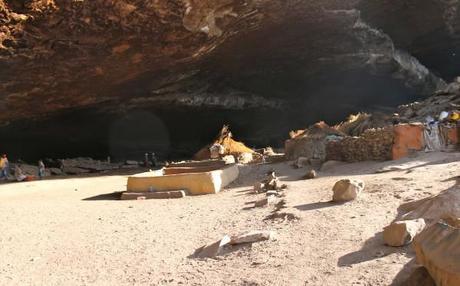 "You are here for a purpose, something has brought you here" were the wise words from Oliver our guide to Songoman, a shaman cave near Clarens in S. Africa. I had no idea how to respond to that so muttered an almost intelligible "Ummm, OK." The men in our group appeared doubtful, yet worried at the same time, even though Oliver assured them that people visited shaymen for all sorts of reasons -not just to get pregnant.  Having just gotten married less than a year ago, I was curious, could visiting a fertility cave make me pregnant?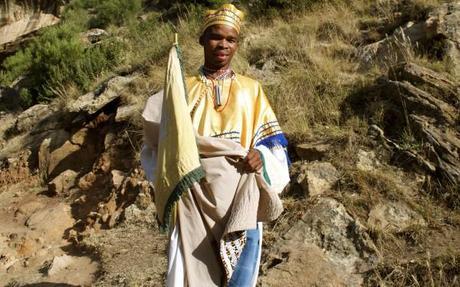 A shaman just outside Songoman Cave, the fertility cave.
Shaman serve as doctors, psychologists and priests, depending on what your problem is. Many locals believe that shaman can solve any problem, no matter what it is. And just how do they heal I asked unconvinced? Oliver explained that it depended on the individual shaman, since each one had a different specialty and a different technique. Songoman Cave is a congregation of shaman so to speak. People go there to be healed and some choose to stay for an extended period of time. It's open and free to the public, you just have to pay a small fee for crossing a farmer's land, but without a guide, you would be lost unless you know anything about shaman, which I didn't. Even after our visit, I still know very little about shaman, which remain a mystery to me.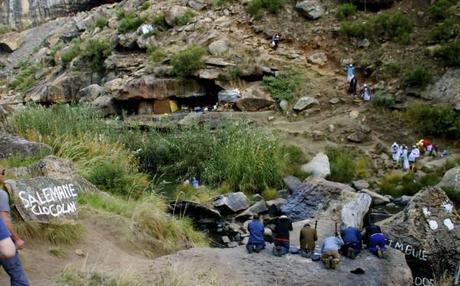 Men praying just outside the Fertility Cave.
Oliver explained that the experience is different every time and that you never know what to expect. We encountered a group of men praying before they crossed the creek just before the cave. We waited patiently, observing; yet feeling like outsiders.
Inside the cave, Oliver greeted several women he knew crouching low as he did so – showing a sign of respect. All the women were wearing skirts, including us female visitors who wore sarongs over our pants so that the ancestors could distinguish us as women.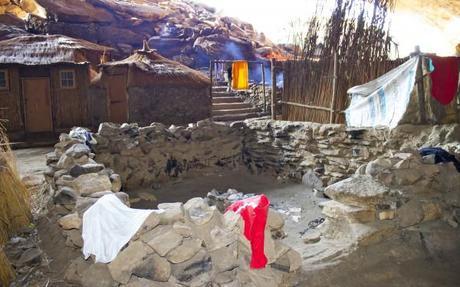 "Houses" inside the Fertility Cave
I inquired about how you would go about approaching a shaman. Oliver smiled at my ignorance, "You just feel it and you start talking to the right one for you." The few shamans we did see appeared busy speaking with others and the particular shaman that Oliver knew best was absent. I couldn't tell by looking at any of them which one to see if I wanted to get pregnant, and frankly  it seemed odd to approach a complete stranger with  "Hi, I'm Laurel, can you get me pregnant?"  That could leave a lot of room for misinterpretation,  so I refrained from approaching any shaman, as did the rest of our group.  Or perhaps it was because I  "didn't feel the connection" I can't say for sure.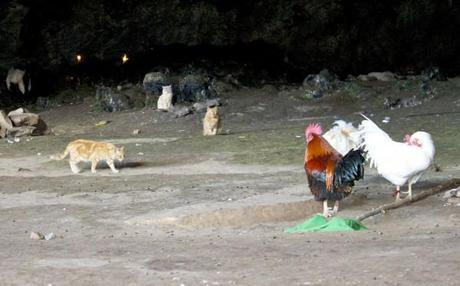 I was relieved to learn that the cats wouldn't be sacrificed - they kept the rodent population down. The chickens? Not so lucky.
A group of local men that came in shortly after we did, obviously felt it though as they approached a congregation of people, sitting inside the short walls of the "houses." The whole process baffled me and I was clueless as to what the etiquette was of approaching someone sitting inside their house, even though they were visible to everyone. Oliver told me I was over thinking it. He was probably right.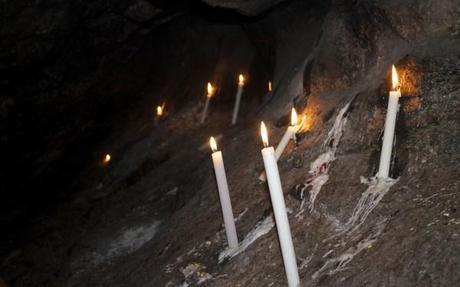 Special prayers can be made in a small cavern in the fertility cave. I said a prayer.
I left just as bewildered and confused as I was when I entered, but still fascinated, as were the other three women in our group. The men in our group (guide excluded) were not as interested in what really is a difficult concept to wrap your head around.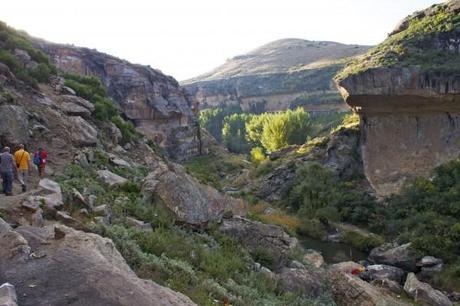 Trail to the Fertility Cave near Clarens.
So what was my purpose for entering the Fertility Cave, since Oliver said that everyone had one? Besides being on the itinerary for the press trip I was on, and providing an insight into a completely different world than mine, I still haven't a clue.  And no I'm not pregnant either – in case you were wondering and nor is anyone else from our group, but I don't think that was anyone's objective either.  So can visiting a fertility cave get you pregnant?  I left just as mystified as I was when I entered, so I don't know.  Do you anyone who has gotten pregnant after visiting a fertility cave?
Know Before You Go To Songoman Cave
• Songoman Cave is technically open to everyone, but as there are no signs, it would be difficult to find without a guide. Clarens Xtreme offers guiding services at the rate of 200 rand (~20 Euro) for a 2 hour to half day tour (the length of the tour depends on what is happening in the cave during your visit). Oliver is very knowledgeable about the cave. Plus, you really need someone to explain it to you unless you're up on Shayman.
• Every visit to Songoman Cave will be different. You may see chickens being sacrificed, hundreds of people or just a few. Nothing is planned so be prepared for anything.
• The walk to Songoman Cave is beautiful and mostly flat. It takes ~30 minutes so wear appropriate walking shoes.
• If you're a woman and visiting the cave without a guide, wear a long skirt, or a sarong over your pants – it's a sign of respecting the local traditions.
• My visit to Songoman Cave was one of the more off-beat things I have done. I enjoyed it, but I don't think everyone would.
• Prepare to be confused and a little mystified, but intrigued at the same time.
Note: I received a complimentary tour to Songoman Cave. As always all opinions expressed are my own.
You may also be interested in these points of interest, which are relatively near to Songoman Cave:
• Drakensberg – a UNESCO World Heritage Site, home to the highest peaks in all of Southern Africa
• Visiting a Zulu Village
• Practicing the Zulu Language
• Visiting Lesotho, a country completely surrounded by S. Africa