Instant ramen is the go-to comfort food for many people. It's cheap and easy to make, but is it suitable for a vegetarian or vegan lifestyle?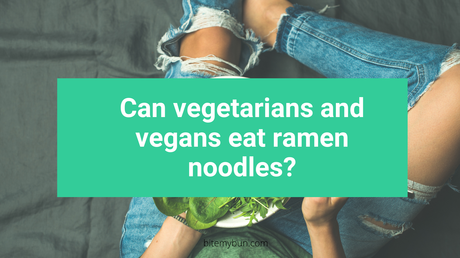 Well, it depends on the brand. Some brands of instant ramen might appear to be vegan- or vegetarian-friendly at first glance, but when you actually look closer, you'll see that they use animal products.
Are popular ramen brands vegan?
Unfortunately, most of the more well-known ramen noodle brands aren't safe for vegetarians and vegans to eat.
I want to be clear, though, that this is not because of the noodles themselves. Ramen noodles are typically made from wheat flour, salt, and water, which are, of course, 100% vegan.
The issue comes in the flavoring packages. The popular instant ramen brand Maruchan uses animal products in all of its flavoring packages, even the ones that don't seem like they would need them.
However, Nissin's Top Ramen, Maruchan's #1 competitor, has two flavors that are actually good for a vegan or vegetarian lifestyle: Soy Sauce (formerly Oriental) and Chili.
If you plan to go this route, make sure to read the label carefully when making the purchase, as Maruchan's and Nissin's Top Ramen's packaging can look very similar.
If you want the vegan one, you need to make sure you're buying Top Ramen.
And if you don't like any of those options, some vegetarians choose to buy the noodles, throw away the seasoning packets, and just flavor them themselves.
The choice to do that depends on your personal definition of what it means to be vegan or vegetarian.
With this delicious vegan ramen noodle soup recipe you don't have to miss out on flavor!
Cruelty-free ramen options
You might not be comfortable with the idea of throwing away seasoning packets and just using the noodles, or with buying food from a company that uses animal products in their foods even if you're not actually consuming them.
If you are, don't worry! You can still enjoy ramen.
In light of the recent rise of veganism and vegetarianism around the world, several brands have popped up that offer completely vegan ramen in a wide range of flavors.
However, keep in mind that some of these will not be as readily available as the Top Ramens or Maruchans of the world, and they may not be as cheap, either.
You'll likely be able to find them in a health food store or Asian market, but not all of them will be on the average commercial grocery store shelf.
Also check out these 9 best ramen toppings to order or use when making ramen at home
Dr. McDougall's Right Foods
This is a certified vegan food brand that specializes in on-the-go foods. Not just ramen, but also other kinds of soups.
Their ramen flavors include a vegan chicken flavor and a miso flavor.
Koyo
Koyo makes organic, non-GMO, vegan ramen noodles in many different flavors, including but not limited to garlic pepper, tofu miso, and shiitake mushroom.
There's definitely something there for everyone, so you shouldn't have to worry about getting your ramen fix.
Crystal Noodle Soup
Not only are all of Crystal Noodle Soup's ramen flavors 100% vegan, but they're also gluten-free, which makes them perfect for anyone who has a gluten allergy or other gluten-related dietary restrictions. You can still enjoy ramen.
Lotus Foods Rice Ramen Noodles
Another vegan option that's also great for people with gluten allergies, Lotus Foods uses rice instead of wheat to make their ramen noodles.
They've got several different flavors as well, so you should be able to find one that works for you.
So, are ramen noodles vegan?
Most popular ramen noodle brands are not vegan or vegetarian, but there are many brands out there that do sell vegan ramen options, and if you're willing to get a little creative, you can even fix the more popular brands to be vegan as well.
Learn more about the history of ramen, or ramyun, or ramyeon: Japanese vs Korean ramen