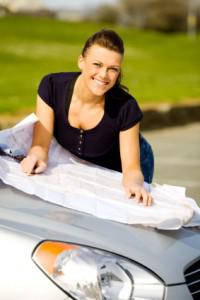 Summer is definitely a peak travel season.  The weather is warm, businesses aren't crunching like they do closer to the holiday season (so it's easier to get time off), and the kids are out of school and looking for something to occupy their time.  Unfortunately, you're not the only one who finds yourself in this sunny situation.  And since everyone else is keen to travel, as well, prices for airline tickets, car rentals, and hotel rooms skyrocket during the summer months.  So if you're going over your budget and coming up short for your vacay, you might be tempted to call the whole thing off.  But don't be hasty; by taking a road trip and staying close to home you can have a great time and spend a lot less money.  Here are just a few reasons to skip the hassles of long-distance travel and opt to go by car instead.
The best and most obvious reason to road trip it this summer is the monetary savings.  Consider the cost of an airline ticket; it likely comes to a minimum of a couple hundred dollars with taxes, fees, and the addition of paying for checked bags.  Now multiply that cost by the number of people in your family.  Suddenly you're looking at thousands just for air travel, and that's before you even factor in lodgings, food, and transportation once you reach your destination.  You could be staring down the barrel of a pretty hefty bill by the time you're done.  A road trip, on the other hand, offers some amazing financial incentives.
Let's start with the actual cost of travel.  If you limit yourself to only destinations that you can reach within a day, you're probably looking at two tanks of gas maximum (maybe $100 worth).  So you've already slashed your budget by a significant margin.  You will still have to pay for food and lodgings, but there are ways to keep costs down in this area, as well.  For one thing, you could do a series of day trips (traveling to places that are only a couple of hours away, spending the day, and then returning home without an overnight stay).  You might also want to consider camping.  Although you will have to shell out for the gear if you don't already have it, you'll still pay less than you would for the airline tickets alone, and you'll get to use tents, sleeping bags, and other equipment indefinitely (spreading out the cost-to-value ratio).
You may have to pay a small fee for the campsite, but it will be a lot less than a hotel room and you'll have the great outdoors to wake up to every morning, rather than the guy next door blaring the morning show.  As for food, you'll save here, too.  Think about how much you typically spend on a family meal at a restaurant.  For the price of one meal at even a family restaurant (like Denny's) you could buy enough food at the grocery store for at least a day worth of meals for everyone.  Cha-ching!
And if the monetary savings aren't enough, consider how much time you'll save.  Between preparing for long-distance travel, getting everyone packed, making it to the airport early (and then waiting for 2-3 hours for your flight), actually flying, and then arriving only to wait for your bags and hail a cab to your hotel, you're looking at an entire day of your vacation down the drain.  You can likely find an amazing campsite within three hours' drive and have your relaxation time starting by noon (when you would otherwise be boarding your plane with the whole trip still ahead of you).  There's just no denying that a road trip sounds a heck of a lot better.
Leah Davis writes for CT Limousine where you can find the perfect vehicle for your travel needs.