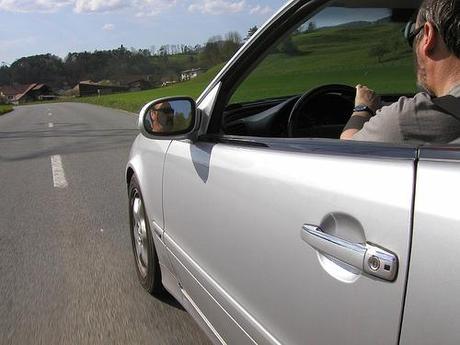 Photo Credit: via Flickr, Timo Newton-Syms
If you're traveling or spending an extended period of time in France, you may wonder if you can use your foreign driver's licence while driving in France
In a word, usually.
If you're a tourist:
Tourists in France who have a valid driver's licence in their home country can drive while on a tourist visa, although it is recommended to get an international driver's licence before you come to France.
If you're a student:
Students from the EU, EEE, and any other country in the world can drive in France with their driver's licence from their home country.
In order to do so, they must get a certified translation of their driver's licence (Click here for the U.S. Embassy's list of Certified Translators in Paris) and carry it with the original driver's licence at all times.
If you're an assistant, salaried worker, or other resident:
Non-French citizens who live in France can drive using a foreign licence for the first year they are residing in France. Before the one-year limit is up, they must take steps to convert their home country's driver's licence into a French driver's licence. This one year limit begins on the day your Visa Long Séjour Valant Premier Titre de Séjour is validated by OFII. In other words, your year starts with your medical visit. So if you arrive in September and your medical visit isn't until February, you have until the following February to drive legally in France.
For citizens of the EU and the EEE, as well as residents of certain states and provinces in the U.S. and Canada, this process is relatively easy, if not entirely painless. Basically, it involves getting a translation, filling out some documents, and paying a fee to the French préfecture in order to get a new licence. The process can take up to six months.
What if my state/province/country doesn't have an exchange with France?
Unfortunately, if your former place of residence (i.e., the place that issued your driver's licence) does not have a reciprocal exchange with France, you're going to have to retake the French driving test once your year is up.
While you won't be legally required to go through the rigamarole of taking an entire course of French driver's education, you may be required to take some driving hours before the local driving school will allow you to enroll in the test. Also, since driving tests are given by the driving instructors themselves, they have an incentive to fail students the first time around, as it means you'll have to pay for more driving lessons. In 2012, driving instructors actually went on strike because the government wanted schools to have a pass rate of 66% on first-time test takers. Conflict of interest, much?
In any case, the process of getting a French driver's licence can be expensive and time consuming if you can't do it automatically.
Your foreign licence must be valid for at least six months before it can be converted to a French licence. So if you "moved" to Connecticut or New Hampshire (wink wink, nudge nudge) and got a CT licence just before moving to France, you could still start the conversion process a few months before your 1-year grace period expires.
Finally, in order to receive a full French driver's licence at the time of conversion, you must have a valid licence for at least 3 years and a relatively clean driving record. If you have been driving for less than 3 years, you will receive a restricted licence that young people get when they first start driving, and meet those conditions until the 3 year period is up (starting from when you passed your test in your home country).

Vote for my article on WorldTravelist.com, sharing the best travel content on the web.