We decided that we would try camping this summer.  We wanted to make a trip to Indiana for the OFA reunion, but that would mean 2 nights in hotel rooms on the way up.  We have gotten to the point where hotels are not a good option.  Occupancy laws only allow 6 people in a room and at this stage in our kids lives, separate rooms (even if they are adjoining) are not practical or financially feasible.
So we decided to try camping.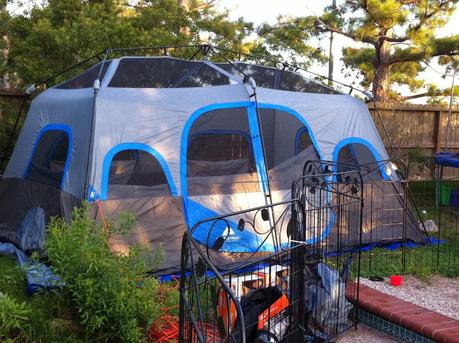 I've been researching the idea for weeks.  Mostly, I've been scouring Craigslist holding out hope that we would find a super cheap pop up camper trailer.  I figured if we could haul around a giant bedroom with air conditioning that would be the ideal camping solution.  But alas, no such luck.  So we broke down and bought a tent and we are going to go for it!
Last night we had a dress rehearsal.  The first thing we learned was never tell JoJo that we are going to put up the tent more than 5 minutes ahead of time. The first thing he said to me yesterday morning before I even crawled out of bed was "Can we put the tent in the back yard?"  And he said that phrase no less than 7462 times over the course of the day.  We finally put the tent up after dinner.  JoJo is lucky he survived that long.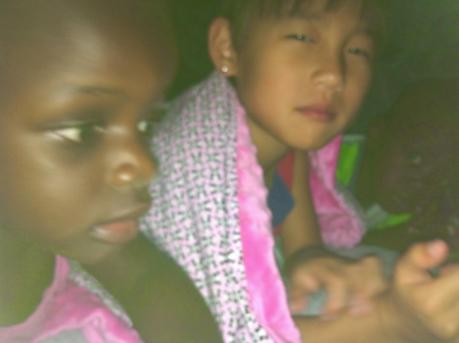 We bought a special style of tent called an "instant tent" and sure enough it was fabulously easy to erect.  All the poles are attached to the tent already (no sliding poles into pockets for an hour) so you just extend all the legs and voila, instant tent!  On the promotional video it's shown being put up in less than 60 seconds.  It took us probably 5 minutes, with our helpers, so not bad for the first time.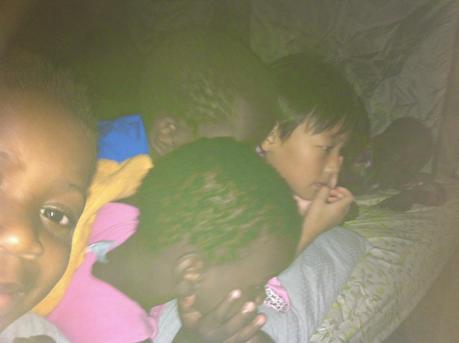 The tent is a 10 person tent, 10'x'14 in size.  It will hold 3 queen size inflatable mattresses, a porta potty, our electric ice chest, a box fan, my laptop for big screen movie viewing, and a partridge in a pear tree. Not the roughest of roughing it, but with 6 kids under 7, we need to make this camping trip as painless as possible.
Next we started blowing up the air mattresses.  Here was where we learned our second important lesson: you get what you pay for in air pumps.  We bought an electric air pump thinking the mattress would be full in minutes.  No less than one hour later and it still was limp and floppy.  Luckily a friend happened to stop by the house and she happened to have a foot peddle air pump in her car.  In 200 pumps (yes, he counted ) and about 3 minutes the second air mattress was full and ready to sleep on.  So the lame electric pump goes back to the store today.
We covered the air mattresses with fitted sheets instead of getting everyone a sleeping bag.  This was a good choice.  It made sleeping much cooler.  But I think I will have to put a padded mattress cover on at least my mattress. Sleeping on those lumpy air pockets makes me sort of crazy.
After swimming and some time watching TV in our air conditioned living room we all tromped out to the tent with our pillows and blankies and settled in to watch a DVD.  The settling in part nearly killed me.  I had to return to the house at least a half dozen times to get sippy cups of water, forgotten pillows, refills of water, melatonin and essential oils for Louise.  During that first hour I thought about screaming several times, "Never mind, camping is not going to work!  We're not going to Indiana, we're not going on vacation!  Everyone go to your own rooms and stop crying!!!!"
Mostly I was thinking this about Louise.  She has a really REALLY hard time getting to sleep at night and in general our getting everyone to bed routine is never easy.  So what in the world made me think it would be any easier in a tent in my backyard.
Another lesson we learned: NO electronic devices in the tent.  There was almost blood shed between Katriel and Louise over the Leapfrog game!  This will have to stay in the car when we travel.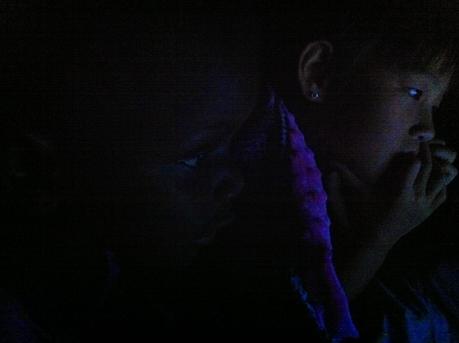 Then suddenly everyone finally stopped wiggling, and 2 or 3 even drifted off to sleep without a fuss. And then to movie ended and I was the only one still awake.  I was able to get comfortable enough to sleep, although the humidity was insane and I woke up in the middle of the night with a hyper extended elbow from sleeping in some weird and unnatural position.  But we all survived.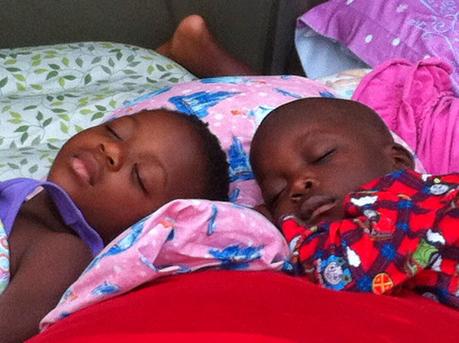 The birds started chirping and the sun rose bright and early.  I'm inside now, enjoying the A/C and the quiet alone time.  Everyone else is still snoozing peacefully an hour later.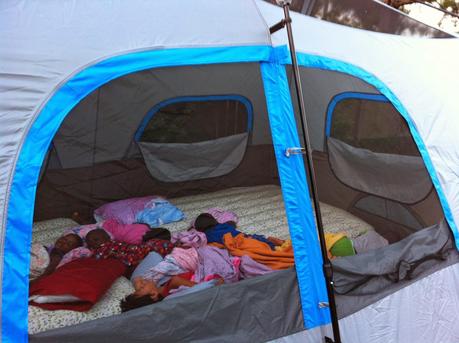 Oh, I spoke too soon.  JoJo just wandered into the house.  He's always our earliest riser.  Asked him if he liked camping last night and he shook his head no.  Uh oh. We'll have to work on that.
Next week we're going to load up the van and try camping outside our own backyard.  We're going to give real camping at a real campground a try.  We'll only be a couple of hours from our house so if its a total disaster we can always come home.  I'll let you know how it goes.
Keep me in your prayers :)