This year Penelope Cruz is the latest star in the iconic Campari Calendar, featured in an all red very fashionable editorial-like shooting. Just like every year the Campari Calendar is distributed in an international limited edition of only 9,999 copies and will be in the hands of the luxury collectors. I really love the dresses featured this year, and being a big fan of Penelope I'd want to get my hands on one of these calendars. But being that impossible, we can enjoy the images released from Campari.
The Campari Calendar 2013 is based around the number 13, as there is no number in the world that has more magical meanings than number 13, and 2013's Calendar will explore the various superstitions we have.  So let's enjoy 2013, and be sure that with Campari, this year is going to be a great one.
Counting the many years of bad luck that Penelope might have doing these photographs I really hope sho got paid enough for the campaign. We'll have to see if any of the superstitions is true, I'm sure only about the breaking of the mirrors and black cats. 
CAMPARI CALENDAR 2013 Kiss Superstition Goodbye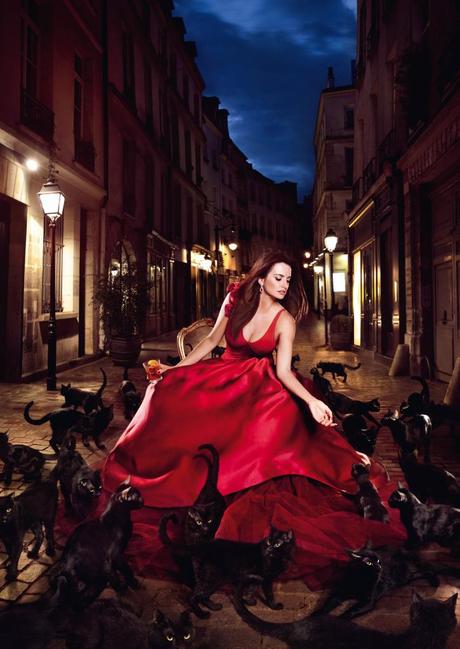 January 2013 
Superstition 'Black Cats' In western history, black cats have often been looked upon as a symbol of evil omens, specifically suspected of being related to witches. Most of western and southern Europe considers the black cat as a symbol of bad luck, especially if one crosses paths with a person, which is believed to be an omen of misfortune.
Outfit: 
Zac Posen - Ox blood draped shoulder bustier gown
Jewellery: Joyeria Molina Cuevas - White gold, diamond and ruby earrings

Drink: Negroni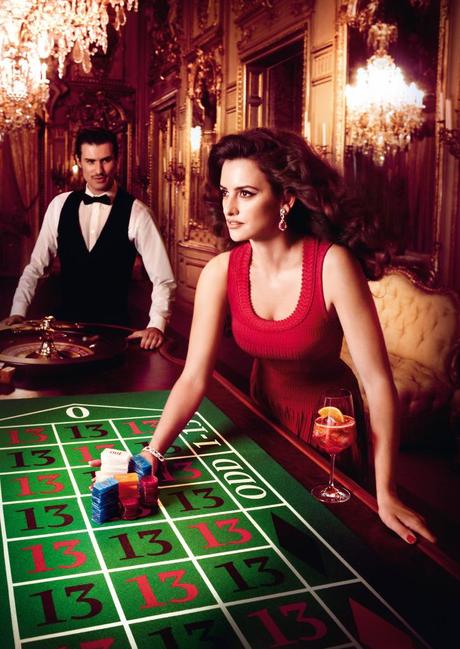 February 2012
Superstition '13 Being Unlucky' The fear of the number 13 is so pervasive that it is officially known as triskaidekaphobia. There are many thoughts as to why this belief is held including: Witches' covens traditionally having 13 members and an old legend which says that the first person to get up from a table containing 13 people will die within the year.
Outfit: 
Alaïa - Long pleated dress
Jewellery: Joyeria Molina Cuevas - White gold, diamond and ruby earrings and  bracelet
Drink: Campari Spritz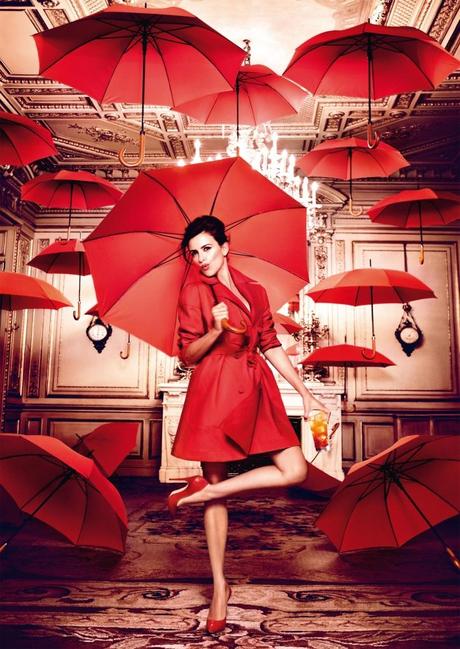 March 2013
Superstition 'Opening An Umbrella Indoors'One theory as to why opening an umbrella indoors brings bad luck borrows from the idea of an umbrella as a protector against the storms of life. If you open one in your home, the household guardian spirits might think you felt their protection was insufficient and they would leave, cursing your household as they go.
Outfit: 
Alaïa - Trench coat
Shoes: Casadei pumps
Drink: Campari Orange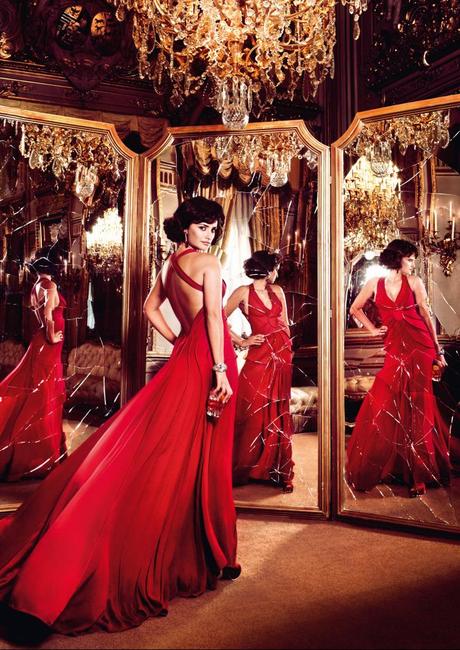 April 2013
Superstition 'Broken Mirror Is Worth Seven Years Of Bad Luck' One's reflection in a mirror has traditionally been thought to be the representation of his or her soul, or spiritual state. Breaking the mirror, and therefore the person's reflection, would bring damage to their soul and spiritual hardship.
Outfit: 
Zac Posen - Poppy pin-tuck chiffon halter gown
Shoes: Salvatore Ferragamo - Red Carpet Collection
Jewellery: Joyeria Molina Cuevas - Platinum and old cut diamond earrings and white gold circa 1950
Drink: Campari on the rocks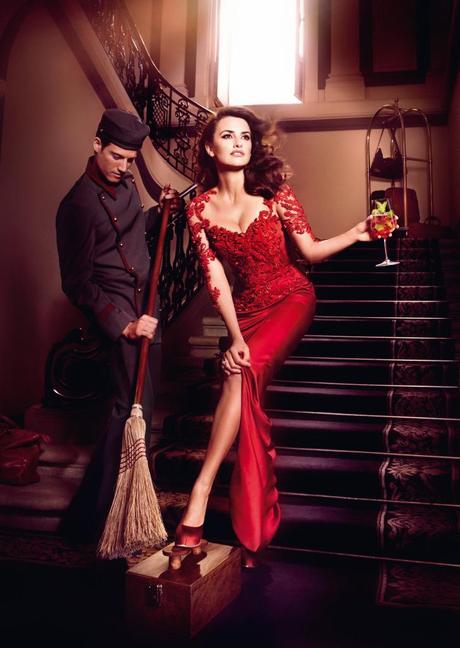 May 2013
Superstition 'Sweeping Someone's Feet' It was thought that a woman who couldn't sweep a floor properly wouldn't be a good wife and would never get married. If you swept your own feet, or someone else does it to you, it meant you were not concentrating or paying attention to what you/others are doing and are therefore not suited for marriage.
Outfit: 
Marchesa - Hand embroidered illusion dress with silk crepe skirt
Shoes: Salvatore Ferragamo - Red Carpet Collection
 Jewellery: Chopard - White gold ring set with a brilliant-cut diamond and brilliants
Bag: BRIC's
Drinks: Campari Tocco Rosso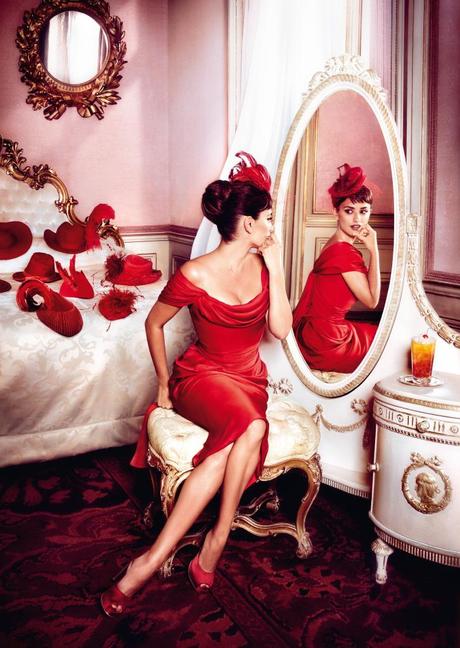 June 2013
Superstition 'Hats On Beds'
 It was believed that evil spirits lived in the hair and that by placing your hat on the bed you would transfer the evil spirits from hair, to hat and then to the bed; Thus allowing the evil spirits to get you at night.
Outfit: 
Vivienne Westwood - Gold Label cocotte dress and custom made hat from The Hat Shop
Shoes: Salvatore Ferragamo - Red Carpet Collection
Jewellery: Chopard - White gold ring set with a brilliant-cut diamond and brilliants
Drink: Campari Orange Passion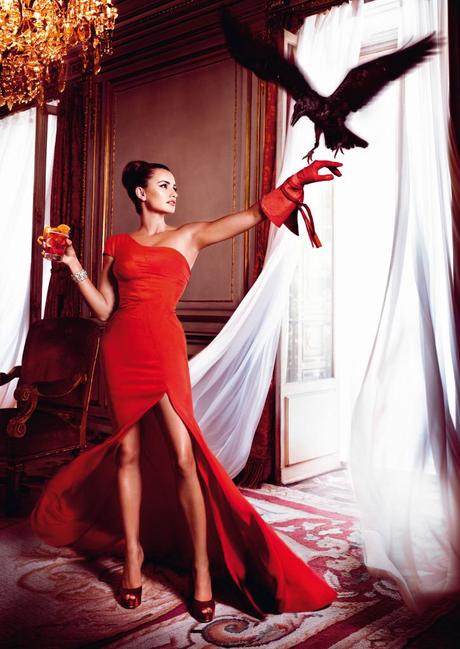 July 2013
Superstition 'Bird Flying Into One's House'
 Historically, when unusual incidents happened it was viewed as an urgent message falling directly from the lips of the Gods and usually a bad sign. Strange behavior of animals was subsequently a cause for concern and wild birds that tried to get inside houses were believed to signify death.
Outfit:
Zac Posen - Grenadine sunburst seam one shoulder gown
Shoes: Salvatore Ferragamo - Red Carpet Collection
Jewellery: Joyeria Molina Cuevas - Platinum and diamond, art decó bracelet. circa 1930
Drink: Americano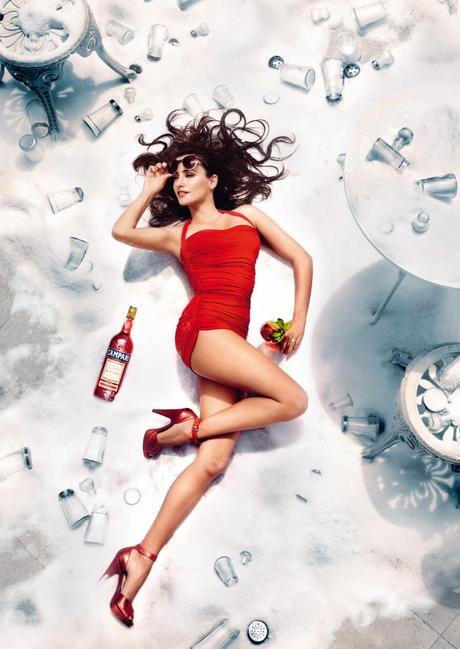 August 2013
Superstition 'Don't Spill The Salt!'
 To spill salt was seen as an extraordinary waste as it was such a high value commodity, and the word 'salary' actually comes from the Roman tradition of paying soldiers in salt. The superstition claims bad luck will visit anyone who spills salt, and was invented specifically to deter people from wasting it.
Outfit:
Dress: Custom Made no designer
Shoes: Alaïa - Open-toed high heel shoes
Jewellery: Chopard - White gold ring set with a brilliant-cut diamond and brilliants
Sunglasses: Oliver Peoples 'Corie' sunglasses
Drink: Campari Mojito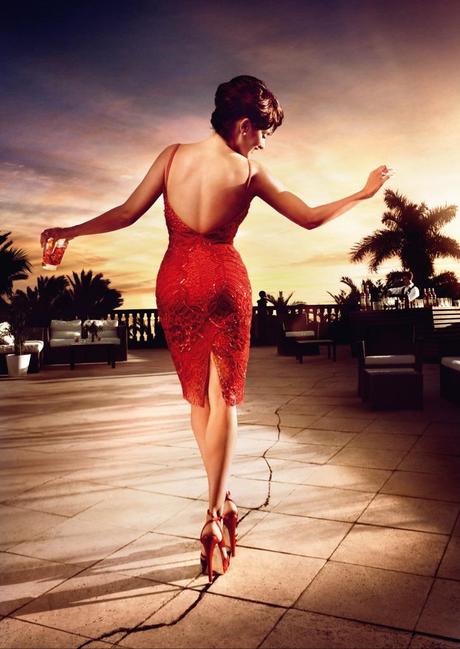 September 2013
Superstition 'Don't Step On A Crack'
 Historically there have been various permutations of this well know superstition: "Step on a crack, break your mothers back" or "Step on a crack and you'll be abducted by bears", as well as the belief that the number of cracks you step on will correspond to the number of dishes you'll break that day.
Outfit: 
Emilio Pucci - Short red dress from spring/summer 2012 collection
 Shoes: Salvatore Ferragamo - Red Carpet Collection
Jewellery: Joyeria Molina Cuevas - Platinum and old cut diamond earrings
Drink: Negroni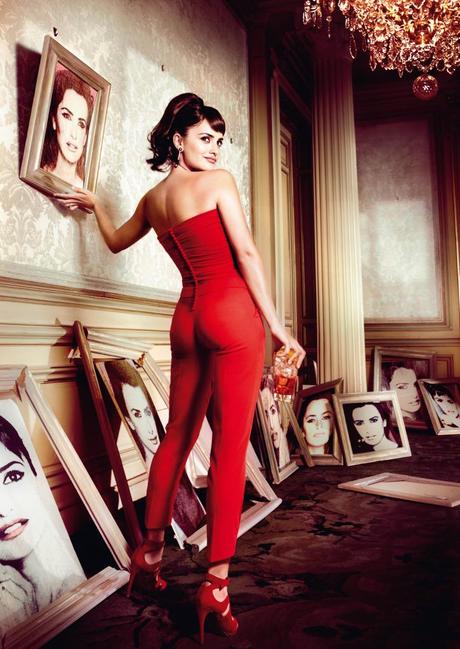 October 2013
Superstition 'Picture Falling Off The Wall'
 Traditionally, if a picture of someone specific and/or of significance falls off the wall, it was thought that someone you know will die soon.
Outfit: 
Michael Kors - Crimson stretch wool 'Samantha' pant
Shoes: Alaïa - Open-toed high heel shoes
 Jewellery: Joyeria Molina Cuevas
Drink: Campari Tonic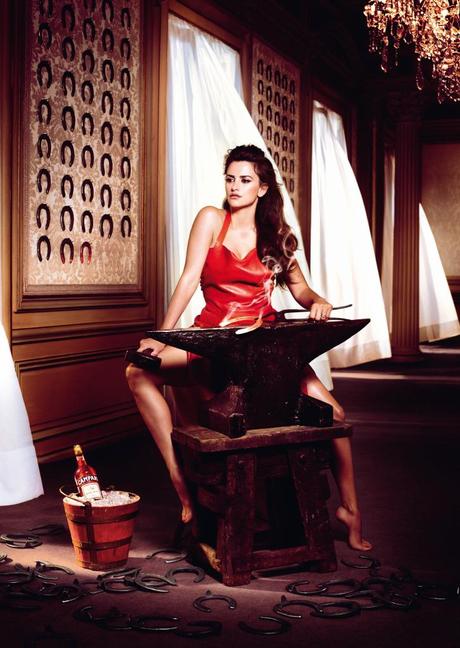 November 2013
Superstition 'Horseshoes'
 To hang the horse shoe with the ends pointing upwards has long since been considered good luck as it acts as a storage container of sorts for any good luck that happens to be floating by. However, to hang it with the ends pointing downwards is viewed as bad luck as all the good luck will fall out.
Outfit:
Custom made red leather apron (no designer)
Drink: Campari Bottle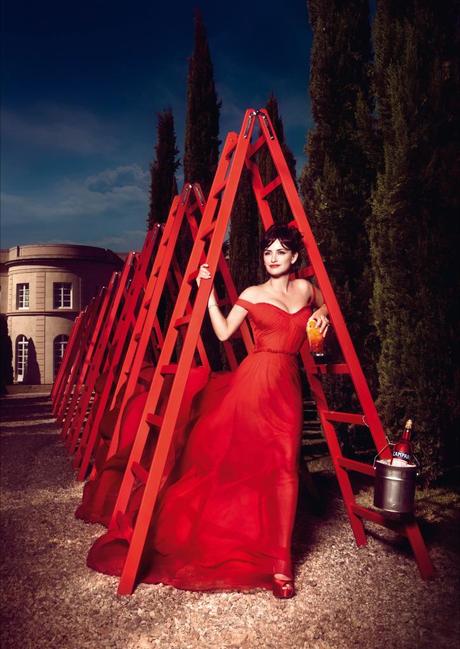 December 2013
Superstition 'Walking Under A Ladder'
One origin of this superstition is in relation to the similarities between a ladder leaning against a wall and a gallows. Anything associated with a gallows is traditionally considered ill luck, so walking under one - or a ladder that looked like one - is not advisable.
Outfit: 
Monique L'huillier - Scarlet draped gown with frayed detail and shawl neckline 
Shoes: Salvatore Ferragamo - Red Carpet Collection 
Jewellery: Joyeria Molina Cuevas circa 1920
Drink: Campari Orange
Behind The Scenes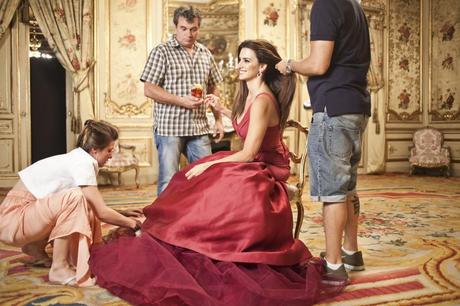 {www.campari.com}