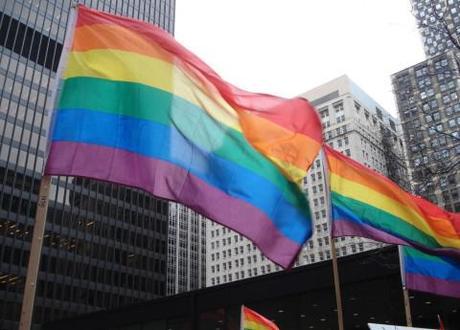 Rainbow flag. Photo credit: Michael Lehet
California's ban on same-sex marriages is unconstitutional, a liberal-leaning San Francisco appeals court has ruled. A statewide referendum on the issue, known as Proposition 8, imposed a bar on gay unions in November 2008 but that was overturned by a court in 2010, who determined it to be a violation of the civil rights of gays and lesbians. A three-judge panel of the 9th US Circuit Court of Appeals has ruled 2-1 that the latter 2010 judgment was correct.
The decision was largely welcomed by gay rights campaigners but some in the commentariat have wondered if the ruling is too narrow.
The 9th Circuit's decision only applies to California, although it has jurisdiction in nine states. Lawyers for those backing the ban on gay unions are expected to take the issue to the US Supreme Court, reported the BBC, which noted that proponents of Proposition 8 have the option of appealing first to the wider 9th Circuit, an 11-person panel.
"Ever since the beginning of this case, we've known that the battle to preserve traditional marriage will ultimately be won or lost not here, but rather in the US Supreme Court," Andy Pugno, general counsel for Protect Marriage, a California group that supports Proposition 8, said in a bullish statement.
No clean argument. Debra J. Saunders of The San Francisco Chronicle said 9th US Circuit Court of Appeals Judge Stephen Reinhardt "praised himself for overturning Prop. 8 on 'the narrowest ground.' It is also on the shakiest ground. The narrow ruling is based on the fiction that Prop. 8 eliminated a right without a legitimate reason. Prop. 8 was born of 'animosity toward the class of persons affected,' he wrote." She lamented that Reinhardt "stipulated that the ruling skirted the larger issue of whether same-sex couples have a right to marry. That's a shame, because at least an equal-right-to-marry claim makes for a clean argument."
Too narrow. Dahlia Lithwick of Slate lamented that "the most liberal judges in the most liberal state could have made history. Instead, they opted for much less." Lithwick said "the real shocker today isn't that a liberal panel delivered a liberal decision. Rather, what's so surprising is that they delivered a far more moderate decision than anyone would have predicted." "Don't let all the shouting, protesting, and appealing fool you," said Lithwick. "Today's decision could have been the vehicle to put the issue of whether there is a fundamental right to marry directly before the Supreme Court. But the panel explicitly stayed their decision so that nobody will marry in California tomorrow, and then declined to weigh in on the big constitutional question. Instead, they issued what can best be described as a Bush v. Gore type of ruling, good only in instances where states have granted gay couples the rights and privileges of marriage, thousands of citizens have availed themselves of that right, and a ballot initiative has then withdrawn that right. It doesn't get much narrower than that."
Supreme Court might not bite. Lisa Leff of Associated Press said gay marriage's ban's path to high court remains unclear. She said legal experts "seemed to think the panel of the San Francisco-based 9th U.S. Circuit of Appeals struck down the voter-approved ban on Tuesday purposefully served up its 2-1 opinion in a narrow way and seasoned it with established holdings so the Supreme Court would be less tempted to bite." Regardless of their next steps, said Leff, gay and lesbian couples were unlikely to be able to get married in California anytime soon as the 9th Circuit panel's ruling will not take effect until after the deadline passes in two weeks for Proposition 8′s backers to appeal to a larger panel, and the earliest the Supreme Court could consider whether to take the case would be in the Autumn.
Reason to rejoice. For now. Emma Carmichael at Gawker celebrated that "for now in California, people who appreciate human dignity can rejoice." She flagged up that the decision "with delightful scorn" said the 2008 ballot measure "served no purpose, and had no effect, other than to lessen the status and human dignity of gays and lesbians in California."