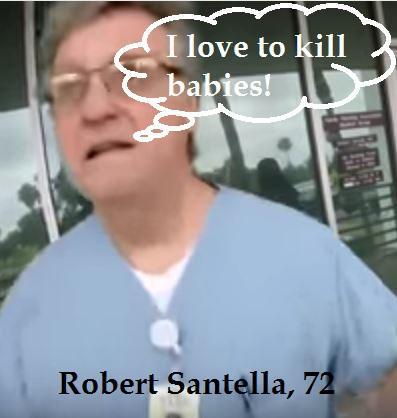 Recently, pro-life advocate Zephaniah Mel stood outside the Family Planning Associates abortion clinic in San Diego.
An abortionist, 72-year-old Dr. Robert J. Santella, charged out of the clinic at Mel, California Catholic Daily reports.
Mel calmly told Santella he must repent for murdering babies because it's a sin against God.
At that, Santella went berserk, made a strange "AARGH!" gutteral noise, and screamed, "I love it! I don't go to Christ. I don't listen to Christ. And yeah, I do have a darkened heart, I do, I do, very much." When Mel said that Santella is "tearing babies apart," the abortionist again said, "I love it! I love it!"
Here's Mel's video of the confrontation.
According to LifeNews, Santella has a bad reputation with his patients and has been accused of injuring several patients in botched abortions. Pro-lifers who witnessed one of the incidents said one woman's mother called 911 for her daughter after Santella and his staff refused to.
Santella had faced several disciplinary measures from the California Medical Board which resulted in years of probation. The medical board presently is reviewing a new case alleging that Santella treated five patients with gross negligence, repeated negligent acts, prescribing without a prior appropriate examination, unprofessional conduct, and failure to keep adequate and accurate medical records.
As recounted by Operation Rescue, pro-lifer Allyson Smith saw the video of Santella raging that he loves to kill babies, and noticed that Santella was wearing an identification badge from Sharp Healthcare, a group of hospitals throughout San Diego County, including Grossmont Hospital.
So Smith, on June 17, sent an email to Sharp Healthcare, asking, "Why is this 'doctor' allowed to be affiliated with Grossmont Hospital? He is nuts and should be fired. What will you do about him?"
Soon, Smith received a reply from Sharp Healthcare:
Hi Allyson:

Thank you for your message. We appreciate your concerns regarding this physician, and we can assure you that he is no longer affiliated with any of our hospitals, he is not employed by our medical groups, and he does not practice or have admitting privileges at any of our facilities. We are currently looking into other aspects of this matter, and we will provide updates as we have more information.
Hooray!
H/t Big Lug.
~Eowyn