I do not normally look through the Post-War and Contemporary Art auction catalogues but I am certainly glad that I had nothing to do one morning and decided to peruse the May 12th Christie's catalogue. Inside I came across some marvelous Alexander Calder jewelry.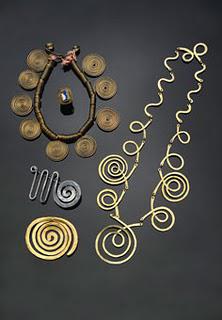 Lots 103-106, Calder jewelry belonging to Ms. Aalto
The first four lots (lot 103-106) came from the collection of Aino and Alvar Aalto. The Aalto's company, Artek, organized the first exhibition of Calder's jewelry in Finland in 1938- the year prior to this the Aaltos visited Calder in Paris home. The collection consists of two necklaces, a ring, a belt buckle, and a brooch.
It is so logical that these modernist Finnish designers would be friendly with the sculptor and have an appreciation for his whimsical creations. The Aaltos and the Calders became friendly and it is no surprise that artist made jewelry for Aino- Calder loved gifting his jewelry to the people in his inner circle. Some of the other illustrious recipients include Peggy Guggenheim, Luis and Jeanne Buñuel, Joan and Pilar Miró, Teeny Matisse Duchamp, and Elisa Breton. Basically all of the members of the Surrealist group with whom Calder frequently exhibited with in Paris. Calder created his first piece of jewelry, an engagement ring, for his wife Louisa, who along with their daughters, was a worthy muse.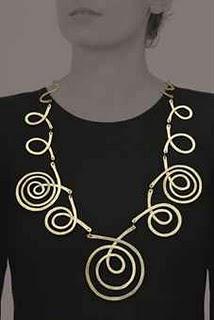 Lot 103, Aino Aalto's "Untitled" Necklace, 1939
I loved this heady line from the Christie's catalogue:"Each of the beautiful pieces…signify a broader inclusion within a neo-primitive society at which creativity is central to existence." The four pieces, some in brass and some in silver, are as bold and wild as any of Calder's work. An incredibly large necklace (lot 103) made of brass swirls, with an estimate of $300,000-$500,000 brought in an impressive $602,500, almost $200,000 more than the Calder mobile "American Airlines #2" from 1967, which had the same estimate as the necklace. None of these items have been on the market before and were all passed down to the present owner from Aino Aalto.
Several other pieces of Calder jewelry appeared in the same sale. Including an incredible silver necklace (lot 140) that belonged to art collector, Renate Shapiro. While the pieces belonging to Aino Aalto are unmistakably Calder, Shapiro's necklace is unusual because it is more geometric, lacking Calder's wild, and characteristic, swirls.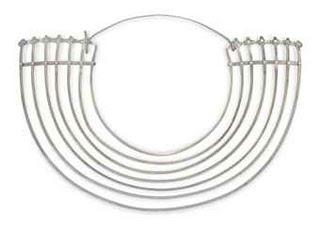 Lot 140, "Untitled" Necklace belonging to Renate Shapiro, ca. 1940's
Seeing these pieces in the important Post-war and Contemporary Art sale and not in the Jewelry sale tells me that not only has Calder's jewelry been relegated to the status of art, after all the "Calder Jewelry" exhibition at the Metropolitan Museum of Art in December 2008 did much to raise our awareness of Calder's other art, but that the same people who are interested in acquiring modern and contemporary art are also buying artistic jewelry. For the record, all of the Calder lots brought in prices well above their estimates. While I have not tracked prices for Calder's jewelry, I would not be surprised if records were set with this sale.