Have you noticed that Arrow's ratings this season have actually been down? Now, don't get too worried because we're talking incredibly minor drops (phrases like "fell two-tenths of a point" being used in ratings round-ups).  It's entirely possible the younger-skewering Arrow is simply suffering from time-shifted viewing which is not reflected in Nielsen overnight ratings, be they time-shifting via DVR or to a streaming service like Hulu.com.  However, it is a bit surprising. The people at Arrow did everything they could to keep the conversation about the show going throughout the summer via the strategic leakage of plot spoilers as to future storylines.  Then, a couple of weeks ago the entire first season of Arrow was released on Netflix Instant Streaming, which has been seen a precursor to a boost in ratings for new episodes for other soap-y shows like Scandal.  Logically, expecting Arrow to enjoy a huge surge in the ratings would be too much, but expecting it to at least do better than it was at this point last season is not outside the realm of reason.
That hasn't quite happened.  Instead, the show continues to pique viewer's interest through increasingly unpredictable storylines.  However, they are still courting new viewers and treating existing viewers by repeatedly making some of their actors available to various media outlets to promote new episodes.  Over the past week, The Hollywood Reporter has scored interviews with Summer Glau, Emily Bett-Rickards, and Caity Lotz.  In each case, the interview was designed to highlight the then new episode set to air that week.  However, the interviews have also dropped small hints as to future storylines, and in some cases given an interesting look into the behind-the-scenes working relationship between the show's writers/producers and its actors.  This article highlights the most notable moments from the interviews with Caity Lotz, Emily Bett-Rickards, and Summer Glau:
Caity Lotz as Sara Lance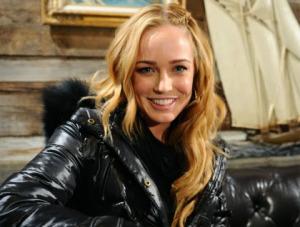 We now know that Lotz is playing Sara Lance, who has come back from her own island ordeal with a newfound need to exert vigilante justice in Starling City.  However, when did Lotz know who she was auditioning to play?
When you were cast as Black Canary, did you know what her identity would be and where she was headed?
"I had no idea. I actually auditioned for a character named Lisa. (Laughs.) There were fake sides, even what I was reading wasn't the actual character. I had no idea, I just thought I was playing some character named Lisa and then afterwards, I met with [executive producer] Andrew Kreisberg and he told me about it and yeah, I was really excited."
The casting call for Lisa leaked online over the summer, with Lisa described as someone who would wreak havoc on Oliver's heart.  Once Lotz was announced as Black Canary it was assumed that the call for "Lisa" was a misdirecting for who Lotz had actually been cast to play.  How hands on have the producers been with Lotz in the formation of her character?
How did the producers describe Black Canary/Sara to you?
"The producers were really cool about letting me develop her how I wanted to. They were really good about giving me the backstory of what's going on and where she was headed so that I could create a character that fit their writing. I know "badass" was a word they used."
But the role has been re-cast.  Sara was played by Jacqueline MacInnes Wood in the pilot.
Did you glance at the pilot to see how Sara Lance was portrayed then?
No, not at all. I watched the pilot and it was great but I felt Sara differently and since we were reshooting it, I was going to be able to make her how I wanted her to be.
Read the full interview here for Lotz' rather general, non-spoilery descriptions of Sara's past..
Emily Bett-Rickards as Felicity Smoak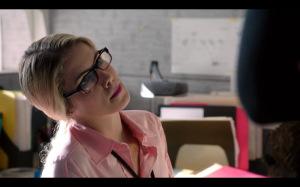 Felicity is Arrow's great audience surrogate figure who is an increasingly divisive presence based upon who you prefer Oliver end up with romantically.  However, as enjoyable as she is there's not a whole to her because the show doesn't ask much of her other than to have some good one-liners and be brave.  You know who knows that?  Emily Bett-Rickards, who admitted in an interview over the summer that she'd love to learn more about Felicity's background this season.  The Hollywood Reporter asked her about that very same topic.
How much more of Felicity's past and family history will be uncovered?
"I don't know what her concrete story is going to turn out to be and who's going to come into the picture. I personally am so thrilled if we get to see a family member because it'll just round her out a little more. She won't get lost in the "Olicity" moments. Felicity can't survive off of "Olicity" moments. She's gotta have more than that."
Is there a chance that we could follow Felicity home this season?
"That's something I've said. I would really like to see her apartment, and that's because I know she wouldn't like my apartment, because it's too crazy. I feel like her's would be crisp and clean, kind of like how she did the Foundry with that white light. I don't know. There's no set for it and I haven't really heard anything. I think that got out there because I said how I'd wanted it to be. (Laughs.) But I did see that [executive producer] Marc[Guggenheim] tweeted about [Felicity's] parents and that's really important to me that one of those two things happen."
In the new season, Felicity has been a slightly more feisty presence than before, more willing to stand up to Oliver.  The Hollywood Reporter asked her about how the team dynamic on Team Arrow has evolved:
How are the dynamics between Felicity and Oliver different when they're in the boardroom versus in the Arrow cave?
"Oliver disappeared for five months and when Diggle and Felicity got him back from the island, it was a time when they really needed him back. To have gone to go get him, there's a little bit of that feeling of "You can't leave again." There's more equality. And [Oliver and Felicity] have known each other for a longer [period of time] and they've been through a lot the first season. They stay close and they're always in high stakes and in dangerous situations. Although Oliver has these secrets and these other masks — and I think that's frustrating for Felicity — she is working through them and trying to keep her head straight on how to maintain that Oliver still has a life, Diggle still has a life and she still has a life."
As Oliver's new executive assistant, Felicity has gone from IT girl to secretary.  She wasn't fond of the transition, and this new position will put straight into conflict with Isabel Rochev, which we saw a little of at the beginning of the most recent episode.
Now Isabel is in the picture at Queen Consolidated. How has her presence affected Felicity?
Having another woman who's really extremely strong, and on top of that she's cutthroat — there's no bullshit with Isabel — it creates more work at Queen Consolidated and Isabel doesn't know that they're vigilante-ing downstairs in the Glades. Felicity has to do her job as an assistant at Queen Consolidated. Not only is she tracking down villains in Starling City and trying to save the city with Oliver, she's filling out papers and dealing with clients. (Laughs.) Having Isabel there as a new partner, there are changes happening in the company that Felicity wasn't prepared for. Felicity says when Oliver gives her the title of assistant: "I didn't go to school for secretarial arts." (Laughs.) She just gets more work and Isabel's tough. She's a tough broad.
You can read the full interview here.  Bett-Rickards discusses the flirty relationship Felicity will have with Barry "Flash" Allen when he is introduced on the show.
Summer Glau as Isabel Rochev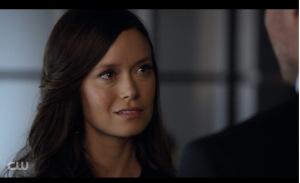 They cast River Tam from Firefly to mostly be an ice queen?  Or so the early criticism goes for Summer Glau's Isabel Rochev in the early goings of season 2.  Is her character a waste of time?  Or are we impatient and unwilling to sit through a slow-burn villain whose intentions will only be revealed in time?  For that matter, how much does Glau even know about Rochev's villainous past in the comic books?
"How familiar were you with your character in the DC Comics universe when you got the role?
It was a whirlwind when I was cast in the role. My parents had told me, "You gotta check out Arrow," so I started watching it, and soon after, I got an email: "How'd you like to come recur?" A few days later I was up there on set trying to read the script and get ready for my work. I hadn't even realized that my character was in the comics. When I got on set, [executive producer] Andrew [Kreisberg] came up to me and said, "So have you had a chance to check out your character in the comics?" And I went back to the hotel that night and looked her up. She is a true villainess and super cool. I wasn't familiar with her before, but I couldn't be more excited to see what they're going to let me do on the show."
When you did start reading up on her, did that help you develop your version of Isabel?
"It's always helpful just to spark your creativity, even if at this point in the storyline Isabel is meant to be very mysterious. In the way that I'm playing the character, I'm trying to create a slow burn and leave it open for any direction that Andrew decides to take her in. That's going to start unfolding in this coming episode. Then my character comes back in [the sixth episode] and things really start to change with her relationship with Oliver. In [the eighth episode], there's more of a hint, and I'm able to show more of Isabel's backstory. But in the beginning, we're playing the cards close to the vest."
Will Isabel be getting in on the action?
"I hope to get in on the action. From what I've seen on the show so far, everyone in Starling City — in one way or another — ends up getting into the fray, so I hope that my character won't be an exception in that way. (Laughs)"
Isabel has mainly interacted with Oliver, but who else will she be encountering?
"Most of my interaction is with Stephen, but another character I'm having so much fun with is [Emily Bett Rickards'] character Felicity. The tension between Felicity and Isabel has been playful. I've greatly enjoyed being on set with her and playing with the comedy that she allows my character to have. With Stephen, it's straight-on, it's a battle, it's warriors. Seeing her interact with Felicity is pretty fun."
You can read the full interview here for Glau's response to whether or not anything romantic might happen between Rochev and Oliver (the answer is she doesn't really know but wouldn't be too surprised if something does).
So, the women of the show have spoken.  Some of them have at least.  What do you think?  Any comments from the actress you find more alarming than encouraging?  Or do you skip such things and just go full on with enjoying the show on its own merits?  And is it a good idea for Glau to read up on Rochev's past in the comics, or should she be unencumbered in her performance from such knowledge?  Let us know what you think in the comments section.