If you're new to Paris and don't yet have an internet connection in your hostel, apartment, or host family, or even if you live here but you'd rather work in a café than your 8 square meter chambre de bonne, one website has taken the trouble to locate all of the cafés in Paris with free wifi.
On this site, cafes-wifi.com, you'll find a complete, interactive map of the wifi hotspots and free interconnections available in cafés, restaurants, and even public parks. You can even click to see the name, address, hours, menu, and user reviews of the location. Popular chains, like Columbus Café and McDonald's, have their own pages listing all locations with free wifi.
On this map, blue bubbles indicate cafés with free wireless access, purple bubbles show McDonald's with free wireless access, and red bubbles show cafés with wifi that is currently out of order.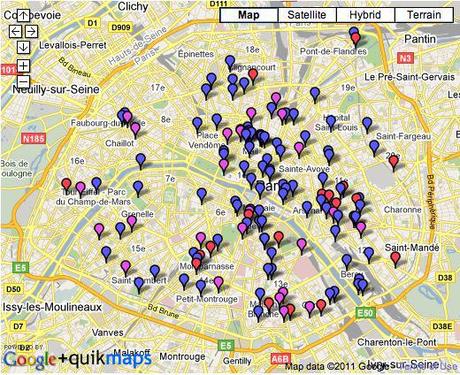 Map of Free Wifi Hotspots in Paris from cafes-wifi.com
You can access the interactive map here, and even add your own findings to the site by filling out a form here. Happy surfing!